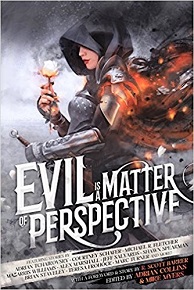 Evil is a Matter of Perspective
edited by
Adrian Collins & Mike Myers
(Grimdark Magazine, June 2017, pb, 520 pp.)
"The Broken Dead" by Michael R. Fletcher
"Every Hair Casts a Shadow" by Teresa Frochock
"The Divine Death of Jirella Martigore" by Alex Marshall
"A Royal Gift" by Mark Adler
"Old Blood" by Adrian Tchaikovsky
"Black Bargain" by Janny Wurts
"The Syldoon Sun" by Jeff Salyards
"The Darkness Within the Light" by Shawn Speakman
"The Greater of Two Evils" by Marc Turner
"Exceeding Bitter" by Kaaron Warren
"A Game of Mages" by Courtney Schafer
"The Tattered Prince and the Demon Veiled" by Bradley P. Beaulieu
"A Storm Unbound" by E.V. Morrigan
"The Game" by Mathew Ward
"Blood Penny" by Deborah A. Wolf
"Better than Breath" by Brian Staveley
"Foundation of Bones" by Mazarkis Williams
"The Aging of a Kill" by Peter Orullian
"The Carathayan" by R. Scott Bakker
Reviewed by Kevin P Hallett
This anthology contains nineteen original stories, including seven novelettes. In addition, there is a compelling forward by R. Scott Bakker.
"The Broken Dead" by Michael R. Fletcher
Anomie is a down-trodden young woman in this mysterious horror short. Following her father's rejection, a would-be poet, Matthaus, discovers her in his doorway. Matthaus is searching for the right hallucinogenic drugs to help him write the ultimate poem. Together they embark on a long exploration that ends when she has a bad reaction to some mushrooms.
As an undead servant of Konig, a powerful theocrat, Anomie becomes a deadly enforcer of death. After years of waiting, Konig summons her again. He sends her to find and kill his god-child along with all those who had stolen from him. When Anomie finds the city responsible, she and her cohorts attack without mercy, killing all who try to oppose her. But the leader has powerful allies, and the further she penetrates the greater her danger.
Fletcher has written two stories about Anomie and interwoven them. Potentially confusing, it was easy to follow the two tracks. As the stories ended they came together in a surprising culmination. The imagery was strong, but the originality of the plot was not.
"Every Hair Casts a Shadow" by Teresa Frochock
During a street battle, Alvaro sees his grandson helping an angel in this demonic horror tale. Alvaro is a daimon, but his son and grandson are mixed angel and daimon. In the past Alvaro had tried to force his son, Diago, over to the daimon side; he failed and Diago aligned with the angels. Now, Alvaro sees a chance to lure his grandson, Rafael, to the daimon side.
Alvaro slyly tries to win Rafael's trust by helping his friend escape death in the battle. But Rafael receives a potentially mortal wound and his angel friend prevents Alvaro from interfering. When Diago shows up the situation is further complicated. With all their suspicions, can Alvaro find a way to trick his son into letting him save Rafael and gain control over his grandson's soul?
The author did a decent job of ratcheting up the suspense and the story was an interesting read. However, the prose seemed slow in the middle sections.
"The Divine Death of Jirella Martigore" by Alex Marshall
In this horror novelette Jirella is a fifteen-year-old novice at a convent, when the Black Pope (her uncle) summons her to meet him. The pious girl can only expect the worst as punishment for her sins. But Pope Shanatu welcomes her and tells her she is to be the next Pope.
Naive at first, Jirella must learn the intrigues and politics of the court quickly as the powerful people surrounding her want to block her ascension by killing her. Who can she trust as they pass her around for the preparation ceremonies and tests? In the end, she may have to give up her very nature, to complete her unexpected calling.
Marshall wove intrigue throughout this story, pulling the reader along. Far before the surprising twists at the end, the reader was captured by the girl's character and engaged in discovering her ultimate fate. Though wordy, the author's well-constructed prose made for a pleasant read.
"A Royal Gift" by Mark Adler
Adler's short horror story is set in the 1370's when Edward, the Black Prince, was heir to the throne of England. But the prince believes he's a servant of the Devil, his purpose revealed to him when he was a boy. Loyal to the throne and his father, the conundrum of his fate consumes Edward. How can he become the King, a leader, and a servant of the Devil, a follower? Is there a way he can still be a useful servant for his father?
This story lacked the punch to engage the reader. At times, the prose was repetitive and it was hard to become engaged in the fate or problems of the protagonist.
"Old Blood" by Adrian Tchaikovsky
A mortal wound has left the bloodsucker, Uctebri, watching his life blood drain away in this intriguing short horror tale. The events leading up to this began a few days before, when Uctebri ran into two witches. The world for magicians is hard as the Apt's no longer fear the unknown and aren't so susceptible to their magic. Eking out an existence, Uctebri is desperate for the old times and agrees to join the witches led by Julaea, his mortal enemy.
The group travels to the blighted Darakyon forest which is angry after Julaea's sect tried to destroy it. Nonetheless, with Uctebri's supporting magic, Julaea can push through to the center to find the forest's magical token and begin to restore the old magical ways. But things turn sour, and Uctebri finds himself lying in his own blood as Julaea comes for him.
This story explored some interesting ideas about magic and the magi who use it. A well-crafted plot with engaging prose, the story read easily and passed quickly.
"Black Bargain" by Janny Wurts
Davien is a sorcerer, charged with discovering the secrets of a criminal cabal in this short piece of horror. Davien enlists Toler, a quick-thinking smuggler, who faces years of slave labor for his crimes. Together, they spend years infiltrating the cabal, which can hide its actions from the magic of the sorcerers.
Eventually their chance comes, and Toler is present when the cabal's leaders reveal both their plans and their source of power and concealment. Toler and Davien must act quickly to thwart the plans and save humanity. But not all things go as planned.
The plot was simple, but masked in a style of prose that was hard to comprehend in a single pass. In the end, it was tiring to read the convoluted sentence structures. Shakespeare in high-school was easier to follow.
"The Syldoon Sun" by Jeff Salyards
In this short fantasy, the emperor sends Matinios to spy on a battalion of elite Syldoon troops. Matinios' father had been a decorated Syldoon warrior, but Matinios had a cloud over him from an episode in which he disobeyed orders to save fellow soldiers.
Ensconced in a Syldoon troop as an observer, he travels with them on a secret mission to infiltrate a temple and remove some ancient documents. Is this the first sign that the troop are traitors to the Emperor? Matinios tags along, trying to elicit some evidence he can give back to his boss. When they find an ancient concealed room, things rapidly turn bad for Matinios.
The writing craft was good, and the plot had several compelling twists. It was a very nice read that passed quickly.
"The Darkness Within the Light" by Shawn Speakman
Speakman's brutal horror novelette starts with the wizard, Tathal, extracting an old memory from a woman. She provides the clues he needs to enter the nearby fairy glen and confront the Lady of the Lake. Once finished with the woman, Tathal forces her to kill herself.
Tathal has a dark Shadowell fairy with him and a resurrected knight, Mordred, for protection as he enters the grounds of the fairy glen. Tathal is on a centuries long quest for information. The Lady of the Lake has an answer he seeks, but will be reluctant to give it up to him.
Inside the glen, he tricks the glen's fairies to reveal themselves and snares them with the death of his Shadowell fairy. To save her fairies, the Lady of the Lake sends her own lover and bodyguard, an elven knight. Tathal sends Mordred to battle the Lady's knight. If Mordred wins, Tathal can bargain for the information he seeks.
The opening grabbed the reader's attention and the prose was well constructed. But the middle dragged a little and the story's brutal end leaves the impression the story was in the middle of a much longer saga.
"The Greater of Two Evils" by Marc Turner
Mazana, a powerful water-mage, is hunting the pirate Revek in this short fantasy. When she traps him, Revek requests a parley. She warns Revek that she is here just to take him back, his crew can go free. Revek rails against the Storm Lords, aware that Mazana must defeat him to win her dead father's place as a Storm Lord. At the end of the parley, Revek's crew shows loyalty and chooses to fight the wannabe Storm Lord.
After giving the pirate a head start, Mazana creates a wave for her ship to ride on, catching up quickly to the fleeing Revek. As she gains on him, Revek springs some traps in an attempt to destroy her, but she is too strong a water-mage and finally closes on his ship. The fight that ensues hangs in the balance, with Revek trying to capture Mazana. In the end, Revek has one last trick to play. Will Mazana see through it in time?
The opening and action quickly engaged the reader and the prose allowed this short fantasy to quickly pass.
"Exceeding Bitter" by Kaaron Warren
The Grey Ladies are ghosts bringing death in this short fantasy. They don't instigate the death, they announce it, so the recipient can plan their last days. It is a service that few can freely accept. The Grey Ladies are decent folk, their mother, Eliza, had taught them to be outgoing, to want more from life. Then the Romanian destroys all their hopes and dreams.
Mihai hales from Romania. The brother of a close school friend of Eliza, he wriggles his way into their lives, intent on destroying them all. After employing the father to build a mansion for him, he frames the mother for a capital crime before offering to take in the three teenage daughters. Mihai imprisons the girls and starves them to death. But as ghosts they find a new calling. Will they get a chance at revenge? Told from a roving perspective that worked well, the story rolls along with an engaging style, though the ending was predictable.
"A Game of Mages" by Courtney Schafer
In this dark fantasy novelette, a powerful mage-pair search for Simon, a strong but unpaired mage that threatens their very lives. Lizaveta sends spies to find Simon, while her mage-brother, Ruslan, dedicates his time to developing two young boys into the next powerful mage-pair.
After searching for three years, Lizaveta gets her first indication of where Simon hides. Is it a coincidence that the next day a lesser mage visits her and asks her to deflect an incoming meteor to destroy a rival city? Lizaveta decides it is a coincidence, and plots to deflect the meteor against her own enemy. But soon she discovers her error to the peril of all that she holds dear.
The author has created an engaging and mysterious plot. From the first line, the story hooked the reader, and the prose quickly reeled them in. A worthwhile and recommended read.
"The Tattered Prince and the Demon Veiled" by Bradley P. Beaulieu
Brama is a scarred streetwise tough in this intriguing fantasy novelette. He has a sapphire amulet containing a trapped immortal demon who constantly plots to win back its freedom at any cost. Brama lives in the bad part of the city; then one day he sees a young woman, Jax, out of place for this seedy area. His amulet reveals an aura around her which further intrigues Brama, but she is afraid of him and runs away.
Weeks later his chance comes when he tries to rescue Jax from an assassin. But her brother Nehir intervenes and they both disappear into the streets. Later that day Kymbril, the local drug lord, visits. He too is interested in finding the siblings, but only to kill them since they had tried to sell drugs on his turf.
Finally, Brama embraces the trapped demon's power to find Jax and Nehir living in a hovel. Nehir is dying from a drug addiction. Wanting to help Jax, Brama enlists the demon to pull Nehir's affliction into his own body. The thankless Nehir runs off again with Jax, terrified of this street thug.
Not much time passes before Jax seeks out Brama. Kymbril has kidnapped Nehir and is demanding all their drugs for ransom. Jax wants to pay, but Brama assures her that Kymbril only wants them dead. Brama lays out a plan to get Nehir back and for them both to escape from the city. But the best laid plans oft go astray, and when the assassin intervenes, the plan falls apart.
Full of intrigue, this story had an easy pace to it from the start. Beaulieu built up Brama's character, and engaged the reader in wanting to find out his destiny.
"A Storm Unbound" by E.V. Morrigan
Shae wants revenge for her lover's death in this short horror tale. Shae's erstwhile mentor, Eroghast, has kidnapped little Aruur and killed Vitra. But now, Shae takes up her moonshard swords and her assassin's mantle for vengeance.
When she finds Eroghast he threatens to kill Aruur unless Shae completes one final mission. Shae must bring Eroghast the head of the city's leader. It seems a simple enough mission for one with Shae's skills. But then, she discovers that the mayor is a master of the moonshard sword too.
This was a pleasant enough read, with, like a scorpion's tail, some interesting twists.
"The Game" by Mathew Ward
One Lord Salmon is a prisoner held in a pitch-black cell along with the captain of the watch. Guards pull them both before the council of thieves. As the council members argue over who will kill Salmon, a powerful witch, Arlia, enters.
Lord Salmon sees his chance and makes a pact with the crimson witch. In seconds, Arlia has incited the crowd to storm the stage and kill everyone. Can Lord Salmon survive his pact with such a powerful magician?
The prose was slow and did little to engage the reader's imagination. In places, the plot became confused as the author introduced too many characters and then disposed of them.
"Blood Penny" by Deborah A. Wolf
Awitsu and Kanati are daeborn children, destined for the Emperor to take them soon in this fantasy novelette. Neither wants to die. Awitsu hatches a plan to cheat her abusive father and escape her fate. Kanati loves her and tags along, a quiet voice of reason.
Awitsu has a rare Blood Penny that can grant any wish, provided she or Kanati activate it with the blood of an innocent. But bad luck dogs all her efforts to activate the small coin, just as misfortune has plagued her all her life. Failed attempts almost cost her her life, and then Kanati's.
To help, Kanati tries his luck. But, when he fares no better they find themselves prisoners of her brutal father. He decides to give them to the Emperor early. Kanati has a crazy idea to escape, the one drawback being that it requires their deaths.
This story had a smooth flow to it, which made it pleasant to read. Wolf developed the children's characters quickly, engaging the reader in the final outcome.
"Better than Breath" by Brian Staveley
Stavely's short fantasy tells the reader about mama, who loves her four small children. When she discovers a stranger sneaking around their house, she fears for her kids. She manages to knock him out and now he hangs by his hands in the barn.
For two days, she wrestles with the idea of killing him. Can the children ever be safe if she releases him? So, on the second day, in the depth of the night, she prepares to kill him. But when he accuses her of being a leach and of kidnapping his baby son, her world begins to spin. Other parents are coming for her. Can she find a way to protect the children she loves so dearly?
This was a quick story that was easy to read, and came with a surprising end.
"Foundation of Bones" by Mazarkis Williams
By the rules, Adam should send any gifted students to the seat of the Sacred Church in this intriguing short fantasy. Young Didryk had the power to one day free the savior, Mogyrk, and change forever the Church's path. If Adam sent Didryk to the capital the leaders may expel Didryk, but if he didn't then the capital may expel or even burn him as a heretic. Though he is a senior leader in the Church, Adam decides to rebel against the rules.
Didryk is young and impressionable and hard for Adam to control. Soon complications arise as another in the Church becomes aware of Didryk's gifts. Can Adam find a way to protect the young boy even as Didryk himself fights against Adam's protections?
This was a pleasant short fantasy, with the prose immersing the reader in Adam's struggles against the Church and his own training.
"The Aging of a Kill" by Peter Orullian
In this dark fantasy novelette, Audra, a Dannire, listens as her employee, Jenn, confesses to her past sins. The Dannire enforce justice, but not as in a court, they are the arbiters of retribution for mistreating others, often imposing death. Audra tells Jenn some stories of how she recently applied justice.
There was the sickly young girl who accused an older man of rape. In another, she dispatched the banker who laundered money and abused her powers to foreclose on debtors. The third story told of a young woman who ruined the lives of her close friends, just for the pleasure of doing so.
As an ex-Counsel of the court, Jenn is far from innocent and suspects that Audra is here to kill her. She strikes first, sending five expert cutters to kill her assistant. Audra is well-trained and lives to tell Jenn a fourth story to bring all the other stories together, and impose Jenn's final retribution for the life she's led.
This was a story that was a true pleasure to read, each story had its own pace and intrigue, giving the novelette an Arabian Nights feel. The end had its own surprises making this a highly recommended read.
"The Carathayan" by R. Scott Bakker
Uster is an odd-ball killer in this strange short horror story. Mirrim, his girlfriend, has brought him home to meet her family. She is angry because her mother had cast her out to the forest in favor of her little brother. Uster kills Mirrim's brother and father because he can't control himself, leaving her mother traumatized.
As the mother recovers from her shock, she warns them that the forest will curse them and send the Carathayan to kill them all. Mirrim wants to flee, but Uster waits, indifferent because he feels nothing real can kill him. Then the door crashes open and the multi-imaged Carathayan sweeps in. Will Uster's special talents protect them all?
This story's flow was difficult to follow and the mystery felt fake and contrived. The plot did not seem to provide any purpose to the tale.
For the most part this anthology was a pleasure to read. There are some real gems in here. As the editors claim, many stories will challenge your views on what is evil.