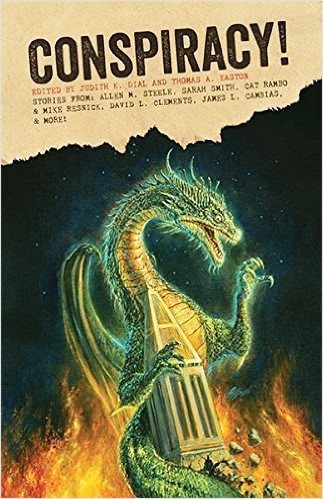 Conspiracy!
An Anthology of Original Science Fiction Stories
edited by Judith K. Dial and Thomas A. Easton
(NESFA Press, February 2016, 176 pages)
"Ashlines" by David L. Clements
"Postcards from Lemuria" by Jeff Hecht
"Heavy Weather" by Rev DiCerto
"A Dog in the Weather" by Sarah Smith
"Antikhthon" by Paul Di Filippo
"QM" by Allen M. Steele
"The Mermaid Club" by Cat Rambo & Mike Resnick
"The Great SETI Cover-Up of 1947" by H. Paul Shuch
"A Right Jolly Old…" by James L. Cambias
"Geronimo's Skull" by Shariann Lewitt
"One Night in Bavaria" by Debra Doyle & James D. Macdonald
"Every Little Bit" by Steven Popkes
Reviewed by Jason McGregor
Given that this is one of the first forays into the original anthology market for NESFA, long an esteemed publisher of deluxe hardcover classic reprints, with at least one of the editors having a well-known name, and several of the authors also being well-known and regarded in their own right, I had tentative but somewhat high expectations for this volume. I'm happy to report that this book basically meets them. On the downside, it is a very short book with a short novelette, a piece of flash fiction, and ten short stories between those lengths. Also, few really stand out as genuinely superlative. On the upside, only a couple of stories significantly failed to impress and most of the rest were interesting and/or enjoyable, with a trio being quite good. There is also quite a bit of diversity in specifics and approaches to what could have been a very narrow anthology. There are several pairs of stories that overlap or connect in some way, and there are a couple of very fantasy-like tales, a majority of at least X-Files-like semi-science fiction tales; some scary tales, some funny tales; some ancient conspiracies, some current ones, and so on. I'd have actually liked more modern ones (some are set in the past and some have ancient roots that occur in the present, like old-fashioned incursions into modernity) and more cutting-edge high-tech pieces (several deal with more or less current tech but few are actually set in the future or have futuristic incursions into modernity) but this mix should satisfy many people.
"Ashlines" by David L. Clements
A man comes into a prison cell to interrogate a prisoner who has information regarding some unspecified hostages. It does not go well, as the prisoner mostly talks about how London is secretly controlled by dragons, so the interrogator reports to his superiors and is given a special case which contains… a plush dragon. The story continues to a standard climax and sour denouement after he leaves this with the prisoner and departs for a few minutes.
One would think the editors would want to start an anthology with one of the strongest tales they have but this is a very short, very minor, weak story with no real novel or intricate thought given to any conspiracies… or character or plot. Also, there are no fewer than three logical errors in the first few paragraphs. The interrogator is described thusly: "These days he was the measure of last resort, the man who, if he did his job right, would stop things from getting really unpleasant. If he failed, other, desperate measures would be called for." So he's actually the measure of the next-to-the-last resort. A big deal is made of giving the prisoner a drink, which "he gulped thirstily" and the interrogator "lowered the bottle, now half empty" but, later, we're told there had been a "carefully judged dose injected through the plastic cap" – so he carefully judged the prisoner would drink exactly half the bottle? And then there's some of the interrogation, in which he tells the prisoner, "Most of your colleagues have been caught. Some are talking to us….We expect to rescue the hostages in the next hour. If you can confirm a few details before then it would be most helpful." So the prisoner is to believe "some" are talking and they need yet another confirmation from him? And so on. This may be somewhat nitpicky but it bothered me and I feel it speaks to the general lack of care in this story.
"Postcards from Lemuria" by Jeff Hecht
Cyndi is poor and in need of work – any work – when her weird old friend Megan calls up out of the blue after a long absence. Turns out Megan has a job for Cyndi, as she's setting AI data-mining techniques on conspiracy theories in order to develop a sort of grand unified conspiracy theory. Cyndi was seeking her PhD with "Madness and the Invention of the Hidden World," a study of our very own Shaver mysteries. Her academic career actually ended in failure, but Megan came across the preliminaries in a web search. As they begin working together, they discover that the Shaver mysteries might have had more reality to them than they thought and one of the most malignant elements of them – or descendants thereof – may exist today, in an altered form we're all-too familiar with.
This story has a similarity to the previous one: I do have a logical problem with Cyndi planning on getting a PhD on Shaver without knowing much about the subject and then learning that she couldn't do what she'd planned to do and failing. Yet, in the story, she suddenly does learn much more about Shaver (that it seems like she should already have learned in her first attempt) and actually does seem to come to an explanation. For other quibbles, I wasn't entirely convinced by the women's trauma as depicted, as it seemed hasty and almost thin-skinned, at least on Cyndi's part. And it leads to an ending that I personally disliked, in that it presented as a kind of victory what seemed to me to be a kind of defeat. But it's not an implausible ending in the context of the story.
Otherwise, the story directly contrasts with the first: it attempts to sketch actual characters, provide a (slight) plot, and the author has obviously put some thought and creativity into a fairly intricate conspiracy that attempted to create a genuine sense of creepiness and fear. I can't say I personally loved it, but it's a very respectable story and some may respond even more favorably than I did.
"Heavy Weather" by Rev DiCerto
This is a three-track story. In the first of the two temporally prior tracks, Steven Neils is being recruited to use his cellular communications expertise as part of a plan to control weather. His recruiter claims to work for FEMA but Neils begins to suspect this isn't the case, especially when he's taken under Denver International Airport and meets two other unhappy coworkers. In the second, he's on the run from a killer tornado. In the third track, a sort of Firefly-like SF Western, a "Paladino" is recruited to kill some people for "cutting the Tarp," or some other form of fatal behavior, and collect their bounty. In this future at least two hundred years up stream, most of the Earth has been covered in a reflective material as a replacement for lost ice to try to reduce global temperatures, but it doesn't seem to be doing much good. Still, it's a capital crime to vandalize it. These tracks cast different lights and shadows on each other until the ironic conclusion.
None of the tracks are named, dated, or otherwise specified and the first shift or two through them was initially confusing. The first-person narration of the future track is told in a kind of neo-retro-Tex-Mex dialect, using words like "hoss" and "agua," which was initially off-putting. And some people might not appreciate the subject matter or that "Gore" is used in the future like "God" is today (e.g., "Thank Gore"). All of these are minor issues, though. The tracks resonate nicely with each other, with the future track providing a kind of "time abyss" effect (albeit on a smaller scale than that term usually connotes), with a Gore's eye-view immediacy: what we do now conditions what will happen then and those two centuries ahead, while distant in terms of a current human lifespan, will be no less real to the people in it than today is to us. And, again, this is a thoughtful, intricate conspiracy (and possibly not far from something akin to the truth). It is interesting, though: I recently reviewed The Best of Bova for Tangent, which inspired much subsequent reading and re-reading of Bova. He had a thing for weather control and, while aware of the downsides, treated potential future technology as a great good to be striven for. This story does not share that attitude. It would be easy to find pessimistic technophobic stories then and not impossible to find optimistic technophilic stories now so it doesn't necessarily mean anything, but I still find it emblematic of the spirit of things then and now. Pessimistic or not though, this was an interesting tale whose narrative strategies paid off overall.
"A Dog in the Weather" by Sarah Smith
A second "climate change" story in a row shows why that term is preferred to "global warming" as extreme cold may occur as well as extreme heat. In this one, told from a dog's point of view, a winter of such brutal cold hits that squirrels, dogs, and humans are all in mortal danger. Ultimately some survive, some do not, and some are not what they seem.
This was initially quite entertaining with the dog's point of view and the two old cantankerous men fussing at each other, but it became cloying without a whole lot of plot or ideas to flesh it out, merely becoming rather preachy regarding man's intelligence and fitness to survive on an Earth they're ruining. It did develop a rather impressive feeling of weather-laden oppression but nothing that wasn't more effectively conveyed in Fritz Leiber's classic "A Pail of Air." Not great; not terrible.
"Antikhthon" by Paul Di Filippo
Let's see… a zillion years ago, Atlanteans and Lemurians and such settled the anti-Earth which orbits opposite Earth and, for some reason, was immediately hidden by those settlers from the original Earth. The other Earth was just like our Earth except for the absence of humans. Now that it had humans, those humans began to produce copies of Earth humans except for the flaw of being damaged, psychotic, etc. This is not given as a reason for their society's collapse, but collapse it did. Their civilization of psychopathic degenerate copies of Earth humans somehow managed to recover and outstrip Earth technology and began switching their degenerates with our better versions to improve their society and inflict damage to ours. (Hitler became a fine Antikthonian painter.) Well, it seems that sometimes they do make a switch and sometimes they just steal our Earth people outright, without replacement copies (which leads to further incoherencies it would be tedious to detail). All of this apparently began taking place 500 years ago for, obviously, up until that time, Earth was a sane paradise. But, now, it's the anti-Earth that's the sane paradise, as the majority of people enjoy leaving their children orphaned, and being removed from all their friends and so on, and become happy, productive citizens of this planetary Omelas. Such is the backstory. The plot involves an Earth human, who is about to create an AI, being recruited by a resistance cell from anti-Earth whose big plan is to accompany him to the supreme leader (who is as sane and enlightened as your average Bond supervillain – maybe there are still a few bugs in the switching system) and convince him of the errors of anti-Earth's ways. For once, the story makes some sense regarding how well that goes.
If this synopsis makes no sense, it has been a faithful replication of the story, whose senselessness descends to the level of sentences and word choices. At one point, the narrator receives an impossible visitor and says: "To say I was stunned was to indulge in the mildest of litotes." I think he means to indulge in "a generic understatement." To indulge in a litote properly, this story is not entirely coherent. It not only doesn't hold water in the abstract sense, it doesn't even hold its own water. I could enjoy a gonzo tale of random lunacy and perhaps this is how it was intended and perhaps some readers will enjoy it in exactly that fashion, but it's not really written in a gonzo style and doesn't make sense even in an altered state of consciousness. Perhaps it's just out and out satire, but it's not even written in an exactly satirical style, despite numerous motifs that could be seen as mocking the Gernsback continuum (and just as many which praise it). Perhaps it's yet something else entirely but it ultimately strikes me as just a shapeless mass of silliness.
"QM" by Allen M. Steele
Jay Kennedy shows up at (basically) Allen Steele's house and tells him a story of what goes on at QM, an utterly non-descript office building where nothing happens on the first floor and a lot happens on the second floor. He's afraid for his life and the narrator heroically shoves him out the door, unsure if he's a nut (which is dangerous) or telling the truth (which is worse). I can't really say what this is specifically about without spoiling half the story or, obviously, saying how things turn out for Jay without spoiling the other half, though neither is too surprising.
This is another in the long line of Steele's metafictional pieces (the narrator mentions a reason why he quit being a reporter but, in a way, he never did) and is minor, but entertaining. Short, but efficient.
"The Mermaid Club" by Cat Rambo & Mike Resnick
A coffee salesman is at an aquarium when a mixup occurs and he's left in possession of a card with a mermaid on it. Further confusions result in his being under the aquarium and stumbling into one of many worldwide (and more vast) conspiracies. So… what do women really want? And what does he want and how can he get it?
This was easily the most amusing tale in the anthology to that point, though it's likely its humor won't appeal to everyone. It also does a very good job, albeit with very familiar "plot coupons" and methodologies, of evoking a sense of falling down the rabbit hole into a magical land, though not without science fictional grace notes.
"The Great SETI Cover-Up of 1947" by H. Paul Shuch
In the 80s, a flight instructor/consultant had some mechanical problems and was forced into an emergency landing at Area 51. There, he discovers an unusual explanation for the great flying saucer mystery.
Told as a serious matter but in a light and breezy tone, this is an entertaining and very brief diversion, though of no great weight. And I was more interested in the throwaway line about Elvis and the "wow" signal (despite a slightly fudged timeline) than in the actual focus of the story.
"A Right Jolly Old…" by James L. Cambias
Our narrator is at a coffeeshop when Cecil ("Cecil's not precisely a friend; he hangs out in the same coffeeshops I hang out in, and we've had a few conversations. But I don't seek him out.") accosts him. Cecil says he's had the best Christmas ever and details his research into poems and paintings and more ("'I don't see the connection,' I said. People say that to Cecil a lot."), ending with a prize kicker.
This is actually a piece of flash fiction with eight "reality check" footnotes from our disbelieving narrator and is the most economical, most entertaining, most creative, and funniest tale in the book. Also, it surprised me like other stories hadn't: I'd not been surprised that most of these stories were very negative, because conspiracies, by their very natures, are generally negative or spring from negative outlooks, though aren't necessarily negative. So I was hoping for a positive conspiracy story but wasn't actually expecting one. But this, after a fashion, is. Further, some of those remaining can be viewed that way as well.
"Geronimo's Skull" by Shariann Lewitt
This is a story set during the Cuban Missile Crisis, focusing on Kennedy's National Security Advisor, McGeorge Bundy, as a member of the German-controlled Illuminati. Bundy isn't pleased with the German plans for a "New World Order" and tries to navigate the Soviet and German threats during the crisis.
I value complicated plots (in both senses of the word) in these sorts of stories and this has some, which ought to be a good thing, but, initially, its backstory infodumps outweigh the actual story. A paragraph may consist of five sentences of information, followed by a brief "Bundy picked up the phone." However, these information imbalances do even out as the story progresses. I also can't help but feel the story might have benefited from a central fictional character the reader could identify or sympathize with, rather than all the historical personages the reader must encounter as actual people (however morphed) with known baggage. It wasn't a bad story but didn't especially enthrall me.
"One Night in Bavaria" by Debra Doyle & James D. Macdonald
This is another tale of the Illuminati and how Cecil Rhodes was (sort of) inducted into its ranks as a youth. Recruited by Bismarck and Ludwig of Bavaria, it discusses their doings at Ludwig's castle and the significance this will have for the world.
This is the Style Story of the anthology, written by two 21st Century New Englanders but mostly reading like a work contemporary with young Cecil:
He might have ignored that letter, save that it spoke to a certain inchoate desire already present in him, an unwillingness to drag out a mere existence as an invalid in England, or a farmer in South Africa. The writer had seemingly glimpsed what Cecil himself had as yet scarcely acknowledged; and even should that seeming prove a mirage, Cecil would be no worse for having had a brief Continental adventure on his roundabout way to the Cape.
Aside from that, it's an interesting character portrait and thematic statement, though somewhat short on plot, intrinsically fascinating conspiratorial apparatus, or other details. Though there's perhaps not much need, as we all know how things turned out (so far), right?
"Every Little Bit" by Steven Popkes
The final story is another metafictional piece in which a strange guy at an SF convention seems to read editor Tom Easton's mind and, in the course of investigating this, Easton learns the man's nature and the nature of the conspiracy behind all conspiracies and why they exist.
Contrary to an earlier story, while this may not hold water in a purely logical, real-world sense, it hews to its own logic (its internal verisimilitude) and the fictional elements even manage to override the substantial metafictional ones in a sense. It does raise some rather interesting points about the difficulty of popping conspiratorial bubbles, speaking in a psychological sense. As the first story was not the strongest with which to lead, this isn't perhaps the strongest with which to end the anthology, but its meta-conspiracy theme does provide a thematically appropriate ending for the volume.
---
Jason McGregor's space on the internet (with more reviews) can be found here.