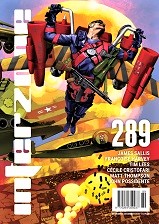 Interzone #289, November/December 2020
"Cryptozoology" by Tim Lees
"The Ephemeral Quality of Mersay" by John Possidente
"The Way of His Kind" by James Sallis
"Smoke Bomb" by Matt Thompson
"There's a Gift Shop Now" by Françoise Harvey
"The Third Time I Saw a Fox" by Cécile Cristofari
Reviewed by Kevin P Hallett
The 289th issue of Interzone had six original short stories. It was an entertaining collection of stories well worth the price of admission.
"Cryptozoology" by Tim Lees
This fantasy short has a young married couple searching for mythical creatures like Bigfoot. Jan is a fervent believer in all the rumors about forest, lake, and river monsters from the Jersey Devil to Sasquatch. Her husband is less convinced and only encourages the hunt to prove her wrong.
After endless, fruitless searching, the couple reaches a personal low point. Maybe that's what Bigfoot is waiting for all along.
The prose was engaging, but the speculative elements almost nonexistent.
"The Ephemeral Quality of Mersay" by John Possidente
Debin is a journalist on the Earth-orbiting Humboldt space station in this SF short. During a solar storm, the leaders lock Debin away in a hardened area along with most of the other station members. Here he meets a female pilot who spins a tale about the planet Mersay and its extraordinary weather.
During the telling of the pilot's story, the space station experiences some disquieting events that leave three dead, and the same pilot somehow implicated. But all Debin can think of is his girlfriend outside the hardened area. Is she safe?
This story twists three subplots together like vines around an Italian Cypress tree. It was an interesting combination.
"The Way of His Kind" by James Sallis
A boy, Gary, is born in this SF short. He is an unusual child with intelligent eyes and few friends as he grows older. His parents don't understand why things are changing in the neighborhood. But Gary is not the only strange child in the town.
Things continue to become bizarre as unexpected mushroom or flower growth takes hold. Nothing big at first, and people are amazingly able to adjust and accept the unexpected.
This was a thought-provoking read told in small snatches. The author left it to each reader to interpret for themselves the deeper meanings of the story line.
"Smoke Bomb" by Matt Thompson
Riku is the custodian of Jung-mi in this futuristic SF short. A corporation has biologically altered Jung-mi to create mixed drinks that are simply the best. Riku is there to protect Jung-mi but is also secretly in love with her.
A rich and once famous client asks for Jung-mi by name, something that is unusual. But then returns the next day and not only asks for Jung-mi but also gives an exorbitant tip. Riku is concerned, but what can they do—the firm that modified Jung-mi owns her and appreciates the extra money. Then the same client returns for a third day.
The author developed an unusual story that was a pleasure to read.
"There's a Gift Shop Now" by Françoise Harvey
Visitors can walk around the experimental school in this SF short set in the future. The school's founder had the good intention of educating children and creating leaders for a new civilization.
Part of the experimental school included a garden complete with blossoming plants and a variety of natural bugs. But so unusual was this that people blamed it for the dire results of the experiment. Now, any visitors are warned about the garden and forced to sign a waiver before entering.
This was a story that hinted at a strange future bereft of what exists all around humanity today. It was a short but intriguing read.
"The Third Time I Saw a Fox" by Cécile Cristofari
An elderly man is the night-time security guard at a natural history museum in this short fantasy. Not much happens at night. After all, who would break in to steal something? So, Bernard whiles away each night talking to the exhibits.
Bernard's best friend is the circus man, a freakishly tall man who was a side-show exhibit at the circus once. Bernard begins to tell the circus man about the three times he saw a fox in the wild. But age and memory are rapidly catching up.
This was a quiet character-centric story with a strange appeal that belied any attempt to analyze it.