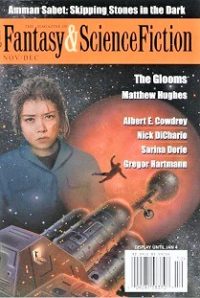 Fantasy & Science Fiction, November/December 2020
"The Bahrain Underground Bazaar" by Nadia Afifi
"La Regina Ratto" by Nick DiChario
"How to Burn Down the Hinterlands" by Lyndsie Manusos
"The Glooms" by Matthew Hughes
"The Homestake Project" by Cylin Busby
"On Vapor, Which the Night Condenses" by Gregor Hartmann
"The Silent Partner" by Theodore McCombs
"A Tale of Two Witches" by Albert E. Cowdrey
"A Civilized and Orderly Zombie Apocalypse per School Regulations" by Sarina Dorie
"Skipping Stones in the Dark" by Amman Sabet
Reviewed by Kevin P Hallett
The November/December issue of F&SF has ten first publication stories, including six novelettes. As befits such a storied publication, this issue had many worthwhile tales to read.
"The Bahrain Underground Bazaar" by Nadia Afifi
Zahra is dying from a cancerous brain tumor in this character-driven SF novelette. It's the future, and Zahra uses immersions to experience different deaths, not willing to let cancer decide for her. Her son and daughter-in-law anguish over her constant disappearances to the local immersion booths. They want to keep her secure and alive rather than let her control her last days on her own terms.
But the next immersion piques Zahra's interest. In it, a woman from Petra decides to step off a cliff, seemingly on a whim. Maybe here is the answer she seeks for her last hours. But does she have the courage to seize it?
This engrossing tale pulled at the heartstrings and left the reader with a smile and an insight into what terminally ill people sometimes need more than anything else.
"La Regina Ratto" by Nick DiChario
This fantasy novelette is set in Sicily where Giuseppe befriends three rats in his loft apartment. The three rats can talk and promise Giuseppe to be his friends. And when a queen rat becomes his new boss, they warn him to be careful.
But Giuseppe is enamored by the giant queen rat and becomes the father of her next litter. Life turns hard for Giuseppe. His rat friends abandon him, and he loses his job along with his ambitions. In this endless cycle of raising his children and then fathering another litter, one of his rat friends returns. The friend's advice is harsh, and Giuseppe doesn't think he has the strength to follow it.
An unusual tale and told at a good pace to keep the reader engaged.
"How to Burn Down the Hinterlands" by Lyndsie Manusos
Arboretum's king wants a new sword of power in this fantasy novelette. He sends his Hand and Armory to Faro's forge, the same forge where Faro's mother, Ore, made the last sword of power, and the king executed her for doing so.
Faro still harbors a secret rage against her mother's murder. Still, she agrees to forge a new sword of power and studies for months under the watchful eyes of the Hand and the four warriors of the Armory. During this time, Faro becomes close to her watchers, even lying with the one who carries the two scimitars.
Finally, Faro is ready to forge the sword of power. She imbues it with the power of fire before adding another element. It is an element that threatens to set fire to the whole Hinterland.
The plot was interesting and the prose polished. This was a good story to dedicate some time to reading.
"The Glooms" by Matthew Hughes
Baldemar is being sought by two wizards in this fantasy novelette. The wizards mistakenly believe Baldemar has some charmed artifacts they seek. At the suggestion of Oldo, who came to warn him, Baldemar decides to find the powerful wizard Aumbraj for protection.
Along the way, they become embroiled in a local dispute over control of an ancient city and meet a goddess whose best days are far behind her. But before Baldemar and Oldo can reach Aumbraj's estates, the two pursuing wizards capture them. Their fate is sealed unless Baldemar can find a way to summon help.
This amorphous plot was welded together rather than forged, leading to mostly duplicated pieces of the fantasy genre.
"The Homestake Project" by Cylin Busby
A scientist is searching for microscopic worms in this horror short. She is two miles down in a mine with her guide and on a tight deadline before the cage returns to the surface.
She gathers groundwater samples until she is almost out of time. But then a slip causes some vials to break and cut her hand. Replacing the samples causes her and her guide to miss the cage. They are trapped long enough for those microscopic worms to reveal their true abilities.
Though the story was nicely written, it covered material that has been the meat in many other horror stories over the past decades.
"On Vapor, Which the Night Condenses" by Gregor Hartmann
This whodunnit SF short is set on Zephyr. Philippa is investigating the murder of an artist at the largest fragrance company. Someone had placed a neural toxin trap for anyone touching a gaudy object, and now the detective must decide who is the guilty party.
It isn't long before she and her partner become entangled in the fragrance industry's minor jealousies and politics. Finding the right motive for the murder soon proves to be a challenge.
This was an attractive whodunnit set in author Hartmann's Zephyr universe.
"The Silent Partner" by Theodore McCombs
At ninety-two, Jean Fowler must sell her expensive furniture to cover home care costs in this short fantasy. Mr. Roberts comes by to make an offer on her beautiful handmade dining table, the work of a Japanese artisan interned during World War II.
As he makes small talk with the owner, Mr. Roberts can feel her furniture's ghosts and the wrong done to the American Japanese during those war years. He passes out while searching her storage trunk, and then things get a little more bizarre.
The story was easy to read and mysterious, though the speculative elements were left mostly to the reader's imagination.
"A Tale of Two Witches" by Albert E. Cowdrey
Rosie is investigating the disappearance of her favorite nephew in this fantasy novelette. Davo disappeared, and his mother suspects a reclusive family kidnapped him. Rose's problem is that the family's son committed murder-suicide on his parents, leaving no clues about what happened to little Davo.
Still, Rosie has that sixth sense that only a handful of people have. So she goes to the murder site to commune with the spirits there. Soon, she has some clues, and the deeper she digs, the more horrifying it gets. She owes Davo the answers to what happened to him, and she pushes on through each layer of the mystery.
This was an intriguing whodunnit with a ghost and witches twist that quickly swept the reader into its tangled web.
"A Civilized and Orderly Zombie Apocalypse per School Regulations" by Sarina Dorie
This horror novelette is set in a middle school with sixth graders. Ms. Blackburn tries to follow the school's emergency protocols as zombies surround the school and begin breaking in.
With minimal losses, she gets her students to a safer place. However, she has exhausted the safety acronym and must now make up a new acronym and new rules to survive.
This was an interestingly written story and a pleasure to read. However, the subject matter of zombies has been extensively explored in the horror genre.
"Skipping Stones in the Dark" by Amman Sabet
Sabet's SF short is set on a star-bound colony ship and is told by the ship's AI. The ship is several human generations into the trip when one of the pre-teen girls, Unica, questions the ship's love for her as an individual.
At first, the ship gives her special privileges, but nothing satisfies Unica for long. Eventually, when her demands and actions place the ship's colony in difficulty, the AI decides to take more stern action. It exiles Unica plus several other malcontents onto a separate pod. The punishment becomes a grand experiment in human individuality versus the colony's collective needs.
The plot was well-paced and interesting. Overall, a pleasant story that left the reader guessing until the very end.