For this issue Steve Fahnestalk and Robert E. Waters were asked to divide the issue in half, each to review two of the four novelettes and four of the eight short stories.
"Why That Crazy Old Lady Goes up the Mountain" by Michael Libling
"Thief of Shadows" by Fred Chappell
"Dr. Death vs. the Vampire" by Aaron Schutz
"The Crocodiles" by Steven Popkes
"A History of Cadmium" by Elizabeth Bourne
"The Real Martian Chronicles" by John Sladek
"Remotest Mansions of the Blood" by Alex Irvine
"Seven Sins for Seven Dwarves" by Hilary Goldstein
"Silence" by Dale Bailey
"Forever" by Rachel Pollack
"The Atchison, Topeka, & Santa Fe" by Robert Onopa
"The Gypsy's Boy" by Lokiko Hall
Reviewed by Steve Fahnestalk
Novelettes
"Thief of Shadows" by Fred Chappell
"The Crocodiles" by Steven Popkes
Short Stories
"A History of Cadmium" by Elizabeth Bourne
"The Real Martian Chronicles" by John Sladek
"Remotest Mansions of the Blood" by Alex Irvine
"Seven Sins for Seven Dwarves" by Hilary Goldstein
"Thief of Shadows" by Fred Chappell takes place, it says here, in the same universe as his three previous F&SF stories, but I must confess I haven't read any of them. It's a world similar in some ways to Thieves' World, sort of a generic 17th-or-so century, full of swordsmen and pirates and derring-do. And thieves who can literally steal your shadow.
Falco is a hick from the sticks, but he's determined to wipe the mud and cowflop from his boots and become a successful Shadow Thief; to do so, he's illicitly entered the home of Astolfo, who's a legendary Shadow Thief in the city of Tardocco. After being captured, Falco manages to talk Astolfo into taking him on as an apprentice thief rather than having his throat slit by Astolfo's rather large servant, Mutano. Then begins a (so far) three-year apprenticeship in everything from literacy to comportment to (especially) swordsmanship. And lots of assignments that turn out in the end to be tests for Falco.
Like the current one, where an elderly merchant named Pecunio has secured what appears to be the stolen shadow of a very successful and infamous pirate named Mebruzzo; he wants to hire Astolfo to first determine whether it's really Mebruzzo's shadow, and secondly to protect him, Pecunio, from the wrath of the shadow's rightful owner. (There are few secrets, especially among thieves, in Tardocco.) The rest of the story details the resolution of the exploit and what Falco learns from it.
Although the story is detailed, well thought out and written, the actual story seemed a little flat to me. I never got enough sense of place; although I realize it's harder to ground a reader in a novelette than a novel, I need not more detail, but better detail to make me feel Tardocco was a real place. Same goes for the protagonist, Falco, and his tutor, Astolfo. The detail was good, but not good enough, so I felt enough distance from the events to not really appreciate this story. (For a writer with a great sense of place, I recommend the Dave Robicheaux novels of James Lee Burke. You can smell the magnolias and the swampy water of the bayous. Or, for genre writing, try Robin Hobbs' "Soldier Son" [Forest Mage et al.] novels.)
"The Crocodiles" by Steven Popkes is not your typical SF or fantasy story—if there is such a thing. One great thing about our field is that we live/write/read in an expanding universe—and our authors are always stretching the boundaries. This is one such novelette; some may call it horror, as it's kind of a genre-bending tale.
Our protagonist, Max, is a German chemical engineer. More precisely, he's a German engineer working for the Reich in the nineteen-forties on fuel filtration, hoping to further their war interests. His wife's uncle, Willem, works for the Gestapo. When Max's project fails, Willem calls Max and offers him a job (the kind of offer you can't refuse) working for a Doctor Otto Weber at Buchenwald. Oh, and while he's there he must report (to Willem) on everyone and everything. That's just one of the wry little touches in this story.
I won't spoil the story for anyone when I tell you that the project involves what Weber calls "Totes Männer"—or "dead men"—that is, men who walk around after brain death; you and I would call them zombies. As is usual, there is an interesting and unusual scientific explanation for these Totes Männer, involving some kind of brain worm and a rabies-like virus, although I'd still like someone—anyone—to give me a rational explanation for how an organism that neither ingests nor excretes can exhibit any kind of energy-intensive behavior other than dissolution! But that's just me… and incidentally, before you accuse me of being anti-zombie (which I'm sure is not PC these days) I'm a big fan of the Resident Evil movies. (Okay, it's mostly because of Milla Jovovich. But they're fun anyway.)
But I digress. One of the really nice things about this story (and when I say "nice" think irony) is how Max applies his engineering solutions to the issue of how to create zombies in an "industrial" solution rather than piecemeal, and how to utilize them in war—subjects being supplied by the Gestapo (and probably also the Waffen SS)—without considering that the subjects are (or were) human beings. (Other than to mention that Weber will use Gypsies and Jews as subjects, but has a personal rule against using Poles. Which is odd.) That, I believe, is totally in accordance with how the Nazis dehumanized and depersonalized their victims.
The story progresses in an Inglourious Basterds fashion, which is to say a bit of revisionist history, but what can you expect when you mix Nazis and zombies? I won't go into the gory details, but Popkes has written a clever, fun story that has an appropriately chilling ending. I'm sure this one will be nominated for some kind of award.
"A History of Cadmium" by Elizabeth Bourne is the first sale by a painter turned writer; I've noticed over the years that often, SF artists are also good writers (like Greg Bear and George Barr, to name two—in fact, Greg is much better known for his writing), but sadly, the reverse isn't often true. In this story we learn something of the painter's art and how inseparable art and artist are in the end.
Perhaps you have to be raised by a painter, as I was, to really see the depth of this story—but I think not. Cadmium Ross's mother, Cassandra, was a legendary painter who worked, it appears, in a hyper-realist style, where the "images were razor sharp; real life wasn't as clear"—and, it appears, that applied to her personal life as well. Cadmium (named after the range of colors using that poisonous metal, mostly yellows and reds) is recently divorced and, in what appears to be a reaction to her mother, does not paint at all, but works in clay—and unglazed pottery at that.
The story is one of love, passion and loss—isn't that just how it goes?—and is well and truly told; non-artists too can recognize the themes and emotions exposed here. And in Cassandra's greatest painting (named Cadmium, same as the daughter and protagonist), the reader can find an echo of M.R. James's "The Mezzotint" (or "The Doll's House," as those two are basically the same story), perhaps more effectively told here. Possibly because of resonances with my own life, I found this story very affecting.*
*(Montague Rhodes James was an Eton and Cambridge academician who wrote some truly chilling ghost stories which were set in modern times (modern for him, at least) instead of ancient times, but he had one curious (to really modern readers) habit: he usually weakened his stories by tacking on some sort of calming or even happy ending—presumably on the theory that he didn't want the story's effect to linger—although the images from many of them are among the best horror images the field has produced.)
"The Real Martian Chronicles" by John Sladek is a recently-discovered story by an author who was perhaps never as popular as he should have been. (Look up Mechasm and The Müller-Fokker Effect, for two, if you're not familiar with Sladek's work.) This story is dedicated to George Grossmith, Gilbert & Sullivan actor, and his brother Weedon; and for good reason—George liked to put bits of what actors call "business" in his routines, like pratfalls—and there are plenty of pratfalls in this music-hall Mars.
The unnamed protagonist and his family—wife Edna, oldest son Peregrine, and the twins, Jason and Mandy—have recently emigrated from Earth to Mars, and are setting up their prefab home on the banks of one of the canals. They've discovered that the best teapot (from the Coronation of Charles III) has been smashed, and not only our hero's musical saw, but also Peregrine's collection of acne medicine and one of the ping-pong paddles have gone missing. From there it goes from silly to ultra-silly, in ways I couldn't possibly describe here—but if you have an ounce of humor in your veins, you'll enjoy this little diversion. Heck, Ray Bradbury himself would probably enjoy this one.
"Remotest Mansions of the Blood" by Alex Irvine concerns one Arthur Lindsay who lives in a somewhat mythical Latin American town named Caracol, just outside of the jungle. There has recently been an earthquake, and a number of the buildings in town have fallen down, with a concordant loss of life; Arthur's building itself did not escape the quake, and now slumps together in a somewhat pyramidal shape.
Arthur has come to the town in search of Adventure; he sees himself in his mind's eye as some kind of pith-helmeted explorer, braving the swamps and jungles in search of he knows not what, but it may involve Love. And love, for Arthur, always involves a woman with a name which is a variant of Mary (you know, mother of Christ). In this case, it's Maria Rios and, though he hasn't spoken to her, she is well aware of his fixation on her.
But Arthur, Maria and Caracol itself are all in that indefinite part of Latin America which exists on no map; perhaps it exists only in 1940s movies full of sensual Latina women, exiled and drunken remittance men and fortune hunters, swarthy natives and drums in the night. Outside of town there are seven (or more) Mansions of Blood, where Maria's would-be suitors duel to the death and dead people await reanimation by their grieving loved ones.
It's all kind of vague, and although well written, doesn't really hit me as well as I'd like. While I can recognize the quality of the writing, it's not the kind of story I'm fond of; in fact, I think of this type as an old F&SF-style story. Again, it is well written, just not for me.
"Seven Sins for Seven Dwarves" by Hilary Goldstein takes the Snow White fable and turns it on its ear. Simply put, there's no Disney here, and even the Jacob and Wilhelm Grimm version seems a bit lighthearted compared to this tale. Yes, Snow White was exiled to the forest by her father who couldn't bear to kill her (see original, not Uncle Walt's) as his new wife had commanded; yes, there are seven little men who delve all day long; and yes, the seven also sing—but no, Terry Pratchett, they don't sing the "hi ho" song all day. Here, they are named by the number of their birth: Unus, Duollo, Tria, Equatto, Quin, Hex and September.
Mr. Goldstein has taken the old story and mixed it with Dante Alighieri's Seven Deadly Sins (which were "pride, avarice, envy, wrath, lust, gluttony, and sloth") and thrown in a touch of Pandora's Box, then served it up with a garnish of Bluebeard's Forbidden Room to make what appears to be a pretty original version. The description of Snow's encounter with Lust is worth the price of admission (who knew legendary characters could do… that?) alone.
Strange, but nicely written. On balance, I would have to recommend this one. Except for the Irvine story, I liked all of these; in fact, I thought the Irvine was well written, but that kind of story doesn't really trip my trigger. It's a personal choice, and you may well like it better than I did, and I thought the Chappell novelette was a bit too vague.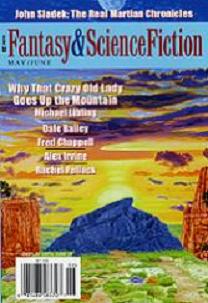 Reviewed by Robert E. Waters
Novelettes
"Why That Crazy Old Lady Goes up the Mountain" by Michael Libling
"Dr. Death vs. The Vampire" by Aaron Schutz
Short Stories
"Silence" by Dale Bailey
"Forever" by Rachel Pollack
"The Atchison, Topeka, & Santa Fe" by Robert Onopa
"The Gypsy's Boy" by Lokiko Hall
In "The Gypsy's Boy" by Lokiko Hall, an unwanted (and blind) young man is sold to gypsies. He falls into the care of an old woman, and they form a kind of grandson-grandmother bond, each bringing to the relationship skills and enhanced senses the other does not possess. It's a strong pairing, until the woman dies and leaves the boy to his own devices. But up blows a wind spirit to save the boy from the cruel world, and their relationship is much, much more personal and physical. The writing and pacing are strong, but once it became clear that the boy would go to any length to regain his sight in order to see his aerial lover, the ending was quite easy to predict.
Rachel Pollack's "Forever" begins in classic "sink or swim" mode. The first page and a half is one confusing paragraph after the other, as names of spirits, gods, and goddesses are hurled at the reader with reckless abandon (and most of them are meaningless to the story). Somewhere within this barrage, however, is the so-called Blessed Lady of Dark Forever, and she and her sister play a game of wearing mortal flesh to see how humans live. Once that part of the story begins, it's quite an engaging read, as Forever has to choose between staying mortal or returning to the realm of gods and allowing her human lover to survive a life-threatening ailment. The ending is excellent, but the first few steps towards it are treacherous indeed.
A lot of young kids dream about getting a new train set for Christmas. But for Matt in Robert Onopa's "The Atchison, Topeka, & Santa Fe," it may not be worth the trouble. The train set he receives has an A.I. any super-computer would die for, plus it has the ability to replicate its miniature citizenry. At first, this concurrent growth of the train and its environment excites the young boy, but when some of these little people grow violent and begin to venture far afield, things quickly get out of hand. I liked what the author did with the subject, but turning seemingly innocent toys into mortal threats isn't anything we haven't seen before.
"Silence" by Dale Bailey is a solid piece of fiction that reminds us all how difficult, and painful, the teenage years can be. Phillip is fourteen years old. He's plagued with bullies and self-doubt, until one day he stumbles upon an alien in the woods near his school. The creature is weak, vulnerable, and in some kind of pain. He tries nursing it back to health, but his personal problems keep getting in the way. Where the alien came from and why it is here is never explained, and frankly, it hardly matters. The story is about Phillip's personal growth and triumph over adversity; the alien is simply a device through which we see his character and compassion. Some will argue that the ending does not resolve the conflict, and it's a valid complaint, but I argue that in this case it works. In life, conflict does not always resolve in one dramatic event. This story shows us that sometimes, it takes years of reflection to work through problems.
Aaron Schutz gives us a rather wacky super hero yarn in "Dr. Death vs. the Vampire." The doctor of the story is travelling by bus across the desert. His particular skill (or power) is putting deserving people out of their misery. He targets an old woman in a nearby seat, but suddenly his plans are foiled by the presence of a vampire who just happens to be taking the woman back to his nest. As you might expect, conflict ensues as the two battle it out to see who will prevail in this test of wills. If the author had just stuck to the story at hand, it might have worked. But we go off on a lot of tangents where the good doctor explains the "League" that he used to belong to, the various heroes in said organization, and a multitude of other things that have little to do with the story. The introduction to this piece indicated that it was a novelette culled from the opening part of a novel. At novel length, it may actually work.
"Why that Crazy Old Lady Goes up the Mountain" by Michael Libling left me a bit frustrated. Sara Marie Sands and Kevin Akers are misfit teenagers with more than their fair share of dysfunction in their family life. In time, they hook up and go on an adventure to the top of this mountain where, according to Kevin, God is buried beneath a rock. The lead up to this trip is superb, as the author lays out his characters' personalities, strengths and weaknesses, with a very sharp and poignant prose that I quite enjoyed following. Once they get to the rock, however, it turns into a ghost story that really didn't work for me. The author tries to explain why "God" is buried beneath the rock and why the spirits of the dead invade the bodies of those that travel to the site, but it just didn't feel credible, and the supernatural elements come too late in the tale and seem almost tacked on as an afterthought.