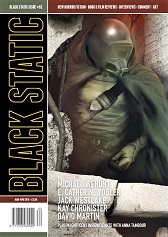 Black Static #62, March-April 2018
"Sanguinary Scar" by E. Catherine Tobler
"Bury Me with Broken Light Bulbs, Bury Me in Shattered Glass" by Jack Westlake
"Things Behind the Sun" by David Martin
"Your Clothes a Sepulcher, Your Body a Grave" by Kay Chronister
"Caring for a Stray Dog (Metaphors)" by Michael Wehunt
Reviewed by Kevin P Hallett
This 62nd issue of Black Static contains five original stories, including three novelettes.
"Sanguinary Scar" by E. Catherine Tobler
The daughter of the King of a flooded city resists his rules in this intriguing SF novelette. Set in a post-global-warming New York City, Arden must carry out her father's edicts. Since the death of her brother and heir, Arden's father has sought a new heir by mating Arden to her brother. And until she bares a child, the king will allow no other births.
Arden carries out her duties, but secretly undermines her brutal father. Helping any pregnant women she can reach and saving others from having their wombs cut out. She is always in the presence of blood, unable to clean it from her life. But when events reveal her disloyalty, she will have to act.
This was an engaging tale. The mystery and danger pulled the reader through to the end. Though the pace dropped off in places, it was an enjoyable read.
"Bury Me with Broken Light Bulbs, Bury Me in Shattered Glass" by Jack Westlake
This horror short introduces us to two addicts. She's an alcoholic who tests her will in the local supermarket's liquor aisle, he's addicted to self-mutilation by eating glass or ceramic plates.
Together they struggle through the day-to-day cycle of recovering and lapsing. When he encourages her to take up his addiction, in the hope it will cure hers, things start to unravel for the struggling couple.
This was an engaging tale. But it had little to offer in the speculative arena.
"Things Behind the Sun" by David Martin
Si feels haunted by the strange music of a little-known band in this horror novelette. The band originated in a town he grew up in, they were never good or successful, but for a few people their off-chords cause hallucinations.
Si finds himself drawn again to his home town of Leyford, where it all started. He has Lisa, a kindred spirit, with him. She too feels the bizarre pull of the music. And together they try to unravel the mystery. But some hauntings can be very dangerous to those who try to expose them.
The story had a dark mystery to it. But overall it was slow and dragged to its disturbing end.
"Your Clothes a Sepulcher, Your Body a Grave" by Kay Chronister
In a blend of horror and fantasy, we follow the story of Isabella, a strange and fragile young girl who captures the heart of the protagonist. But history has cursed Isabella.
The protagonist follows Isabella's secret life, enraptured by her translucent skin and blue veins. When she bleeds, her blood causes hyacinths to bloom wherever it touches the ground. Even as he finds a wife and starts a family, something draws him back to one final visit with Isabella.
The story was hard to follow, wrapping a run-of-the-mill fantasy in fractured and flowery prose.
"Caring for a Stray Dog (Metaphors)" by Michael Wehunt
Kent is running away from the heart-rending memories of his young daughter, Lissa, in this painful horror novelette. Four-year-old Lissa was one of several murdered in a mass killing by a deranged Baptist minister.
Now, months later, the pressure has destroyed his marriage and Kent heads across the country, rescuing a stray dog he names Grace. But a mysterious and ominous presence seems to follow him, manifesting itself in small Baptist churches along the way. It becomes a struggle of understanding for Kent and his new faithful companion.
This was a strange and well-structured story. Hard to put down, but light on the speculative elements.