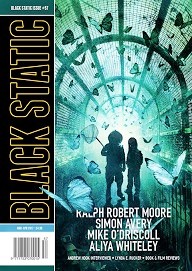 Black Static #57, March/April 2017
"Will You Accept These Flowers From Me?" by Ralph Robert Moore
"Sunflower Junction" by Simon Avery
"Shadows on Parade" by Mike O'Driscoll
"The Chambermaid" by Aliya Whiteley
Reviewed by Jason McGregor
This issue of Black Static presents us with three novelettes and one short story all of which are significantly or almost entirely mainstream with any concretely occurring fantastic element usually occurring very late. They involve unsuccessful people and tend to deal with time and be told in sentence fragments. One struck me as quite good, one less so, and the two others as being somewhere between.
"Will You Accept These Flowers From Me?" by Ralph Robert Moore
Michael Kurtz has been a magician for quite some time and is still doing small gigs when he gets the call to the big time. Presumably to mark the occasion, he invests in a special hat. In Tahoe, he meets Erin and tells his life story and expresses his need for love. But, on the one hand, his special assistant does love him and, on the other, he's lacking in the qualities that might make him the one for Erin. Even his magic hat is not magic enough to transform him so, after a bad experience on stage and bad decisions involving that, he makes a further bad move with the hat and you know things like that should never be abused—there's going to be a cost of some kind.
The fragmented sentences this opens with (and is largely told with) make for a poor start and take getting used to. I thought the ending was a little maudlin but it was going for emotional impact and may achieve it for some readers. In the meantime, the plot sometimes moves in mysterious ways and some of the psychology and dialog is trite, but the feel of the story and the characters were mostly engaging and the theme of love, both unconditional and otherwise, is hard to exhaust. Basically, I'd think many people would find themselves involved for the bulk of the tale and some of them will appreciate the whole.
"Sunflower Junction" by Simon Avery
The drifter protagonist introduces us to Colin, whose life stopped when he lost his teen love, Sally. Now he's a sixty-year-old heroin addict. He's been selling his old vinyl to the protagonist but it's a relatively recent CD by Hugo Lawrence, called Sunflower Junction, which really mesmerizes our narrator. We eventually learn that he actually shares something with Colin, though he hardly seems conscious of it. Turns out his life has taken a turn for the worse after losing his love, Emily. These days, he's in what he considers a strictly physical relationship with the suicidal Ingrid, but neither man knows any love in his life. The narrator becomes obsessed with the album and Lawrence, himself, though. Turns out Lawrence had a mystical experience with the jam that was captured as Sunflower Junction. It ruined his career as he's been trying to recapture it ever since and has disappeared. The basics of such plot as there is unfold in the narrator's tracking of Lawrence and, ultimately, a rearrangement of his priorities.
This story is even more mainstream than the previous. There are concrete manifestations of the narrator's dreams and a disturbing sequence in a magically transformed house but these things feel like the narrator could be marinated in LSD as much as he's experiencing a full fantasy. There are many symbolic pieces of varying degrees of complexity and I don't think I follow all of them. But there is obviously a core of a bit of heaven making of most things a hell if you let it and some "ars longa, vita brevis." Despite Sunflower Junction being a sort of folk-jazz fusion, some of the music this story brings to mind are Janis Joplin's "Get It While You Can" and the better parts of The Moody Blues' In Search of the Lost Chord. Regardless, "Sunflower Junction" won't appeal to everyone and is the sort of thing that usually doesn't to me, but I find it nearly as interesting as Sunflower Junction was to the protagonist.
"Shadows on Parade" by Mike O'Driscoll
Gillian has had a terrible occurrence (or occurrences) in her past and now holds her ersatz psyche together with compulsively recorded photographs and movies of her recent life, defining herself through others. At the outpatient Center where she's supposedly getting help, she meets a troubled man who seems very nice at first but then changes into a jealous, controlling person who wants her to define herself only through him. As the story creeps along, we receive more and more confirmation of things we basically knew, her past comes more and more into focus, but he gains more and more control and begins to obliterate her past. Then it all changes very unconvincingly as the supernatural part of this otherwise mainstream tale finally manifests.
On a line-by-line basis, this is fine, and I was initially interested. However, the story is much, much too long and comes to seem very hackneyed and lays that on with a trowel. The seemingly naive narrator was initially an interesting approach to take but gradually this reader became tired of the unmysterious mystery. And then, as I say, it rather unconvincingly injects the supernatural and uses it to flip the story. Either way, if you've seen things like Gaslight or don't enjoy stories of psychological torture, there's little point in this.
"The Chambermaid" by Aliya Whiteley
Bonnie cleans hotel rooms and we follow her through her cleaning rounds as she tries to imagine the natures of the occupants and searches for something to bring the mysterious Xania. Finally, she arrives at Xania's room and presents her with a photograph she's taken along the way. Xania reads the occupants' fortune from the photo but then, also, reads Bonnie's fortune.
This is a very short story (especially compared to the last of the three novelettes) and there's nothing fantastic in it at all unless you accept Xania's prophecies will come true. Still, it was mildly interesting and relatively painless for the reader.
---
More of Jason McGregor's reviews can be found on his Featured Futures blog.