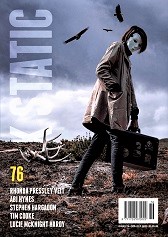 Black Static #76, September/October 2020
"Fatal Memory" by Rhonda Pressley Veit
"Resting Bitch Face" by Lucie McKnight Hardy
"Phantasmagoria" by Abi Hynes
"Nights at the Factory" by Tim Cooke
"The Stationery Cupboard" by Stephen Hargadon
Reviewed by Kevin P Hallett
The 76th issue of Black Static contains five original stories, including two novelettes. Overall, the stories were enjoyable to read.
"Fatal Memory" by Rhonda Pressley Veit
Meddy, a widower, is struggling to remember details in this sad horror novelette. Regular visitations from his wife's phantom isn't helping him. But still he has his only daughter Shannon to help him. Only she doesn't seem to pay much mind to his struggles.
Shannon calls him to remind him about his medications, and Meddy manages to muddle through day by day. Then one day he overhears people talking about Shannon's past and all his memories come surging back like a tidal wave.
A nicely crafted character-driven story that was hard to stop reading, though the plot's speculative elements are sparse. The reader had little idea how this story would end.
"Resting Bitch Face" by Lucie McKnight Hardy
This short horror story introduces a dissatisfied mother who is obsessed with sewing. Her disinterested husband claims her face has devolved into a resting bitch face.
As she mends the hem of her coat, she finds she can sew her own cheek without feeling any pain. And slowly she devolves into another kind of person, one seeking revenge on her boring life.
This story developed at a slow pace and was not engaging.
"Phantasmagoria" by Abi Hynes
A college undergraduate wants to test herself as an actress in this short tale. In truth, she isn't talented at it and struggles to pass any auditions at her college.
Finally, she gets a non-speaking part as yellow wallpaper. But she is disappointed when she discovers she's one of three women playing the same part. But the roles begin to creep into her dreams, creating phantasmagorical illusions.
This story was slow and offered very few pieces of speculative fiction.
"Nights at the Factory" by Tim Cooke
In this short story we follow a group of four boys in England after World War II. The boys are having a running feud with the night watchman of a mysterious factory outside their town.
The watchman has promised them a lesson never to be forgotten if he catches them, and the boys are determined to goad him despite his ability to pop up mysteriously anywhere on the site. One night, things get too close, and Geraint disappears after the watchman chases him.
It takes time for the remaining boys to get up the courage to go in search of Geraint, and when they find him and the watchman, they also find a bizarre monster under the watchman's control.
This story had a nice mystery to it along with a glimpse of a dark and dangerous period as England recovered from the war. An engaging read.
"The Stationery Cupboard" by Stephen Hargadon
The office misfit, Byrne, is at the end of an especially worthless career in this fantasy novelette. Byrne has taken the art of doing nothing to new levels and works his way up from assistant to nothing better over a twenty-five-year career. And now it's time to face his last day at the company.
Some of his past bosses come to say goodbye, a few reminisce about the past and how the technology revolution has changed everything in the office. Byrne's last task is to hand in his stationery at the stationery cupboard. But this is where things take a turn for the weird. Byrne passes through a dimensional barrier to find himself in a place where his ennui is appreciated, even lauded.
This was a slow story that never picked up its pace. The prose matched the energy of the protagonist, and maybe that was the point. The speculative elements were light and only came in after two-thirds of the plot.