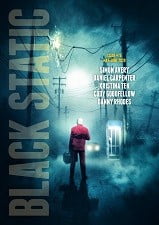 Black Static #75, May/June 2020
"The Black Paintings" by Simon Avery
"The Stonemason" by Danny Rhodes
"Asleep in the Deep End" by Cody Goodfellow
"Roots" by Daniel Carpenter
"Except for the Down Below" by Kristina Ten
Reviewed by Kevin P Hallett
The 75th issue of Black Static contains five original stories, including one novelette. Overall, the stories were enjoyable reads.
"The Black Paintings" by Simon Avery
Lucien, a renowned artist, is dying of cancer in this short horror story. He doesn't have long to live when the cancer decides to talk to him. It wants something from him during this last night Lucien has to live.
It wants to live on after Lucien's death. After all, it would be a waste of a good disease to follow Lucien into the grave. So, the cancer gives Lucien one last pump of energy and sends him out into the London night to experience life and find a way for it to live on.
A nicely crafted story that was hard to stop reading. The reader has little idea how this story will end.
"The Stonemason" by Danny Rhodes
This horror short introduced a stonemason charged with sculpting a new statue as part of the renovation for an old cathedral. But the statue's face looks more like a tortured woman's face than the man in the picture he modeled it on.
The stories of a woman entombed in the walls of the dark entryway match the eerie ghostly presence he feels when he passes that spot. As things begin to fail in his personal life, the stonemason wonders how far the apparition's influence reaches. Should he destroy the sculpture to break the spell?
This story developed at a slow pace and the slavish dedication to the third-party pronoun made the prose tedious in places.
"Asleep in the Deep End" by Cody Goodfellow
After her husband, Roger, retires, Nora moves with him to Central America in this horror novelette. The couple suffer from their neighbor's pepper tree that casts its unending foliage onto their salt-water pool.
The house sits in an exclusive community and things take on a staid existence as Nora drinks too much and Roger angers too quickly. The pool and pepper tree have a life of their own. A life that becomes more apparent during a house party in which a neighbor's dog disappears, followed a day later by its owner.
The pool offers them eternal life, just so long as Nora and Roger feed it living flesh regularly. But Roger has a checkered past that soon catches up to him, and some of the people in the gated community aren't so spotless either.
Slow initially, the dark story picked up pace in the last half as the mysteries of the pool and pepper tree began to surface.
"Roots" by Daniel Carpenter
In an undefinable short horror tale, we follow Dennis who discovers a young hand buried in the dirt at a construction site in London. The police close the site and the foreman recommends Dennis for a job at a new construction site.
New to construction, Dennis hears many strange stories of things found while digging into London's old dirt. Stories of bodies planted, and eyeball on stalks, until he starts to believe them too.
This story's purpose is a mystery unto itself. The prose was good, but the plot lacked any bite.
"Except for the Down Below" by Kristina Ten
The Know-It-All isn't a popular man in this short fantasy-horror story. The main problem is he really does know it all. Until one day, when odd things begin appearing in his garden.
Try as he might, he can't rationalize what it means and the idea that he might not know everything gnaws at his psyche. And so, when someone spins a tall tale about people fleeing underground eons ago, he is fascinated by the prospect of learning new things and off he sets for the underworld.
This was a curious story with a dark and unpredictable ending.