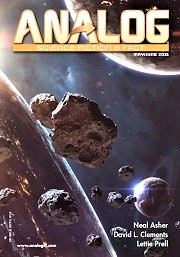 Analog, May/June 2021
"Dangerous Orbit" by M. T. Reiten
"Heart of Stone" by Tom Jolly
"Longevity Averaging" by Neal Asher
"Sunward Planet" by Terry Franklin
"Small Turn of the Ladder" by Kelly Lagor
"In-Flight Damage" by Sara Kate Ellis
"Alone in the Cold" by Tim Stevens
"Dancing on Spun Sugar" by Meghan Feldman
"Pilgrimage" by Michael Adam Robson
"Absolutes" by Jay Werkheiser
"Dendrochromatic Data Recovery Report 45-274" by Steve Toase
"Pole Vaulting on Moon Six" by Lawson Dumbeck
"The Message" by Bond Elam
"Five-Star Review" by Beth McMillan
"Two Factor" by Elisabeth R. Adams
"Eyes to the Height" by Sean Monaghan
"The Summoner's Apprentice" by Tessa Fisher
"Uploading Angela" by Lettie Prell
Reviewed by Mike Bickerdike
This issue of Analog contains 1 novella, 3 novelettes, 13 short stories and a piece of flash fiction. There are several 'space-survival' type stories, as is common in Analog, but also a fair few based on speculative biotechnology–a less common topic that made for some interesting reading. It's more of a mixed bag than the preceding April/May Analog, however, with fewer high-quality stories in this issue.
"Dangerous Orbit" by M. T. Reiten
In "Dangerous Orbit," Reiten has written an enjoyable and gripping short story. A world-war that employed satellites and space-based armaments resulted in a huge amount of orbital space debris that dangerously careers around the Earth. To clean up the junk, contractors spend time in reinforced orbital craft ('trashcans'), directing clean-up drones and deploying large nets. When one drone doesn't respond to communications, the crew of its 'trashcan' must go on an EVA to investigate. Once outside the craft, the problem is found to be more threatening than expected. This is a well-paced tale featuring appealing characters. The author has a military background, and there is a certain truth that comes across in the action and details of this hard SF tale that doubtless owes something to the that experience.
"Heart of Stone" by Tom Jolly
This inventive short story is told from the perspective of alien 'Stones'—essentially asteroid-like lifeforms—that live in the 'liquid-zone' around a star, gaining nourishment from comets. The Stones detect a flash of light in their 'field' and when they move to investigate, they encounter small, strange, organic lifeforms with four appendages and a bulbous lens-like section at one end: humans in space suits! This is an engaging first-contact story with a difference.
"Longevity Averaging" by Neal Asher
In this novelette, a wealthy media mogul undertakes longevity treatments at a specialist clinic in the UK. There's not much more to the story than this. Asher goes into some depth explaining how the longevity process works and this is perhaps a mistake; various modern biotechnology terms are thrown around without too much regard for current theory and there are several errors in the medical science. This makes the story unconvincing as hard SF, and with occasionally awkward prose, the overall execution is not what it might have been.
"Sunward Planet" by Terry Franklin
This is a very short story, barely more than flash fiction. A scientific trip to Venus results in the discovery of a strange lifeform in the thick clouds 50 km above the surface. This is too short to provide a sense of involvement from the reader, and the premise seems highly unlikely.
"Small Turn of the Ladder" by Kelly Lagor
Another too-short tale, Lagor's story tells of a woman who's dying of a gastrointestinal autoimmune disease, and who gets a tattoo of DNA (the ladder in the title) and takes a short walk for lunch with her scientist friend. It's essentially a maudlin non-genre story, and as with the previous tale, it's really too short to offer that much.
"In-Flight Damage" by Sara Kate Ellis
This is the third consecutive story in this issue of Analog with a biotechnology or medical theme, and the best of the three. In a post climatic-cataclysm future, a lesbian couple are planning to have a baby and they learn that the mother-to-be has a high degree of inheritable epigenetic markers of trauma—a result of her difficult childhood. The plan is to undergo a treatment that will demethylate affected genes to 'clean' the code of the child of any stress-based traits. The idea is an interesting one, and a novel theme in SF to my knowledge. Well-constructed, the tale provides just enough detail about the world in which the characters live to give a strong impression of the challenges they face, while still leaving plenty to the imagination. Recommended.
"Alone in the Cold" by Tim Stevens
This short story covers some pretty familiar ground for SF readers: a lone man occupies a habitat on an alien planet, where he is undertaking a geological survey. The ship that left him will not return for six months. The world he's living on, in orbit around Alpha Centuari, is a frozen wasteland. He gets into trouble on the planet, unsurprisingly, such that his survival is in jeopardy. This is a scenario that seems to have been written about a good deal before in many another issue of Analog over the decades. Also, one can't help wondering why an individual has been left to survey an entire planet on his own, with only a single habitat, a ground vehicle and simple hand tools. This hardly seems like a sensible way to survey a planet for possible mining opportunities. That said, there is a bit more to the story than his survival by the end of the tale, and its brightly told, which ultimately made for a better read than was foreshadowed halfway through.
"Dancing on Spun Sugar" by Meghan Feldman
This novelette, the author's first SF publication, was really rather good. The story tells the tale of a survey ship in the asteroid belt and the significant troubles the crew of four get into when they are asked to conduct a survey of a specific asteroid for a science research team. On the face of it, an adventuresome tale about surveying and mining the asteroid belt sounds like a well-worn scenario in SF. However, this well-written novelette rises well above average as it does three things especially well: it conveys the innate fear of the openness of space and spacewalking better than most; it develops distinct, believable characters impressively quickly; and the action scenes are well-paced and gripping. A fine first story from Feldman and recommended.
"Pilgrimage" by Michael Adam Robson
A group of aliens walk on a never-ending pilgrimage toward the setting sun, which is considered to be 'God', fearing the intense cold and darkness behind them, hoping eventually to reach a promised land. The story follows one such alien, from a race that looks somewhat like large furry four-legged beetles, as he treads his way around the globe. It's quite an interesting idea and explores the nature of seeking faith and the association of purpose and contentment. However, coming entirely from an alien perspective, the story perhaps suffers slightly from a lack of engagement with the protagonist.
"Absolutes" by Jay Werkheiser
An enjoyable short story from Analog veteran Werkheiser, this tale features an unemployed physics theoretician who is adamant that time is absolute, not relative as Einstein argued. His theory gets no acceptance from the physics community, so he undertakes to prove to them he's right, by building a time machine in his apartment. The title refers not only to his idea of absolute time but to his approach to life—seeing everything as absolutes, with no shades of grey—which tries his girlfriend's patience. The ideas are good, and the resolution is satisfying; this is worth a read.
"Dendrochromatic Data Recovery Report 45-274" by Steve Toase
The 'dendrochromatic data' in the title refers to data from forest-based computational servers, in which botanical data is stored in trees, organised into year rings within the trunks. One would imagine that interpreting and understanding data from tree-based biological servers might be challenging. Perhaps ironically, interpreting and understanding this short story is also rather challenging. I'm not sure what to make of it to be honest, but it didn't appeal.
"Pole Vaulting on Moon Six" by Lawson Dumbeck
This is a piece of flash fiction, in which miners on a small moon finish their shift at the end of each week by pole-vaulting in the low gravity to the local watering hole. There's not much more to it.
"The Message" by Bond Elam
Another very short story, this concerns the awakening of an AI to consciousness due to a computer virus. Several ideas have been shoehorned into only a very few pages, making for a slightly dense piece that would have had more space to breathe, and invited more engagement, over the course of a longer story.
"Five-Star Review" by Beth McMillan
The protagonist in this short story is an 'uber'-style driver whose 'career' is essentially finished if she doesn't get a five-star review from her customers. The story is set in a post-climate changed Britain. Unfortunately, little in the story rings true, and there are so many inconsistencies it's hard to engage with the tale. Just one example from many: the area of Kent in which the story is set is described as being on the edge of a desert, containing cactus and eucalyptus, but we are also told that England now gets much more rain, causing widespread flooding. Which is it? Ultimately there is too much here that stretches credulity or doesn't ring true.
"Two Factor" by Elisabeth R. Adams
On a spaceship bound from Mars to Earth, a self-destruct sequence was set by a vessel's captain in response to a perceived disease risk. The only crew member now not dead or in a cryotank, Luisa Lopez, did not believe there was a disease risk, and needs to prevent self-destruction of the ship. However, she cannot deactivate the alarm, only restart it on its 180-minute countdown. Thus, she is required every three hours to manually reset it, and she can only grab short naps between alarms and necessary maintenance work on the vessel. Unfortunately, the situation for Lopez gets worse. This is quite an imaginative story, of the hard SF problem-solving type. With good pacing, this is an exciting tale that will appeal to many. My only niggle with the story is that it seems unlikely a 'self-destruct system' would be built into the sort of non-military craft described here (or operate the way it does). Of course, the story entirely depends on it, so we have to accept it at face value; and self-destruct systems are a common SF trope even though they really don't exist in the real world. In 'hard SF' however, their presence should perhaps make a bit more sense.
"Eyes to the Height" by Sean Monaghan
A small tourist vessel takes off from the moon base Herschel, but quickly develops engine problems, such that it lacks the escape velocity needed to leave lunar orbit and return to Earth. The general plot—another in this issue of Analog concerned with survival challenges in space—may feel rather familiar to many. Both the pilot of the falling ship, and her sister on the moon's surface, seem altogether too sanguine and relaxed about the ship's impending crash. This rather detracts from the reader's sense of danger and reduces the impact of the story.
"The Summoner's Apprentice" by Tessa Fisher
In this novelette, most humans seem to live in a dystopia following a war between transcendent 'Powers' that developed from humans but now exist more like Gods. The Powers no longer live on Earth, occupying other parts of the solar system, but can be enticed back to Earth's surface as avatars by 'summoners' who barter data for advantages or help. A teenage transgender girl takes up an apprenticeship for a summoner, with the hope it will ultimately help her complete her body change, but she gets caught up in much more than she bargained for. This is quite an ambitious novelette, and it's a partial success. The story is quite well paced, and the SF scenario is not an uninteresting one, but the overall effect is somehow less than the sum of its parts. On the one hand, the stakes are very high on a personal and global level, but on the other, they don't entirely engage or convince the reader. It's likely to have particular appeal to transgender readers, however.
"Uploading Angela" by Lettie Prell
As is usual, this issue of Analog closes with a novella. Sometime in the future, people can get their minds uploaded into a virtual body at the end of their lives. A computer technician has to trouble-shoot the upload of one old woman (the titular 'Angela'), who has died of natural causes, because her 'files' break up during upload, seemingly as she was infected with a computer virus. However, when he checks the upload record, all evidence of the virus has been deleted. The story is well-written and inventive but is somewhat marred by limited tension. Ideally, a story will provide dramatic tension for the characters of course, but here I didn't find myself caring especially how the story resolved. Fans of cyberpunk stories concerned with uploaded minds into computers and virtual worlds (a kind of SF sub-genre that doesn't personally appeal) may well enjoy this more than I did.
---
More of Mike Bickerdike's reviews and thoughts on science-fiction can be found at https://starfarers-sf.com/