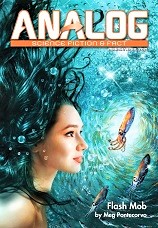 Analog, March/April 2021
"Flash Mob" by Meg Pontecorvo
"The Thrashpusher of Planet 4" by Brenda Kalt
"It's Cold on Europa" by Filip Wiltgren
"Tail Call Optimization" by Tony Ballantine
"The Acheulean Gift" by Matthew Claxton
"If a Tree Doesn't Fall" by Jerry Oltion
"Thh*sh*thhh" by Aimee Ogden
"John Henry was a Steel Driving Man" by Shane Halbach
"Damocles" by Sean McMullen
"Recollection" by Elise Stephens
"The Burning Lands" by Tom Jolly
"Hillman, Charles Dallas, Age: 35, No Partner, Parents: Deceased" by Ron Collins
"I Have Loved the Stars too Fondly" by James Van Pelt
"The Pond Who Sang" by Charles Hand
"Second Hand Destinies" by Marie Vibbert
"The Shadow of His Wings" by Ray Nayler
"Problem Landing" by Sean Monaghan
"Invasive Species" by Catherine Wells
Reviewed by Mike Bickerdike
This is a meaty issue of Analog, offering 1 novella, 4 novelettes and 13 short stories and was an enjoyable read overall, containing several high quality stories.
"Flash Mob" by Meg Pontecorvo
Med Pontecorvo's novelette, "Flash Mob" tells of a post-doc, Emilia, who works in a cephalopod research group in Monterrey. When a huge swarm of Japanese firefly squid are seen gathering in Monterrey sound and beaching in vast numbers, the research team capitalises on the rare opportunity to learn more about their biology. Emelia is forced to take her baby boy with her to study the squid, in the absence of a babysitter, and ultimately gets in trouble offshore in her efforts to understand the squids' luminescence. The story accurately portrays the academic world and paints a vivid portrait of Emilia, who is appealing and believable. An enjoyable read, "Flash Mob" was given the cover for this issue of Analog. It would be remiss not to note however, that, while this is fiction involving science, that doesn't necessarily make it 'science-fiction'. The actual science-fictional elements are marginal at best.
"The Thrashpusher of Planet 4" by Brenda Kalt
If science-fiction elements were light in Pontecorvo's novelette, there's no doubting the genre in Kalt's short story, which features tentacular, multi-eyed, six-legged aliens, entering what appears to be our solar system in a great spaceship. One alien onboard, Awi-trashpusher-nonumber, is of a low caste, destined by birth to be a 'trashpusher' but hopes for more from life. After acing his draining-engineer exam, he is unexpectedly directed by the ship's AI to explore the interior rocky planets in an old, expendable scout ship. The tone of the story is light and humorous, the plot is deftly handled and the character of Awi is sympathetic and enjoyable. I liked this story; it reads like a story from a pulp-era magazine with its cosy style, and deliberately clichéd aliens—except that it is told entirely from the alien perspective. Ultimately the outcome is unsurprising, but the aliens are great and worth admission on their own.
"It's Cold on Europa" by Filip Wiltgren
This short story by Wiltgren is a tense and engrossing tale, set on the Jovian moon, Europa. Only two ice-miners are resident on the Europa base, one man and one woman. Each miner lives with a construct of their respective wives, who are physically located in other planets or moons in the solar system. The constructs (androids, essentially) have limited programming stability and software updates are needed on a regular basis. The female protagonist worries that something may have gone horribly wrong with her wife's construct. It would spoil the reader's enjoyment to describe much more of the plot, but the story delivers good tension, and the idea of the constructs was neat. The exciting conclusion seemed slightly rushed, and I would have enjoyed a more drawn-out denouement, but overall, it was an entertaining read.
"Tail Call Optimization" by Tony Ballantine
In this novelette, Ballantine returns to his far-future universe in which 'BoboboCedian' robotic constructs 'live' in groups as hive minds. In this story, one robotic construct (a part of the 'Finn' collective) is working with poor efficiency, infected with a virus that causes him to constantly count up Fibonacci sequences. He is treated with no respect by other instances of Finn. On its travels within the asteroid where it lives, looking for tech parts to recycle, the protagonist 'Finn' comes across another mind, or 'processing space' called Vivian, who claims to be something he has never encountered before: a human. Told from the perspective of a robotic construct and using software terminology that will be new to many readers, it is perhaps surprising this tale is so immersive and engaging. Stories this heavily steeped in computer-tech and AI ideas have the potential to be hard work, but in this story, Ballantine has kept enough focus on the interesting plot and characters to maintain real interest. The plot develops well and concludes satisfyingly.
"The Acheulean Gift" by Matthew Claxton
The 'Acheulean' children in this story are genetically engineered to express certain genes of early hominids in a scientific effort to return a sense of social fraternity to humanity. The children, many from broken families, are gathered at summer camp, staying in tents, fishing, and honing their inherent skills at flint-napping. The story highlights humankind's tendency to racial intolerance, while also commenting on the value of genetic heritage—the teenagers' distinct genetic makeup offers a target for hatred but also has practical advantages. While the story presented a reasonably enjoyable diversion, the ideas it explored were not especially novel, and the conclusion was rather predictable.
"If a Tree Doesn't Fall" by Jerry Oltion
This short story by Oltion is undiluted fun. A hiker in Wyoming's Bighorn mountains shelters from a brief thunderstorm and discovers a tree that appears to be floating several feet above the ground. His investigation reveals a highly unexpected (and useful) explanation. Oltion has been submitting to Analog for forty years and continues to provide good stories. This tale is no exception. It doesn't aim to provide a deep social message—though Oltion does comment on the deleterious effects of climate change to the Bighorn range—but instead places entertainment front and centre. It's a little gem, written in a highly approachable style that seems effortless. Recommended.
"Thh*sh*thhh" by Aimee Ogden
"Thh*sh*thhh" is flash fiction of only a few pages, which recounts a conversation between a human woman and a member of the Th*thhhhh*fhh race at a Th*thhhhh*fhh funeral. The situation is unusual as these aliens usually live millions of years. Plot-wise the story doesn't offer much, as it's too short to develop character, but is not punchy enough for flash-fiction. The piece also unwisely follows the current fashion of applying invented pronouns to the aliens, presumably as they do not have male and female sexes. In this case 'xer' and 'xe' are used as pronouns, alongside completely unpronounceable alien terms and dense language. The end result is unwieldy prose that's rather a chore to read, despite its brevity.
"John Henry was a Steel Driving Man" by Shane Halbach
If you know the story of the real-life John Henry, there won't be much here to surprise you. Manual workers on a space station under construction are disenchanted with the owning corporation and feel under threat from robots taking their jobs. Things come to a head when one worker's agitation risks the safety of all on-board. This sort of disaster-in-space hard SF scenario has been written before on many occasions, of course, and there's not a lot of novelty here. The idea of the big, bad, corporation cutting corners is certainly a well-worn furrow. There were also some issues with the text, which may be publishing mistakes, rather than prose errors, but they did not help, e.g. "The silence was well and broken now," should perhaps have properly been "The silence was well and truly broken now."
"Damocles" by Sean McMullen
The novelette "Damocles" is set in England in 1945 at the end of WWII. Agents of the ministry of war ask an RAF sergeant to help obtain the secret to a new and devastating weapon, known only to the sergeant's brilliant, incarcerated aunt. The story is well-paced and intriguing, and the historical setting of the end of the second world war made for a nice change from futuristic tales. Characterisation is well conveyed and contributes successfully to the tale's enjoyment, increasing the reader's immersion in the story, which is made easy by McMullen's fluid and accessible prose. Recommended.
"Recollection" by Elise Stephens
With little time in which to grab the reader's imagination, short stories usually benefit from a brisk and engaging start. In contrast, "Recollection" starts and proceeds slowly, and the role and motivation of the protagonist—a governmental (or 'Harvest') representative in a desert-like dystopia—takes some time to become clear. The story concerns the aid she is able to provide a village through use of old pre-dystopian footage. Without quickly appreciating the protagonist's motivations, it is hard to care about her or the outcome; a problem that was not helped by the rather dense and uninviting prose.
"The Burning Lands" by Tom Jolly
In Jolly's short story several wildfires have suddenly erupted without an obvious source of ignition, killing four hikers. An arson investigator and a detective investigate the cause. The story is set up as a 'whodunnit' (or 'whatdunnit') and is an enjoyable read; the underlying cause of the fires, once determined, was quite a neat idea. Unfortunately, broad speculation about possible causes of the fires by the key characters rather signalled the ultimate discovery. I felt this rather weakened the plot, which would have benefited from a more surprising reveal at the end, and the few pages that succeed the reveal of the cause of the fires seemed somewhat superfluous.
"Hillman, Charles Dallas, Age: 35, No Partner, Parents: Deceased" by Ron Collins
Collins' short story is interesting, as it's close in its subject matter to cyberpunk stories of the late 1980s and feels slightly anachronistic as a result. That said, it's quite an entertaining tale, sprightly told. A junior financial broker, Charles Hillman, is caught stealing from large clients and needs to disappear. He stumbles across a clinical trial being run at a health resort and figures it will hide him a few days while he takes part. What he doesn't expect is that the experimental brain-scan conducted on him will have quite the effect it does. There's an appeal and gravitas to stories that start out in a jokey vein, and gradually gain depth and pathos as they progress. This story follows that development arc, to a degree. I can't help feeling it could have been yet more powerful, however—perhaps a slight case of a missed opportunity.
"I Have Loved the Stars too Fondly" by James Van Pelt
In this piece of flash fiction, the homeless can opt to colonise the Moon, gaining a home and renewed purpose and status as a result. Some homeless believe it, others think it's a scam, and some who are not homeless pretend they are, to try and cheat their way onto an outbound shuttle. It's an interesting idea, quite nicely composed.
"The Pond who Sang" by Charles Hand
"The Pond who Sang" is a short tale about the development of a pond-based 'brain' in a musicologist's back garden that forms when a neural network is accidentally dropped into it. It's a bit of a wild idea, and at first, I couldn't help but be tripped up by the seeming implausibility of it all, but Hand does a decent job of carrying the reader along with the idea. It's ultimately quite neat and enjoyable.
"Second Hand Destinies" by Marie Vibbert
Vibbert has written an inventive and immersive story here. Scratching out a meagre living on a near-derelict space station, trading clothing for food with occasional visitors, Tatiana lives with her brother Gronk and grandmother Baba. But Tatiana is a no longer a young woman, but a symbiote made up of her human body, and an alien living within her. When the station gets an unexpected visitor, the delicate status quo is affected. Some of the imagery in this tale is very good (snow constantly falls from condensed water in the station's 'laundry') and the story successfully conveys a sense of the greater universe in which the local, rather small, story plays out.
"The Shadow of His Wings" by Ray Nayler
A boy living in a camp in the deserts of Turkmen learns English from a holographic device, which projects an English tutor: Top Hat Avatar. Also in this future, upon their death's the rich can have their minds transposed into creatures to provide a form of afterlife, or second-life. One such creature, a falcon that houses the mind of a rich sheik, takes over the functioning of the boy's tutor, Top Hat Avatar. Speaking to the boy through the avatar, the 'falcon' instructs him in how to betray the military activities of the camp bandits he lives with. The conception is quite novel, and the author maintains doubt throughout as to what the best course of action for the boy will be. The story is concerned with ambiguities of duty—to family or a greater good. Overall, the story is quite passable but didn't perhaps fulfil the potential of the ideas behind it.
"Problem Landing" by Sean Monaghan
This novelette is a science-fiction disaster-rescue story, set on Mars. A small research station of just 6 people is being joined on the red planet by the first commercial colony ship, containing 32 people. Unfortunately, the colony ship spills over upon touchdown and the new colonists, if they are still alive, need rescuing by the current Mars residents. As a tale of rescue, it is reasonably entertaining, but as science-fiction I had some issues with it. Hard SF often deals with disastrous situations in space or on other worlds, where the requirements to survive are challenging and require thought. Stories of this type require the protagonists to come up with ingenious logical solutions, to outthink the problems they face. Not so here. In this story, the main character dispenses with thinking anything through, behaves like an emotional teenager, and gets away with it through luck, rather than skill and smarts. The second issue is that we've seen this sort of plot many times. Rescuing people from the perils of low-pressure, unbreathable atmospheres is not a new idea in science-fiction. The story would have been improved if an aspect of the trope were treated in a more novel way, perhaps.
"Invasive Species" by Catherine Wells
This issue of Analog concludes with Catherine Wells' novella, "Invasive Species," one of the highlights of the issue. On an alien world, humans are restricted to a mining settlement, the 'human zone', and are prevented by contractual agreement from mapping or investigating the planet outside the zone. A human man's wife goes missing and when she cannot be found within the zone after a careful search, he asks leave from the local aliens to search outside the zone. The aliens in Wells' story are shapeshifters and are a great science-fiction creation, fleshed out nicely regarding their linguistic traits and biology. The world-building and characterisation are good, and the conclusion is satisfying. Overall, I found the tale to be entertaining and is recommended; Wells shows here that she can 'do' aliens very well.
---
More of Mike Bickerdike's reviews and thoughts on science-fiction can be found at https://starfarers-sf.com/