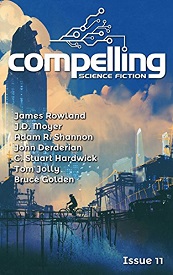 Compelling SF #11, Summer 2018
"Top of Show" by James Rowland
"Targeted Behavior" by J.D. Moyer
"Redaction" by Adam R. Shannon
"Cold Draft" by John Derderian
"Dreams of the Rocket Man" by C. Stuart Hardwick (reprint, not reviewed)
"Driving Force" by Tom Jolly
"Don't Play the Blues" by Bruce Golden
Reviewed by Jason McGregor
On its new schedule as a semi-annual, this is Compelling's first issue after a six month break and it was worth the wait. In terms of quantity, with the help of a reprint, it has one more story than it has ever had before, though the word count is not appreciably longer. In terms of quality, I recommend two tales (almost three) and, while not quite on those levels, personally enjoyed a couple more.
"Top of Show" by James Rowland
An author/reviewer tells the story of another, far more famous and successful author who "performs" stories. Included in this are one of the stories the latter told, a myth, and some other things. When the method behind the creation of the famous author's stories is revealed, things change drastically for everyone involved.
This story is even more "meta" than the synopsis indicates (though the final meta is clever), there is no science fictional element to be found until two-thirds into the story, it labors under a variant of Muphry's Law in that it's speaking of perfectly crafted stories but isn't, itself, ("I couldn't contain a smile breaking out," "devoid from the passions," etc.) and the secondary public reaction to the less famous author's revelation falls under the "fiction should be less strange than truth" rubric—perhaps they would react as depicted but it strains belief. All that said, this is a serious story with whiffs of (the popular misconception of) Mozart and Salieri, which tackles current issues with autotuning and the like, has a variety of other things that provoke thought, and is a reasonably good read, all things considered.
"Targeted Behavior" by J.D. Moyer
Jade is a smart, homeless fourteen-year-old. Harold Christian Johansson is an amoral businessman. Between their two very different journals, we learn about San Francisco tent cities and the businessman's plans, which dovetail once with the fascinating and all-too-plausible science fictional idea, and dovetail again in a way I don't want to come close to spoiling.
There's a thumb on the scales in that Jade's a delight and Johansson is obviously a psychologically damaged jerk but they're both believable. The story contains a very good (awful!) idea, is cleanly executed, and is a great read.
"Redaction" by Adam R. Shannon
Crackle Marigold (no clue on the name) and Jesús are paramedics in a world in which memory editing is commonplace and effortless, just by dropping mental "markers" to start and stop the frames of your life you wish cut out, such as the traumatic ones. Rather than truly editing them (which would make it hard to gain experience on the job) it just makes you consciously bounce off recalling the edited things. While driving back from a call, Crackle and Jesús are having a conversation (again) about why Jesús doesn't edit his memory, which leads to a shock for Crackle which is only the first and smaller one.
The first part of this is a little dull and the whole thing is a little too talky and I'm not sure Jesús is the right vehicle for some of it. Memory editing has been done a lot. Still, this story takes a little different angle on the empathy aspects involved in recall and there are some arresting phrases (an old man's room smelled of "some kind of cloying disinfectant that smelled like a chemical truck had overturned in an orange grove") and the pivot scene of the drive back is really brilliantly done. Some may not be happy with the ending but I thought it fit. In sum, this could have been even better but ended up being plenty good.
"Cold Draft" by John Derderian
Patrick Ferguson is a college student who wakes up to a cold draft and, when his robot brings him the mail, he finds he's facing another kind of draft as well.
Over eighty percent of this story is tease and the last part is infodump. The first leaves the reader in the dark about what exactly this draft is. About all that was accomplished in that extent was that I came to dislike the protagonist and lose interest. The second is clever enough but makes it absolutely preposterous that the world wasn't "passionately" divided on the subject of the draft. Or, at least, it is preposterous in a fictional sense. True, we seem to put up with things which ought to be equally intolerable but, again, truth is stranger than fiction.
"Driving Force" by Tom Jolly
This (approximately flash) piece is another of many "self-driving car" stories (this with AI drivers) but is unusually upbeat about it. Jerome is meditating on his life and his AI and how they're charged with a complicated web of making all their owners content when, shockingly, during parallel parking, a minor accident occurs. The implicit explanation of it is pretty cute.
"Don't Play the Blues" by Bruce Golden
Willie Solman is in the jungle of an alien world, separated from his unit and lost after fighting "slugs," when he stumbles upon one playing a strange instrument. After a tense moment, Willie takes out his own harmonica and starts playing. They trade instruments and each make unmusical noises but, at that moment, Willie's unit comes crashing through and the alien takes off. There's a cinematic dissolve that would work in film but was confusing for a moment in this story, and though Willie's learned to play the alien instrument and has become rich and famous after the war, he becomes increasingly haunted by the alien's tune and, while on a bender, strange things happen.
This is a nice, interesting, good tale but seemed a little too unlikely and was somewhat sketchy like it either needed more space to be fleshed out or perhaps less to be more concentrated. I liked it, though, and its treatment of music, both intrinsically and as a bridge.
---
More of Jason McGregor's reviews can be found at Featured Futures.