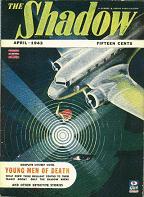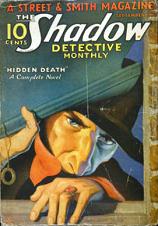 "What evil lurks in the hearts of men? The Shadow knows!"
The Shadow (1937-54) aired "Death Rides High" on May 18, 1947, 65 years ago yesterday. In this harrowing episode the Shadow finds himself trying to break up an alien smuggling ring after being tipped off in his native New York City. Flying to Mexico undercover, his alias is discovered and soon he finds himself (and Margot Lane) facing imminent death. A tale that could easily be ripped from today's headlines, how does the Shadow fight corruption, a human smuggling enterprise, and those out to murder him at all costs?
Warning: the opening minute portrays brutality of the most vile sort, and may not be suitable for tender ears.
"The weed of crime bears bitter fruit. Crime does not pay!" — The Shadow
(Cover above left, April 1943 — Cover above right, September 1932)
Play Time: 24:30