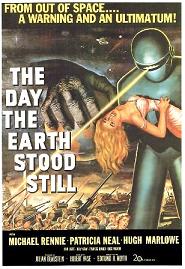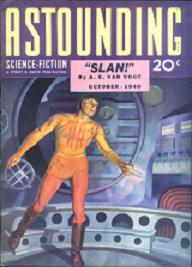 Lux Radio Theater aired "The Day the Earth Stood Still" on January 4, 1954, exactly 59 years ago yesterday. Adapted from the classic 1951 SF film of the same name, Michael Rennie here reprises his role as Klaatu, the visitor from space, while acclaimed actress Jean Peters assumes the role of Helen Benson, played by Patricia Neal in the film.
The Day the Earth Stood Still was based on Harry Bates' story "Farewell to the Master," which saw print in the October 1940 issue of Astounding Science Fiction (cover at right). Harry Bates' (1900-1981) full, real name was Hiram Gilmore Bates III. He was ASF's first editor, from 1930-33. The Robert Wise directed film did not follow Bates' original story precisely, yet proved to be one of the most iconic SF films of all time, bringing a maturity to the SF film which had until that time been lacking. SF author Raymond F. Jones was an uncredited adviser on the film.
Lux Radio Theater ran from 1934 to 1955, one of the longest tenured radio shows of all time. Its productions knew no boundaries as it focused on one-hour dramatizations of some of Hollywood's biggest motion pictures and, where possible, it featured the stars of the movies for its classy radio adaptations. Broadcast live, with a full orchestra and live audience, there was no chance for a "second take," as many of the Hollywood stars had become accustomed when making their films. Adding to the glamour, legendary film director and producer Cecil B. DeMille hosted the show in its early years, from 1936-45.
For over 900 one-hour radio shows Lux Radio Theater enthralled America on a weekly basis. "The Day the Earth Stood Still" was episode 863. Listen now to this excellent rendering of one of science-fiction's most enduring classics, especially for one of SF's most remembered lines of alien dialogue: "Klaatu barada nikto."
Play Time: 47:50