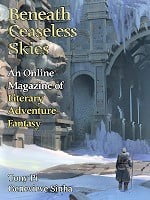 Beneath Ceaseless Skies #294, January 2, 2020
"These Wondrous Sweets" by Tony Pi
"Claudette Dulac and the Devil of the North
" by
Genevieve Sinha
Reviewed by Kevin P Hallett
The 294th issue of Beneath Ceaseless Skies has two good original stories, one of which is a novelette.
"These Wondrous Sweets" by Tony Pi
Ao can conjure his spirit into candy figures in this fantasy novelette set in China. After the Ten Crows injure the Pale Tigress with a black arrow, Ao must use his special talent to help the doctor cure the Tigress by luring her enemies away from following the doctor.
Ao conjures himself into the caramel shape of a tiger, but quickly finds the candy tiger's fierce spirit takes over. Soon their adventure together is taking them all over the city, but the tiger's intense spirit is making Ao's ruse hard to complete.
With plenty of action and mystery, the story was fun to read.
"Claudette Dulac and the Devil of the North" by Genevieve Sinha
Claudette is hunting for the Devil of the North in this SF short set in a frozen future after climate change. The Devil has taken her beloved papa and now the sixteen-year-old is the only one left in the Dulac family business.
Out on a frozen lake, four days north of New York City, she runs into another hunter and they decide to pool their efforts. But the Devil proves extremely hard to find until Claudette realizes something unusual about where the Devil has appeared in the past.
This fast-paced yarn was engaging with ample supplies of action and mystery.