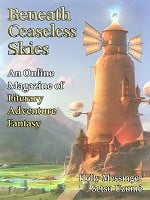 Beneath Ceaseless Skies #293, December 19, 2019
"Scapegoat" by Holly Messinger
"The Only Way Out is Through
" by
Setsu Uzumé
Reviewed by Kevin P Hallett
The 293rd issue of Beneath Ceaseless Skies has two original stories, including a novelette.
"Scapegoat" by Holly Messinger
Boz and Trace are heading west in this horror novelette set in the 1880s. Trace can see spirits and demons while twenty-year-old memories of his lost wife and daughter haunt Boz.
They stumble upon the prairie town of Hamilton and hear disturbing stories from the townsfolk who act strange around them. The demons of the town affect Boz, causing him to see his friend as the man who took his family. Only leaving the town brings normalcy back to Boz. When the two men realize the town is holding a Mormon family, can they risk going back to do what's right?
The plot was too similar to other plots about the Voodoo occult and lacked any pull.
"The Only Way Out is Through" by Setsu Uzumé
Dagn is the lairdguard for the Boar's court in this short fantasy. She has plans to open the gates to the stronghold and let her mother and the rebels in to rid the land of the hated usurper Boars.
But the children of the ruling Boar continue to plot against each other to win succession to the throne. Those plots soon entangle Dagn, pulling her away from the rebel mission she must complete.
The author kept the action hot and constant throughout this fast-paced yarn.