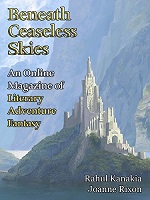 Beneath Ceaseless Skies #249, April 12, 2018
"Weft" by Rahul Kanakia
"Fireskin" by Joanne Rixon
Reviewed by Chuck Rothman
Rahul Kanakia starts out this month's Beneath Ceaseless Skies with "Weft," where a trio of assassins are discussing their work, and a job to kill the daughter of a cook. The narrator also works magic with thread and most of the story is a discussion about doing the job. I found the conversation confused and most of the story unengaging, and the girl hits upon the flaws of the story in one of her comments.
"Fireskin" by Joanne Rixon starts with a fascinating concept and follows it to the hilt. Aun-ki is a warrior who awakes one day with a strange affliction: her skin catches fire whenever something touches it. Despite the pain, Aun-ki goes to find a cure, with the help of her assistant Jin-ho and Lou-ga the Weaver, who creates clothing that she can wear, and who falls in love with her. The story is technically a quest, but Aun-ki doesn't act like your typical quest-goer, and there are plenty of surprising turns throughout. An excellent story all around.
---
Chuck Rothman's novels Staroamer's Fate and Syron's Fate are available from Fantastic Books.