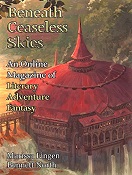 Beneath Ceaseless Skies #237, October 26, 2017
"The Influence of the Iron Range" by Marissa Lingen
"Forgive Us Our Trespasses" by Bennett North
Reviewed by Robert L Turner III
Set in 1888, "The Influence of the Iron Range" by Marissa Lingen presents us with Miss Voila, the representative of the Faery-Free Election Commission. Her responsibility is to keep faery and magical influence out of politics. In a small town in northern Minnesota, she meets a fay woman who challenges her views on how fairies should fit into the growing country. The conclusion is about what you might expect. Lingen does a credible job combining historical elements with the fantastic in a convincing way to create an interesting reality. The final twist, while not completely surprising is well constructed and logical in retrospect. Any fan of the fantastic or historically oriented fantasy will enjoy the piece.
In "Forgive Us Our Trespasses" by Bennett North a one armed youth arrives in a drought killed town searching for a man named Frontera who has wronged her family. Once she finds him, she discovers that revenge is easier in theory than in practice. The story fits into the Grimdark tradition with people faced with terrible choices and no good options. The world North creates is a dreary, hard one, but the writing is solid and the meditation on the nature of good and evil elevates the story from the typical "all humanity is evil" Grimdark tendencies. Overall, this is a solid story and likely to appeal to those who like their stories with a dark side.
---
Robert Turner is a professor and long term SF reader.