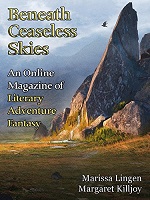 Beneath Ceaseless Skies #218, February 2, 2017
"Out of the Woods" by Marissa Lingen
"
Men of the Ashen Morrow" by Margaret Killjoy
Reviewed by Dave Truesdale
"Out of the Woods" by Marissa Lingen
Good King Harald's much anticipated return from five years of war abroad is one of sorrow, for he has fallen. In his stead his oppressive brother Eirik has ruled harshly, and has forced a group of peasants to hide in the woods, creating mischief by attacking his armsmen and stealing what they can to survive. Now that King Harald's death has dashed their hopes of ever returning from their secret forest caves to live freely once again, they decide to take matters into their own hands, led by one young witch girl named Lovis. They devise a plan to confront Eirik at court but all does not go well. Returning to their hidden cave, the group of outlaws must decide what to do: give up their fight for freedom and risk capture and death if caught, try to convince the surrounding countryside of families (some important and who wield a measure of power) to join them against objections that this might factionalize the land if not all agree to fight, or embrace the various factions that would inevitably form with one of their own. Their own group in-fighting on what to do forms the resolution to this decent little tale, that of the small group seeking freedom from the entrenched and infinitely more powerful forces arrayed against them. Hardly a new take on the subject, but competently wrought for its less than four thousand words.
"Men of the Ashen Morrow" by Margaret Killjoy
"The Men of the Ashen Morrow" is but one of hundreds of collectives spread far and wide across the land. Each summer a band of six from the same collective (all female despite the title) must travel into the forest and offer the god Hulokk a sacrifice—usually a doe, buck or bison—and in return the god ends summer and brings on the winter. In return for bringing on the winter, Hulokk—a giant wormlike creature with many insectoid limbs, and eyes in its underbelly—when summoned in the old tongue, drags one of the six down to her death in the sinkhole it has created in the forest floor from which it has arisen.
Sal Everett has been the one to lead the collective over many years, and has lost many a friend, and even a lover to the hungry god. Now old, she is weary and believes it is now up to other collectives to summon the god, for them to share some of their own in the sacrifice. Her decision—upon her death, whenever that might be—will influence the entire future of the people and their understanding of shared sacrifice. A well drawn look examining at its core an ethical issue, and again at under four thousand words.
---
Dave Truesdale has edited Tangent and now Tangent Online since 1993. It has been nominated for the Hugo Award six times, and the World Fantasy Award once. A former editor of the Bulletin of the Science Fiction & Fantasy Writers of America, he also served as a World Fantasy Award judge in 1998, and for several years wrote an original online column for The Magazine of Fantasy & Science Fiction. Now retired, he keeps close company with his SF/F library, the coffeepot, and old movie channels on TV. He lives in Kansas City, MO.