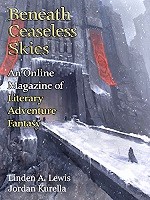 Beneath Ceaseless Skies #215, December 22, 2016
"Where She Went" by Linden A. Lewis
"The True and Otherworldly Origins of the Name 'Calamity Jane'" by Jordan Kurella
Reviewed by Jody Dorsett
The 215th issue of Beneath Ceaseless Skies has two original short stories. There's a sub-sub genre in Fantasy about the gunslinger which features a desolate desert and strange events. Many are afraid to write in this setting because of Stephen King's "Roland." However let's not forget High Plains Drifter and perhaps even earlier in some of Sergio Leone's movies. These stories are gunslinger stories.
"Where She Went" by Linden A. Lewis
Rhee is a gunslinger, though now an old one with only a few bullets left. One day Rhee finds that his granddaughter, the only member of his family left, is missing. Rhee soon finds that she has been taken by "the witch." What follows is a story of determination and stubborn grit as Rhee battles the demons in the stone forest to save his grandchild.
The story is well written and paints a wonderful picture of desolation without sacrificing plot. There are other threads of emotion such as loss and surrender. The ending is quite surprising and works well.
"The True and Otherworldly Origins of the Name 'Calamity Jane'" by Jordan Kurella
The title tells us what this story is about, it's about Jane and how she became so unlucky. It's a classic gunslinger tale with spooky deserted towns and evil fairies. This is another story of determination to get a thing done using everything you can think of. It's well written and brings you into the story maintaining a sense of suspense throughout.