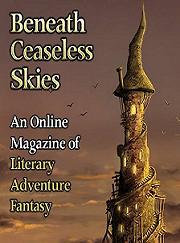 Beneath Ceaseless Skies #134, November 14, 2013
"A Death for the Ageless" by Margaret Ronald
"Forsaken Beneath the Stars" by Jason S. Ridler
Reviewed by James Aquilone
Margaret Ronald's "A Death for the Ageless" is a nice twist on the fantasy detective story. Inspector Arthur Swift is a human, Mieni a Kobold. Together, they investigate the death of the exiled Ageless Elariel. The Ageless are tall, majestic beings who are hard to kill, which is why Elariel's wife would rather they drop the investigation. As she points out, "Do you think we want every fool with a grudge to know exactly how we can be killed?" Undaunted, Swift and Mieni continue on, battling a devourer—basically a zombie—in the process. Unlike the ubiquitous hardboiled detective in urban fantasy, "A Death for the Ageless" is based on the ratiocinative sleuths found in the works of Arthur Conan Doyle and Agatha Christie. The first-person tale, told from the perspective of Swift, is a bit short on conflict, but there's a nice twist at the end. And I wouldn't be surprised if we see more from the casebook of Arthur Swift in the future.
"Forsaken Beneath the Stars" by Jason S. Ridler is a gripping tale about redemption, compassion, and salvation. Enrick is a cursed man who has lost his faith. Once a minister, then a soldier, he is now a broken and damned pauper. Believing his god has abandoned him, Enrick seeks release from that which haunts him via the "heathen magic" of the witch Hesher. The story alternates between Enrick's and Hesher's point of view, which creates tension and allows the readers to be sympathetic to both the conqueror and the conquered. The language is finely crafted and powerful; the story full of raw emotion. It's a fantasy adventure with depth and heart, and well worth the read.
---
James Aquilone is a writer and editor, mostly of the speculative ilk. Visit his blog at http://jamesaquilone.com.