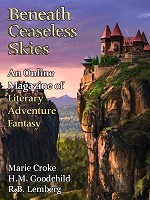 Beneath Ceaseless Skies #364, September 8, 2022
"Turn To Stone Ourselves" by Marie Croke
"Upon The Land" by H.M. Goodchild
Reviewed by Kevin P Hallett
The 364th issue of Beneath Ceaseless Skies has two short stories.
"Turn To Stone Ourselves" by Marie Croke
Dreamer is in their second-life as a stone winged beast in this short fantasy. For a thousand years, they lived as stone under the sun and flesh under the stars. For that thousand years, they had hidden a truth they would never share about their first-life selves.
When Mahivo, a new stone carver adept, joins the Keep, there is an expectation that he will be able to carve a creature to hold the second-life of the recently deceased lord of the Keep. However, Mahivo carries a secret similar to Dreamer's, and Mahivo confides in Dreamer that he thinks each person should choose their own form for second-life. But when Dreamer tells this to the Lady of the Keep, she banishes Mahivo.
Dreamer likes Mahivo, sensing a kindred spirit. They set off to find the carver and try to make amends for their indiscretion.
The character-based plot was mysterious and yet easy to follow. Eventually, the story became an intriguing look at the internal struggles of transgender people.
"Upon The Land" by H.M. Goodchild
In this short fantasy, a selkie waits for a chance to return to the sea. The islanders kill and skin each of her seven brothers, but she escapes, giving up her skin and heritage for safety. Now humans can't see her.
She remains in the safety of her benefactor's home until the day she sees two men washed ashore from a violent storm. One of them could clearly see her watching from the dunes. It gives her new hope, coupled with uncertainty about her promises to her benefactor.
The author's mysterious story was too slow to be fully engaging.
---
You can follow Kevin P Hallett's writing on www.kevinphallett.com. There are links there to join his mailing list for a weekly newsletter on the recent release of his debut novel.