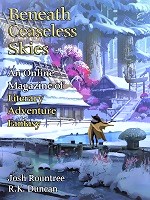 Beneath Ceaseless Skies #322, January 28, 2021
"The Guadalupe Witch" by Josh Rountree
"Her Black Coal Heart a Diamond in My Hand" by R. K. Duncan
Reviewed by Kevin P Hallett
The 322nd issue of Beneath Ceaseless Skies has two captivating short stories.
"The Guadalupe Witch" by Josh Rountree
A witch escapes from her cruel husband, who is determined to kill her for murdering their son in this short fantasy. The husband hires a young witch hunter to find and return her dead or alive.
But when he catches up to her by the Guadalupe River, she is boarding a rowboat to float back toward her husband's house. The witch hunter thinks he only needs to wait until she drifts back, but the witch has other ideas, and the hunter's presence may make her plans easier.
Though this was a commonly explored subject, the story's plot was mysterious and compelling, making for a pleasant read that passed quickly.
"Her Black Coal Heart a Diamond in My Hand" by R. K. Duncan
An artist, Corey, creates his exhibitions with ghosts in this horror short. Not the make-believe kind either. And when he sees a beggar-girl selling three, he snaps them up. The new exhibit is a wild success, and inevitably, the pundits want more and better.
But these three ghosts were the beggar girl's siblings, and to build better, he would have to delve deeper into her tragic life. After a search he finds her, Liv is her name. And he brings her home to live in comfort while he uses the ghosts of her mother and elder sister to enhance the exhibit. He makes plenty of money and gives more to Liv than he had promised.
But he needs more. And Liv has it. But at what cost?
This was an engaging yarn from the beginning until the twisting end.