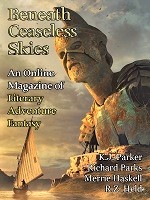 Beneath Ceaseless Skies #313, September 24, 2020
"Many Mansions" by K. J. Parker
"A Minor Exorcism" by Richard Parks
"The Heart That Saves You May be Your Own" by Merrie Haskell
"A Tally of What Remains" by R. Z. Held
Reviewed by Kevin P Hallett
The 313rd issue of Beneath Ceaseless Skies is the twelve-year anniversary issue and has two stories on 9/24/2020 and two more on 10/1/2020. The four tales include one novelette.
"Many Mansions" by K. J. Parker
In Parker's fantasy novelette, Father Bohenna goes to solve a bewitchment case in a village. Though gifted at creating portals or doors to magical spaces, Bohenna hadn't been a great student, and hadn't advanced up the ranks.
When he reaches the village, he is immediately attacked by an ethereal female presence. After fighting off her spirit, he goes in search of her earthly body. Bohenna is confident of his ability to dispatch a witch who cannot have received formal training. But he soon discovers just how misplaced is his trust in his superior training.
Written in a slightly whimsical style, the story was well-paced and mysterious.
"A Minor Exorcism" by Richard Parks
Lord Yamada accompanies his province's sole abbot to perform an exorcism in this short fantasy. The priest, Kenji, welcomes Yamada's company on the walk to the fishing village, though he is unsure what kind of exorcism the village requires of him.
Nearing the village, they discover that demons have desecrated the village's cemetery. It is a forewarning of the disturbing situation they find in the village.
The story was another episode of the Yamada tales, though the reader required no previous knowledge to enjoy the tale. The plot was simple, and the prose relied too much on telling rather than showing.
"The Heart That Saves You May be Your Own" by Merrie Haskell
Tabatha, a young farm-girl must hunt and kill a unicorn in this short fantasy. The shy sixteen-year-old farm-girl likes Roland but can only wear a white wedding dress if she has the horn of a unicorn who has passed through a portal from the mythical universe.
These old ways mean Tabatha must hunt alone to prove her worth. Roland cares less about a white dress, but Tabatha is determined to equal her dead mother's accomplishment. That is, until she falls into an unseen crevice on the prairie and her quest becomes a battle of survival.
This was an engaging story that slowly revealed its world-building.
"A Tally of What Remains" by R. Z. Held
This short fantasy portrays a future where some people practice blood magic. Helena is one of the best, but the Fever has trapped her in a cycle of finding and helping people from the city with the sickness. Most die, but unlike her siblings, some survive.
Benedict is such a survivor, though his husband succumbed to the sickness. At first, Benedict is resentful of his partner's death and lashes out at Helena for not saving him or doing enough. In his despair, he stays to help and eventually comes to understand the futility of caring as people arrive and die regardless of his efforts.
This story was like a single panel from a Bosch painting. A nice character-centric study in being human in trying times.