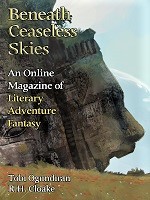 Beneath Ceaseless Skies #309, July 30, 2020
"The Many Lives of an Abiku" by Tobi Ogundiran
"Satin and Velvet" by R. H. Cloake
Reviewed by Kevin P Hallett
The 309th issue of Beneath Ceaseless Skies has two original short stories.
"The Many Lives of an Abiku" by Tobi Ogundiran
Only the young girl can see Rewa, the spirit linked to her in this short fantasy. The local mystic calls her an abiku and carves runes in her hand to protect her. But Rewa still torments her endlessly.
Years pass, and when Rewa threatens the abiku's parents, it's time to call the mystic back for one final exorcism. But the spirit has other plans, and no one's safe when she sets her mind to a task.
This fast-paced story was easy to read but the plot lacked enough subplots to make it appealing.
"Satin and Velvet" by R. H. Cloake
In Cloake's short fantasy, Greta is a young new apprentice after the Master promotes her from the many aspirants awaiting their chance. She comes from a poor family and remembers Samara, the much older apprentice before her.
At first, the Master teaches her some of his magic, but when a pair of skeletal hands materialize to help Greta with her chores, the Master is annoyed and ceases to teach her. Samara had suffered the same fate, and in the end, Samara had jumped to her death in despair. Can Greta find a better solution?
This character-driven story had a nice rhythm and mystery to the prose. It was an engaging read.