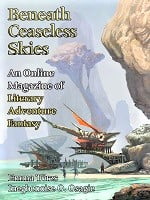 Beneath Ceaseless Skies #305, June 4, 2020
"The Widow" by Emma Törzs
"Breath of the Sahara" by Inegbenoise O. Osagie
Reviewed by Tara Grímravn
In this 305th issue of Beneath Ceaseless Skies, readers are presented with two fantasy tales by two very talented authors. This pair of narratives are thematically united by ideas of acknowledging, accepting, and transforming into one's true self, albeit in very different ways. I am certain that readers will thoroughly enjoy this latest installment from the editor.
"The Widow" by Emma Törzs
The year is 1668; the location, Paris, France. Madame Perrine Mauroy is paying a visit to an old acquaintance, Monsieur de la Martinière. He is, after all, about to die. You see, Perrine's husband was a madman, prone to violent outbursts of abuse that often left his wife with the tell-tale marks of horrific beatings. Eventually, however, he was taken under the care of Doctor Denis who began using an experimental procedure on him—a transfusion of calf's blood into his veins to calm his temper. When Monsieur de la Martinière approached Perrine some months ago with a scheme that would not only free her from a loveless marriage but also prove Denis' procedure was an abomination, she takes the chance to improve her situation, despite it requiring her to venture into witchcraft.
I'm just going to say from the start that I absolutely recommend this story. It's very well-written, engaging, and engrossing. The tale is a confession of sorts, a recounting of the events leading to Perrine's final visit to Martinière. Perrine herself is a strong, empathetic character and her means of revenge on those trying to use her desperation for their own gain is wholly satisfying. Watching her change was very enjoyable, becoming a true "wolf in sheep's clothing," a predator among those who believe themselves to be untouchable.
"Breath of the Sahara" by Inegbenoise O. Osagie
It's the Sabbath, and Obehi has just arrived at her best friend, Esohe's, home. She's hoping the two can skip worship services at the Temple of the Zephyrs together but, on arrival, it's clear Esohe has a solo activity in mind, planning to pay a "visit" to the gods' sanctuary alone. Having gained notoriety as thieves, Obehi thinks this is just her friend planning a heist without her and, after a bit of convincing, Esohe finally agrees to let her come along. Things don't quite go as Obehi expected, however, and it soon becomes clear that her friend's plan didn't include robbing the gods of their gold—she was after something far more valuable.
When I first began reading Osagie's story, I really didn't expect it to go the way it did, anticipating instead a treasure-hunting adventure. The twist comes about mid-way through and, though unexpected, it's a great turn of events. All in all, this is a lovely, bittersweet tale about accepting one's true nature and a friendship that endures despite some rather unfortunate circumstances beyond anyone's control. It's very much worth a read.