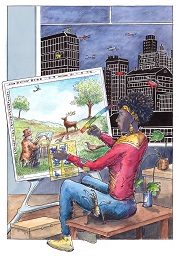 SciPhi Journal, Winter/4 2022
"Pascalgorithm" by Alexander B. Joy
"End Of Year Missive: Sundered Keep, A.F. 5962" by Matthew Ross
"Motherhood" by Ike Lang
"Among Them" by David Kary
"A Unified Explanation For Elven Urbanization And Associated Morphological Changes" by Gabriella Buba
"The Provided Minimum" by Robert L. Jones III
"I Regret Any Future Impact Of My Words And Actions" by Zary Fekete
"Three Excerpts From A Manuscript Entitled "Advice To A Young Person," In The Hand Of Ishtiris Of Sudden Hailstorm House" by Benjamin Rosenbaum
"Auction Prospectus" by Andrew Fraknoi
"The Last Tsar" by Matias Travieso-Diaz
"Victory" by David Galef
Reviewed by Kevin P Hallett
The Winter issue of SciPhi Journal has eleven first-publication stories, of which six are flash stories.
"Pascalgorithm" by Alexander B. Joy
Joy's short SF describes a kingdom's effort to overcome an ageless religious dilemma. The kingdom's architect builds robots by the thousands, each tasked with a single mission, to pray to God. Each has its unique prayer with the goal that some robots will get it right and save humanity.
The author based this story on Pascal's Wager, with the additional question, 'How do we know the right way to reach God?'
"End Of Year Missive: Sundered Keep, A.F. 5962" by Matthew Ross
This short SF describes the living conditions of the legionnaires in the Onyx Legion. The missive from the legion's leader warns the soldiers that they already eat enough and should be happy their pay hasn't decreased. The directive further limits items like brothel access and any creature comforts.
The author described a harsh life, though they didn't deliver a story centered in this world.
"Motherhood" by Ike Lang
One AI activates another AI in this flash SF story. The first AI is like a mother describing the duties of the new AI in protecting and guiding its allotment of humans on their journey through space. The mother warns the child AI that the most significant danger to humans are humans themselves. And this revelation leads to some problematic possibilities.
The story was a series of questions and answers, yet it managed to be engaging as a flash story.
"Among Them" by David Kary
The human race becomes infatuated with boovahs in this flash SF. These boovahs are the cutest creature possible, quickly taking over the role of all other pets, even the sweetest koala. In fact, they are so cute that people stop having as many children, preferring boovahs to fill their second and third bedrooms. The population is soon shrinking. Few people care, choosing to care for their boovahs.
This entertaining story was well suited to the flash format.
"A Unified Explanation For Elven Urbanization And Associated Morphological Changes" by Gabriella Buba
This fantasy short story describes the differences between elves in differing environments. The scientific paper explains how elves undergo self-domestication as some settle from a solitary life in the forest to an urban existence in large elf towns.
The author's fanciful paper creates a complex world of various elven forms, from the elusive lone hunter to the community elf.
"The Provided Minimum" by Robert L. Jones III
He finds himself sitting in a massive bowl in this flash fantasy. So, he does the only thing he can; he climbs to the rim. Here he finds a small decline followed by a climb to another rim. It's all he can see, so he climbs again. Each ascent brings more memories of his poorly lived life, making him wonder if he's in hell?
This story was wrapped in metaphysical ponderings and wasn't so interesting to read.
"I Regret Any Future Impact Of My Words And Actions" by Zary Fekete
The people are extremely conscious of their words in this futuristic flash SF. Pamela saves a baby whose stroller is about to be struck by a car. But she failed to follow specific rules and now must face the consequences.
The author illustrated a future where protocol and decorum take precedence over saving a life. It was a quiet but chilling story.
"Three Excerpts From A Manuscript Entitled 'Advice To A Young Person,' In The Hand Of Ishtiris Of Sudden Hailstorm House" by Benjamin Rosenbaum
Rosenbaum's SF short describes a matriarchal world of the future. Women own everything because they have the minds to govern, while men have the strength to fight for their leaders.
However, women face strict rules on advancement and choice over lovers or bearing children. The rules revolve around the principles of finding more capable leaders.
The author styled this story like an instructional manual and painted an interesting future where roles are flipped compared to medieval times.
"Auction Prospectus" by Andrew Fraknoi
The setting for this flash SF is when human exploration has reached the Kuiper belt. They find alien equipment attached to some icy bodies in the belt, and the first twelve machines are brought to Earth before the world government thinks better of that plan.
One of these contraptions is up for auction if you are willing to take on the responsibilities of owning it. But remember, the scariest suggestion about the equipment is that they were put there to monitor for the time humanity reached the technology to become a threat.
This was an entertaining snippet of a story.
"The Last Tsar" by Matias Travieso-Diaz
Ivan recalls the life of his beloved grandfather in this short alternate-history SF. Born a serf in the Russian heartland, his grandfather rose to become a member of Tsar Alexander II's Cossack escort. The old man instilled a sense of duty in the young Ivan.
But in 1881, the fifth attempt on Tsar Alexander's life was only stopped when Ivan's grandfather threw himself on a bomb tossed at the Tsar. The grandfather's sacrifice allowed the Tsar to complete his reforms, making Russia the benevolent power it is today.
The author created a fascinating history that we can only wish were true.
"Victory" by David Galef
A few human survivors come out of stasis in this flash SF, to see what has become of their homes. In the past, a human-engineered AI took over Earth. That AI had decided only a billion humans should be kept alive. Then aliens arrived to go to war with the AI. And as the old proverb goes, only mice are killed when elephants fight. A few human survivors entered stasis. Now it's time to find out which elephant won.
This story portrayed a chilling future for humanity.
---
You can follow Kevin P Hallett's writing on www.kevinphallett.com. There are links there to join his mailing list for a weekly newsletter on the recent release of his second novel, The Fifth Kingdom.