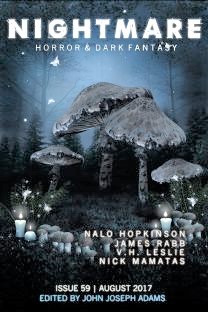 Nightmare #59, August 2017
"The Devil of Rue Moret" by James Rabb
"
The Spook School" by Nick Mamatas
Reviewed by Kevin P Hallett
The 59th issue of Nightmare has two original short horror stories.
"The Devil of Rue Moret" by James Rabb
This short horror story is about a boy who is unwanted at home and failing at school because life distracts him. Lost in a malaise he seems uncertain what to do.
Late one night, he is returning home from school when his mother forgets to pick him up. Lost at night in the bayou, he falls and the bog swallows him. Waiting for death, a strange spirit rescues him, telling the boy how he represents all the wants in the world. Finally, the boy finds his way home, but things are no longer the same. Did the spirit deliver what he wanted most of all?
The author told the story through a fragmented plot. Though the prose was okay, the story line lacked strong direction and seemed to meander.
"The Spook School" by Nick Mamatas
This fantasy horror short introduces us to Melissa, visiting Scotland with her Scottish lover, Gordon. Here she encounters mysterious local artwork that seems to be alive, at least in her imagination. Her lover's father is a well-known practitioner of this art-form.
After some concerns over the impact the art is having on Melissa, Gordon allows her to visit a site where the artwork is on display. That's where things get weird for both Melissa and Gordon.
The story had a choppy feel to the flow until the ending, where it came to a strange and unexpected end.