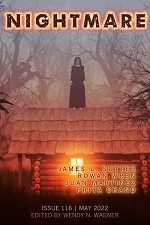 Nightmare #116, May 2022
"And All Their Silent Roars" by James L. Sutter
"In the Water" by Rowan Wren
"Esther (1855)" by Juan Martinez
Reviewed by Tara Grímravn
In this issue of Nightmare Magazine, the editors have selected three tales of terror to grace their pages. Don't expect fast-paced scares or happy, safe endings in these tales, however. These are heavy, languorous narratives that leave one in the same dark place at the end as one encounters at the start.
"And All Their Silent Roars" by James L. Sutter
Jeremy and his family have just moved into a new home in Buffalo. As one of two boys, the fifth-grader has to share a room with his mostly non-verbal brother, Denny. On their first night, the boys find a small box filled with small animal figurines buried in a sandbox, much to Denny's delight. The following night, though, it becomes clear something's not quite right with these toys.
Sutter's story is a "slow burn" type of narrative. That's not to say it's boring or a bad story—it's neither of those things. It simply takes a while to get to the point. And the build-up to the climax doesn't quite instill the level of apprehension that I'd expect in a horror story (even in a slow-paced tale), which lessens the climax's impact. Again, it's a decent enough story—just not entirely my cup of tea.
"In the Water" by Rowan Wren
A young girl dies at the hands of a group of boys. After her body is tossed into the river, she is left to ponder passively what has happened to her as the current carries her down the mountain. What once was a vibrant life is reduced to a collection of vague memories and sensations.
There's no happy ending to be found in Wren's story, no real peace for our protagonist. Much like a meandering river current, the pacing of the narrative is slow and steady. The storyline gives us a dark, heart-wrenching tale that simply carries the helpless reader along, a passive witness to the unrelenting decay of both mind and body. To say more than this would be to give away the story, so I'll end by simply saying this is a tale well worth reading.
"Esther (1855)" by Juan Martinez
In 1855, a group of pilgrims are crossing a desert. It's been a long road. They've lost all the women, children, and animals to death, and now only a handful of men and a single horse remain. At night, though, the daughter of one elder appears and sings to the men, although they buried her at least a week prior.
I'm not entirely certain what to think of Martinez's story. Like the other tales in this issue, the pacing is slow, much like the march of a wagon across a harsh wilderness. In terms of the narrative itself, it feels as if there's so much symbolism incorporated into the tale that the storyline gets somewhat lost and mired down in it.
Even after reading it twice, I'm still uncertain what actually happened. Are we reading about a demon? A zombie? Armageddon? A religious hallucination? It's hard to say. But that's also what makes it so impactful. It's hopeless and dreary and terrifying in its strangeness, like some fever-induced nightmare.