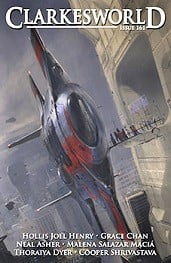 Clarkesworld #161, February 2020
"Outer" by Hollis Joel Henry
"Eyes of the Crocodile" by Malena Salazar Macia (translated by Toshiya Kamei)
"Mandorla" by Cooper Shrivastava
"The Host" by Neal Asher
"Jigsaw Children" by Grace Chan
"Generation Gap" by Thoraiya Dyer
Reviewed by Kevin P Hallett
The 161st issue of Clarkesworld contains six stories, including three novelettes. All the stories in this issue were good to read.
"Outer" by Hollis Joel Henry
This short fantasy is set on a Caribbean island where some children are born deformed. The locals call the descendants of these deformed people Septembers; and though they appear normal physically, they have unusual abilities. Toozen, a September, can see the good in people as each person's life-essence appears as a flame in his mind's eye.
Over time, the 'normal' people make fun of the Septembers, then bully them, and finally decide they should eliminate them all. But this persecution of his friends causes Toozen to decide that people aren't so good after all.
This was a well-structured and written story that engaged the reader from the first sentence.
"Eyes of the Crocodile" by Malena Salazar Macia (translated by Toshiya Kamei)
In the future, the nanobots go rogue in this SF short. Mandisa hides out with her husband and a few others in a secure habitat while the nanobots outside infest and kill all the animals and unprotected humans.
When her husband becomes infected, Mandisa breaks the rules by comforting him as he dies. Now she is infected and must leave the sanctuary. She volunteers to race to the Tree and try to fix the nanobot programming.
This short story maintained a quick pace throughout the nicely evolved plot.
"Mandorla" by Cooper Shrivastava
Old Plant is an ancient tree system in this short SF story set in the far distant future. By now, the planet is tidally locked, and the ammonia gases have killed off all life except for one tree root that adapts over millennia before repopulating the land around it.
In time a sea kelp also reappeared and Old Plant and the kelp learn to communicate. They have radically different views of life, the kelp being short-lived and measuring time in its generations. Old Plant sees its view as the best, but eventually comes to realize it's missing something important.
Though it was a slow-moving story, the author wrapped it in mysteries that kept it entertaining and thought provoking. An interesting read.
"The Host" by Neal Asher
Asher's SF novelette is set in a future where humanity has spread across the stars. Ivebek is a criminal and not worthy of being saved from the executioner. Yet some alien entity takes an interest in him and now, mysteriously, he is endowed with superhuman recovery abilities.
And so, despite his life of crime involving various forms of human exploitation and trafficking, he finds himself spared from execution and on a spaceship headed to a strange and uninviting planet. A planet with a sentient life form that has asked for him specifically. Ivebek feels like a piece in a cosmic game, and maybe he is.
The plot was mysterious, unusual, and had a thought-provoking twist at the end. But the prose was slow and choppy throughout the first two thirds.
"Jigsaw Children" by Grace Chan
A young girl named Lian is growing up in a Hong Kong children's center in this SF novelette set during the start of the twenty-second century. She is the product of splicing five sets of genes together to reduce the risk of diseases later in life. But she doesn't have a mother or father in the old sense.
As she graduates from the center, she does her best to be productive in the world where a few still cling to the old ways of having just two parents. She believes the new ways are better despite the claims from one of her old school friends.
But as Lian moves through her thirties, she experiences some thought provoking events that make her question the prohibition against the old ways of having a child and being a mother.
The story explored an often-examined view of the future. And though the prose was engaging, the subject matter added little to the SF genre.
"Generation Gap" by Thoraiya Dyer
In this SF novelette Wipwai is next in line to be Tower, the leader of her people that live on Greenhill. She is friends with Feǝ, who is next in line for her own people on the oyster plains. As young innocents they ignore the long history of warfare between their people.
But then Wipwai's mother, the current Tower, discovers their friendship, she almost catches Feǝ to kill her. Soon Wipwai's mother is training her to hate her friend's family. She must scheme to kill them all, despite the government's insistence that they all live in peace.
Wipwai secretly plans to regain Feǝ's friendship when she becomes the new leader. But history can be a cruel partner to one's plans, regardless of how well intentioned they are.
This story created an imaginative world, worthy of much further exploration. The twists and turns kept this character-based story engaging until the last words.