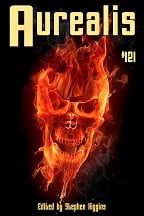 Aurealis #121, June 2019
"Tales of the Flame" by Dirk Strasser
"The Stranger of Morden" by Mike Adamson
"Club Fiends" by Paul Alex Gray
Reviewed by Tara Grímravn
Nestled lovingly amidst editorials and interviews, Aurealis #121 holds within it three original stories of fantasy and science fiction, with a smidgeon of horror mixed in.
"Tales of the Flame" by Dirk Strasser
A traveler listens enraptured to another member of her group named Almir. As Almir spins a tale of horror, djinn, and magic in the expanse of desert known as the Rub' al-Khali, the traveler finds herself swept up in the narrative. In fact, the events of which Almir speaks seem so real, they could almost be her own memories.
I found this one a bit difficult to summarize without giving away details that would spoil the ending completely, which would be a shame because it's quite a good story. Honestly, Strasser has woven together a nice blend of fantasy and horror mixed with Islamic and Persian myth. As an avid lover of world mythologies, the Islamic-Persian elements are a nice change to the Disney-esque wish-granters that one frequently finds in mainstream fiction. Most especially, it was a welcome return to the genuinely dangerous reality-bending nature of djinn, most especially the flesh-eating type known as the ghul.
"The Stranger of Morden" by Mike Adamson
Art historian Derek Hartley has recently been hired to appraise a strange 16th-century painting unearthed in the attic of an English manor hall. Upon seeing the unusual anatomy of the artist's subject, he immediately contacts his biologist friend Jeff. Jeff inquires about the identity of the man in the portrait only for Derek to tell him the legend of Strange John of Morden. Thinking they may be on the verge of discovering an as-yet-unknown disease, the pair set out for a cemetery in the rural hamlet of Morden to find John's grave. What they find, however, isn't quite what they had expected.
I quite liked the classic mystery feel that Adamson's decidedly science-fiction story has. The style felt very much like I was reading something along the lines of Peter Straub or H.G. Wells. Of course, I have to admit to being a little disappointed with the ending, though. I suppose it could be argued that it's more about the journey than the destination but I expected something a little more fantastical than what was given. It just wasn't a satisfying conclusion for a science-fiction piece. Instead, it read like an Agatha Christie story with undertones from the X-Files. Still, it was still a fun read.
"Club Fiends" by Paul Alex Gray
Ondine and her cousins are members of a group of fae known as the Pristine. They travel from time period to time period, moving on each time the Hunt returns. Currently living in modern-day London, Ondine has fallen in love with mortal Jamie but the Hunt is upon them again and it's time for her and her cousins to go. This leaves Ondine with a choice: leave and start a new life elsewhere or stay with Jamie and face death at the hands of a monster known as the Kaezalgith.
First and foremost, "Club Fiends" is a love story in which Ondine risks her life to remain with her lover. This element of the tale was fine. As is common in modern romance, Ondine is a strong female protagonist. Her motivations are clear and she is in full control of her life and what happens to her. Unfortunately, the tale falls short in a few other areas.
The crux of the issues at hand spring from within the folkloric basis for the story. "Club Fiends" is a very loose interpretation of the Wild Hunt of European folklore. Said to occur several times a year, especially around Yule, the Hunt appears for many reasons, signaling winter storms, seasonal changes, or warning mortals of some sort of impending misfortune, such as war or famine.
In Gray's version, however, instead of chasing the usual spectral boar, stolen cow, or magical maiden, the Hunt seems to be nothing more than a group of royal fae called Pristine who wantonly feed off mortal essence (glimmer) via drugs, sex, and other forms of debauchery. Should they stay behind when the Hunt departs, a monstrous beast comes to destroy any Pristine that fail to follow their brethren to a new life.
Of course, none of the above is to say that it's an uninteresting premise. It certainly is, to be sure. It's just that there are a few major stumbling blocks. For example, why did Ondine and her cousins (possibly trooping faeries) have to move to a new time period, often revisiting the same one in Ibiza? And if they can revisit a time period, why would Ondine wonder if the world might end after the Hunt leaves because, clearly, it doesn't?
Another point of contention for me was that the folkloric hunt was also a proper hunt, no matter who led it. Regardless of whether it was Odin, Gwynn ap Nudd, or Herne at the fore, it was always a procession of gods, elves, or spirits of the dead flanked by spectral hounds and chasing something. There doesn't appear to be any such mechanism in Gray's version of the Hunt. Of course, there's a tiny hint from Aryalaan that they're performing some sort of job when he says that he's "wasted most of this ride" and that he'll be "all work" next time but the Hunt's purpose is never actually mentioned. And, too, the fact that they apparently stay in one time-space location for several years also doesn't fit the nature of a hunt, either a physical one or its supernatural counterpart.
Finally, there's also the question as to why the monster hunts them to begin with. It is explicitly stated that it does so in fulfillment of an "ancient duty" but that's all. According to this statement alone, it clearly serves some purpose, so why is it important to the Hunt? Are the other Pristine back at the Royal Courts giggling in sadistic pleasure at the thought of their relatives being slaughtered by something their people specifically created for that reason? Is it a punishment for riding with the Hunt? Was it set on the Pristine by an enemy wishing them harm? And, if so, why does it only affect those who choose to stay behind in the mortal realm? For me, there are just too many holes in the story's logic.