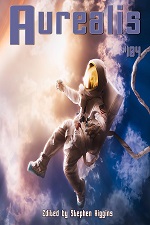 Aurealis #104, September 2017
"Nine Weeks a King" by Tony Plank
"Fear of the Dark
" by
Mike Adamson
"Transubstantiation" by Todd Sullivan
Reviewed by Kevin P Hallett
The 104th issue of Aurealis has three original short stories.
"Nine Weeks a King" by Tony Plank
Callahan waits for the distant Planetary Investigation Probes to open communications in this SF short. These semi-autonomous PIPs are exploring Amos, eighteen light-years away. At first, things go well as the probes come online.
But with an eighteen-year delay in communications, Callahan can only watch as the probes begin a power struggle among themselves. Plots and counter-plots dominate the PIPs as they fight to see which one will be king.
The slow pace and plot breaks undermined the originality of the story.
"Fear of the Dark" by Mike Adamson
Adamson gives us an SF short about a submersible surveying the ocean floor three miles below the surface. The crew of four concentrate on their jobs, even as some feel a strange sensation when the sub enters the utter blackness.
On the bottom, tendrils begin reaching for them through the mud. Like the siren's call, the tendrils mesmerize the crew, as they swarm over the submersible, looking for a way in.
This was a short story that lacked any strong pull on the reader.
"Transubstantiation" by Todd Sullivan
"Transubstantiation" is a short horror story about two venerable vampire brothers, Cain and Abel, who seek out their father. If they can kill him and consume his flesh they will acquire his strength. It's a dangerous plan.
After tracking him to Korea, they set up a trap on the island of Jeju. Their father will meet with a local vampire he has entranced. As the meeting unfolds the sons make their move.
This was a slow story that had a few needless scenes. The ending had a twist, but it lacked suspense.