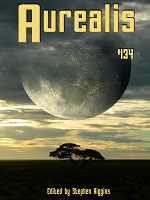 Aurealis #134, September 2020
"Cracticus" by D. J. Daniels
"To Sea, A Monster" by Danielle Shelton
"The Yesterday House" by Harrison Demchick
Reviewed by Kevin P Hallett
The 134th issue of Aurealis has three original stories, one of which is a novelette.
"Cracticus" by D. J. Daniels
Vida's home faces destruction as the wildfires burn in this short fantasy. Meanwhile, the ghost in her backyard encourages her to complete a spell for him, but she isn't certain she should or how it will help.
Finally, she assembles the egg, feathers, and music. But when she tries to complete the spell, she isn't sure it worked. But then, maybe it's her expectations that are wrong.
The prose flowed nicely, making for an easy read. The author kept the plot's mysteries alive, holding the reader's attention.
"To Sea, A Monster" by Danielle Shelton
A wife's husband almost drowns in this horror short. But though she rescues him from the undertow, he changes.
Over some days, he begins to metamorphosize into a shark-like sea creature. She is still loyal to him, even when he brings a swimmer home to eat. But in the end, she knows she must make a decision.
This story was fast developing with an element of mystery. But, overall, the plot felt superficial.
"The Yesterday House" by Harrison Demchick
"The Yesterday House" is a fantasy/horror novelette that follows Nathan's mental struggles after his aunt dies. After the funeral, Nathan finds himself reliving his troubled childhood. His mother had disappeared when he was small, and child welfare dropped him and his brother off at his aunt's house.
The pain for Nathan only grows when he finds a mysterious Yesterday House where his aunt and a young version of himself live. Each time he visits, he catches a glimpse of his real relationship with his aunt, and slowly Nathan realizes that all was not as he remembered.
There is a fine line between mystery and confusion. This story erred more on the confusing side, making for a slow plot and a reader who wondered what this story's premise was.