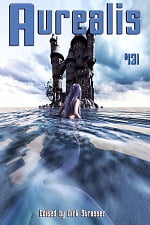 Aurealis #131, June 2020
"Secondhand Hearts" by Joshua J. Newnes
"In Memoriam" by J. Ashley-Smith
"A Piece of the Action" by Davide Mana
Reviewed by Kevin P Hallett
The 131st issue of Aurealis has three original short stories.
"Secondhand Hearts" by Joshua J. Newnes
Newnes delivers a short fantasy about Arun, a young man with a broken heart, despite it being made of granite. And when an elderly bhangarwala comes calling to buy old junk, Arun gives up the broken heart to ease his own pain.
But life without a heart means life without feelings, and soon Arun is asking for the return of his cracked and chipped granite heart. But the bhangarwala has sold the heart to a lady whose own crystal heart is too fragile. As Arun leaves to seek out the lady, the rag man warns him that it will not be easy to convince her to give it up.
The prose flowed well, making for an easy read. But it was an uncomplicated and predictable plot.
"In Memoriam" by J. Ashley-Smith
A researcher develops Dymphna, an AI that uses memories to simulate awareness, in this SF short. She works with a partner who seeks intimacy but lacks empathy for her needs.
Struggling with an unexpected pregnancy, the developer pours her memories into Dymphna until she isn't sure what is her and what is the AI.
This was a slow developing tale that had one interesting insight to AI, but not much else to offer.
"A Piece of the Action" by Davide Mana
"A Piece of the Action" is an SF short set in a future where authorities have closed off parts of the world from the normal advancement of time. These pockets loop time in segments lasting several hours and are supposed to be devoid of all animal life.
When a time patrol officer brings his rookie into a time loop location, he sets her up to give some important experience. In the end, they both get much more than they bargained for.
This story covered several ideas that many other authors have extensively explored, though the prose was light and well done.