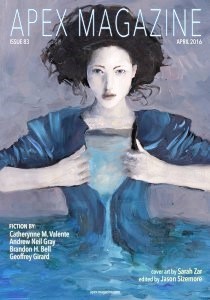 Apex #83, April 2016
"The Teratologist's Brother" by Brandon H. Bell
"The Laura Ingalls Experience
" by
Andrew Neil Gray
Reviewed by Kevin P Hallett
The 83rd issue of Apex has two original stories.
"The Teratologist's Brother" by Brandon H. Bell
Bell's fantasy is about Peter Beall, who died under mysterious circumstances. When Peter's brother, Telly, comes to bury him, the police say he was murdered. Telly tries to fathom how and why his brother died. He discovers Peter not only wrote a book on the occult, but also a local occult movement had grown after his death. The events soon pull Telly into the surrounding occult mysteries.
The story started slow, only revealing the plot after a few pages. Then, with a slower middle, the story dragged too much to be enjoyable. Much of the story's underlying mystery comes from a confusing story line.
"The Laura Ingalls Experience" by Andrew Neil Gray
This science fiction story is set two hundred years into the future. A woman barely survives an asteroid mining accident that claims her twin's life. She wakes to find her brain now lives inside a mech. Mourning the loss of her twin the mech chooses to live out her sister's fantasies while deciding if she will go for a "full upload" in order to preserve her memories of her twin.
Told through two timelines interwoven together, the story explores the tempting idea that we can export our minds into a computer of some kind. The development of the main character keeps the story interesting and the dual timelines create mystery to draw the reader on. The story craft is okay, but the plot doesn't break much in the way of new ground.