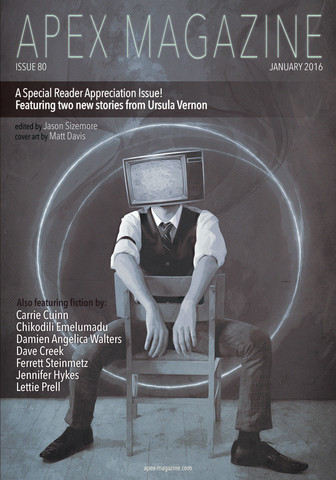 Apex #80, January 2016
"The Tomato Thief" by Ursula Vernon
"
That Lucky Old Sun" by Carrie Cuinn
"
The Open Hearted" by Lettie Prell
"Soursop" by Chikodili Emelumadu
"Bones of the World" by Jennifer Hykes
"
Razorback"
by Ursula Vernon
"Kutraya's Skies" by Dave Creek
Reviewed by Kevin P Hallett
The editor has portrayed this 80th issue of Apex as a customer appreciation issue and I appreciated the chance to read these original stories. There was just one story that I felt was a little weak, the others were all good reads and represented an eclectic mix of fantasy and science fiction.
"The Tomato Thief" by Ursula Vernon
A fantasy set in our world imbued with magical and mystical creatures. Grandma Harken is a kindly old woman who's built a reputation for being a crusty, independent, and difficult loner. Despite her notoriety, something is stealing her first tomatoes of the year and she loves her tomato sandwiches. But when she catches the thief, she feels compelled to help the robber, embarking on a life or death adventure with many kinks and turns.
I would not recommend reading this story unless you have an hour or more to spare because you will find it hard to put back down. Ursula spins a wonderfully intricate universe ala the Xanth books.
"That Lucky Old Sun" by Carrie Cuinn
Carrie's "end of the world" science fiction story is time and world ambiguous, telling this often-told story from a new perspective. The protagonist is a small girl, innocuously spending what could be her last day with her loving mother, who knows what's coming. The author touchingly portrays the mother's loving patience and the girl's innocence in this easy to read tale.
Telling the story from the little girl's perspective made it darker and more compelling. I found the writing engaging from the very beginning and it continued to hold me even though I could guess where it might end; a pleasing new variation on an old theme.
"The Open Hearted" by Lettie Prell
A blend of fantasy and science fiction, we are invited to follow the evolution of a new trend through the eyes of Palmer who first discovered the "next best thing." Body modifications have taken over from tattoos as the way to express your individuality and Palmer has found a young man who's developed a new type of 'bod mod' called stomata. As the trend catches on Palmer becomes concerned over other worldly implications to the stomata. Like many fads, no one can control where this one will take humanity.
With no real sense of danger or need, I did not find the story pulling me on to find out what happens next. I also found the beginning to be choppy and the lack of flow made the tale hard to follow initially.
"Soursop" by Chikodili Emelumadu
Chikodili has painted a grim view of the future in this science fiction tale. The short story is told in the first person of someone condemned to live on an Earth that's been ravaged by the wealthy. The protagonist lives in a caste system in which they are at the bottom, left with a few self-masochistic pleasures.
Soursop is an original, but rather bleak, peek into a future for humanity that left me asking many questions about the ideas raised. A difficult, but worthwhile read.
"Bones of the World" by Jennifer Hykes
What would happen if a small girl has magic powers? This is what we see in this fantasy, as Maggie dispenses luck and magic for good or bad with the innocence of a child. Where doing too much good can produce a bad result. Maggie likes her school friend Noel, and the mystery of whether that will be good or bad for Noel will entice you on.
The author slowly reveals the layers that make up Maggie and drive her. A charming story that I enjoyed reading and recommend to anyone who enjoys a well-written yarn.
"Razorback" by Ursula Vernon
Ursula has given us a second fantasy with witches and a marvelous insight to the life essence of animals. Sal is a 'good' witch who befriends a razorback hog called Rawhead. When someone tries to harm her friend, she moves a little to the dark side where she discovers some new truths about life.
I found the beginning slow, but the writing style kept me engaged in the story and the rewards came as the plot picked up speed. Ursula again tells a compelling tale that reads effortlessly – a wonderful gift to have.
"Kutraya's Skies" by Dave Creek
This multi-layered science fiction novelette introduces us to a world in another solar system, which, like Ganymede, orbits a gas giant. Life on Kutraya has to deal with the consequences of such an orbit and Dave Creek draws many parallels with life for Earthlings. One of those consequences is the gas giant's tendency to attract passing comets.
The appeal of "Kutraya's Skies" lies with the subplots that open our own eyes to life's challenges for a sentient race. A necessarily complex read that I found both enjoyable and thought provoking.