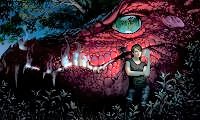 InterGalactic Medicine Show #57, June/July 2017
"Leaders Taste Better" by Stephen Lawson
"The Thing in the Basement" by
Gerri Leen
"Good Fairies" by
Megan Lee Beals
"The Buried Children's Club" by
James Edward O'Brien
"After the
Matilda Briggs
Went Down" by
Michael D. Winkle
Reviewed by Jennifer Burroughs
"Leaders Taste Better" by Stephen Lawson
When the dragon Vlar'el adopts Jason, a jobless writer, as his new pet, his loneliness seems to be at an end. But an ancient enemy discovers Jason's blog, forcing Vlar'el to leave his comfortable lair to deal with a feud thousands of years old.
Told from Vlar'el's point of view, the ancient dragon's cynical inner monologue is for the most part funny and interesting, but did have a few rough spots where I wished for the story to get on with it. "Leaders Taste Better" kicks off with a gruesome scene in contrast to most of the story in tone and imagery, but Lawson ties everything neatly together by the end. Overall, this is a fun and touching tale full of pop culture jokes and a few stray puns.
"The Thing in the Basement" by Gerri Leen
Something strange, something not a mouse, is moving in the walls. When her human does not understand her desperate warnings, Rivina the cat must hunt the monster herself.
A Lovecraftian horror story told from a cat's perspective, "The Thing in the Basement" is a delightful twist on the love between cats and humans.
Throughout her adventure Rivina explains the culture of cats and how they understand the world. Everyday items like the washing machine are referred to in very descriptive, somewhat long-winded terms. Rivina reflects on times that humans have failed to understand her efforts to communicate, from expressing affection properly to her warnings of imminent danger.
This story leans more towards the cute than the creepy despite its dark themes, but makes for an enjoyable read.
"Good Fairies" by Megan Lee Beals
A fairy, outcast from her kind, saves a small child from her terrifying kin, the 'good' fairies who crave human misery, driven by instincts she does not share to torture lost children. With no use for a toddler, she commands the little boy to go back into the world and study bees. The fairy is surprised when the child returns as a grown man who has published a book and shares her passion for bees. She welcomes him back to the grove, and as their friendship grows, her long life is changed forever.
Full of snarky humor and darker threats that add complex shadows to this sweet tale of unlikely friendship and shared passions, Beals has written a story of hope and wonder, exploring the extraordinary challenges that love can overcome.
"The Buried Children's Club" by James Edward O'Brien
This is a story that asks the question, "What if you could make a backup copy of your child?" Premature Passing Solutions, LLC provides this service in a near-future world, cloning the children of the wealthy and raising them in tanks, downloading the original child's life. If an original child dies prematurely, they can be replaced. But sometimes parents aren't happy with the replacement, and PPS employee Tom Okeke has the job of retrieving rejected replacement children. Left behind by his coworker to deal with a grieving woman, Tom must confront the full implications of his job.
A dark exploration of the ethics of cloning, "The Buried Children's Club" is an elegant story built on human pain and desperation for a second chance.
"After the Matilda Briggs Went Down" by Michael D. Winkle
A clever piece of microfiction set in the world of Sherlock Holmes, Watson and Sherlock recover from a difficult case before confronting the consequences of their actions. This very short tale is a fun read and a quick jaunt into Sherlock Holmes's study, with an ending that had me laughing out loud.