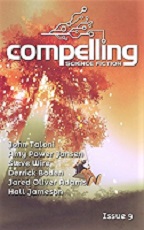 Compelling Science Fiction #9, October/November 2017
"Fermi's Last Survivor" by John Taloni
"The Fare to Ride the Universe" by Amy Power Jansen
"Catallactics on an Asteroid" by Steve Wire
"Wait Calculation" by Derrick Boden
"Urban Fanfare" by Jared Oliver Adams
"Sounds of the New World" by Hall Jameson
Reviewed by Jason McGregor
I've been enjoying Compelling a lot lately but, unfortunately, this issue is not like most of the others. "Fermi's Last Survivor" and "Wait Calculation" are implausible SF, "The Fare to Ride the Universe" and "Sounds of the New World" are essentially very soft SF, "Urban Fanfare" is YA only a mother could love, and even the best (not great) story is more "sci-phi" than science fiction in intent, despite a thoroughly SF setting and feel. Further, "Fermi" is insufficiently fictionalized, "Fare" frays at the end, "Wait" is vague and not compelling, while "Sounds" is rushed.
"Fermi's Last Survivor" by John Taloni
When aliens arrive on Earth, their homeworld blows itself up and then the starship crew blows itself up, leaving a sole survivor to talk about all that and its habit of touring the globe, inducing peace wherever it goes. And then there's a not-unexpected twist.
This reads like passionless notes for a story rather than a dramatically effective story, itself. The twist may entertain some and annoy or disgust others but, either way, it makes the already credulity-straining story make even less sense, including from a narrative perspective. Who exactly is the narrator talking to and why? What audience would possibly listen to both the pre- and post-twist parts? Regardless, most SF fans have read (or seen) the essence of this many times before and in more effective dramatizations.
"The Fare to Ride the Universe" by Amy Power Jansen
The alien Masters make some people "True-Ships" which is never adequately explained but seems to be some sort of mentally odd FTL pilot. Whatever it is, Quinn wants to be one, but has had difficulty working up his nerve to take the test, as failure results in the loss of anything from a talent or other ethereal thing to a body part or other tangible thing. Finally, he goes to take the test and, after a Charon-like ferry-ride across a river, he meets the Masters and learns the story's twist. Once he's returned from the underworld, after receiving a magical amulet from the ferryperson, he has problems with what he perceives his life to be and with his girlfriend but the deus ex amulet helps him.
I have no idea why this was published in Compelling (the home of "plausible SF") but it was initially intriguing, with enough solidity to grasp and enough vagueness to keep the reader wondering and puzzling. Its Silverbergian "myth translated into SF" feel could have gone either way but worked at first. Some readers may be fine with where and how the story goes and enjoy the whole thing but I felt the story faltered badly on Quinn's return, turning into a relationship story which was an intentionally smaller, sort of "dual-narcissism," story rather than the larger story it seemed to initially promise, as well as losing plot focus and momentum generally.
"Catallactics on an Asteroid" by Steve Wire
Roth has been put out of a job by AIs, so has headed off to the asteroids to strike it rich. But then he has a fender-bender on the asteroid and is faced with some cold equations when only one of the machines, with parts from the other, will be able to make it back. But it turns out to be either less or more complicated, but certainly different, than he thought.
The machine-displacement motif seems a bit tired and, when it starts with that (and certainly never drops it), I wasn't very enthusiastic but, when it got to the cold equations and certain other twists and variations, it got quite interesting. Ultimately, it's not a bad "sci-phi" story, though I don't believe its catallaxy is completely thought-through or as benign as presented.
"Wait Calculation" by Derrick Boden
An unspecified group does something unspecified on Earth and a multi-generational starship is sent out from the Tau (Ceti, presumably) colony to help fight this faction. Meanwhile, a slightly faster multi-generational starship has been sent out after it with the tech capacity to get both ships there in a mere fifteen years after the two hundred thus far. When the new ship speaks of allying with yet another undefined faction, this causes dissension in the ranks. Meanwhile, long-hidden plans to deal with this eventuality come to fruition. And, during all this, the protagonist fights with one woman and struggles with her undeclared love for another.
Leaving aside the fact that it's hard to care about the protagonist and impossible to care about whatever the fighting's supposed to be about, the premise is plain silly. It's like the British sending out the HMS Drake to help against the War of Independence, knowing it wouldn't arrive until c.1976. Would its mission actually still apply? (Might you not be attacking allies at that point?) Even if it did, and pretending the ship didn't fall apart, what kind of military advances could the crew have made and what chance would it stand against the USS Nimitz?
"Urban Fanfare" by Jared Oliver Adams
Nolan's mom is running for senate and, aside from being an anti-privacy extremist, one of her big campaign gimmicks is an arts program. Nolan is a fan of a "sample-punk" band and he has the idea to hack the software to get the band on the program. He wants to meet them in person, so does, and somehow this requires him bringing a placard which gives them the keys to the arts program kingdom. They decide to replace the entire program with their own music and that of their friends. Since this has already been paid for and promoted and couldn't be explained away as a one-song glitch, it would destroy Mom's campaign. Nolan tries to talk them out of it but they refuse, so he spends the rest of the story trying to undo the damage.
This is a YA story that I don't imagine many young people would like, as it's remarkably square. The anti-privacy politicians are good and the cops with their spy drones are good and Nolan's a good kid (Wally and the Beav are delinquents in comparison) who's done something bad, while those punk music people are entirely bad. It is competently done for the most part, though, so people who would like this sort of thing would find few obstacles to enjoying it.
"Sounds of the New World" by Hall Jameson
After an unspecified apocalypse, our second blind protagonist in a row—this time a young woman (or girl)—is living near the remains of a zoo (which includes a loose tiger) and uses bird-like drones (which she keeps losing) to help her see. When she hears a baby crying (uncertain if she's really hearing it) she goes on an adventure and her world changes.
This was a surreal, sometimes incoherent story which had elements of interest in a reasonably-paced first 90% and then came to a hurried and easy conclusion.
---
More of Jason McGregor's reviews can be found at Featured Futures.