Special Double Review
by
Mark Suplinskas & Seraph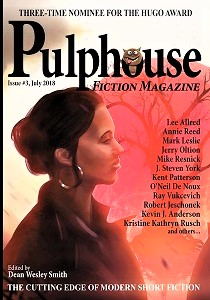 Pulphouse #3, July 2018
"Time, Expressed as an Entrée" by Robert Jeschonek (reprint, not reviewed)
"The Four Thirty-Five" by Annie Reed (reprint, not reviewed)
"The Clockwork Man's Canteen" by J. Steven York
"Red Carnation" by Lee Allred
"This Magic Moment" by Lisa Silverthorne (non-genre, not reviewed)
"Pinning the Rap" by O'Neil De Noux (reprint, not reviewed)
"Daddy's Little Girls" by James C. Glass (reprint, not reviewed)
"Catastrophe Baker and the Ship Who Purred" by Mike Resnick (reprint, not reviewed)
"Active Reader" by Mark Leslie (reprint, not reviewed)
"Collector's Curse: A Dan Shamble Zombie PI Adventure" by Kevin J. Anderson
"A Good Negro" by Ezekiel James Boston
"Fiction" by Jerry Oltion (reprint, not reviewed)
"Alien Automotive" by Kent Patterson (reprint, not reviewed)
"You Go Too Far" by Ray Vukcevich (reprint, not reviewed)
"The One Left" by Valerie Brook
"Who's the Abomination?" by Johanna Rothman
"The Case of the Vanishing Boy: A Spade/ Paladin Conundrum" by Kristine Kathryn Rusch (reprint, not reviewed)
Reviewed by Mark Suplinskas
Tangent Online reviews only original SF/F/H genre stories in magazines. This issue of Pulphouse gives us 17 stories, 7 of which are original, with 6 falling under the umbrella SF/F/H genre.
"The Clockwork Man's Canteen" by J. Steven York
This story is seen through the eyes of a clockwork man soon after the Civil War. It is set in the American West. He was an artillery man in the Army of the Confederacy. His clockwork horse, Piston, came to him during a Civil War battle and they had been together ever since. Piston is also a creation of the military.
Piston can renew his winding, military-grade mainspring by using wind, water, or animal power. Having a winder-mill in him, he can also rewind clockwork man's mainspring with a take-off. So, the problem of being periodically rewound is not the issue it once was. Leaving Las Vegas, they take a trip through Death Valley. While the heat and lack of water is not an issue for them, it is for a group of flesh-people (humans) they find.
The Clockwork Man wonders if the flesh people knew their Maker as well as the clockworks know theirs, would they care so much about their Maker?
I was particularly struck by how these clockwork mechanisms live or die. There is a series of pipes and coils in their heads that constantly sings a tune. If the clockwork runs down too far, the tune stops, and they cease to be. The issue suddenly becomes saving these flesh people, possibly at the cost of their own lives.
This is a story with a unique point of view and a lot of heart. I found it a good read.
"Red Carnation" by Lee Allred
Murder at a high school prom and a vampire detective is on the case. If you're into vampires, you might enjoy this one. It is apparently one of a series vampire detective stories about Nathan Fairchild, one of the Bloodborns, the vampire elites. The opening was good, but for me, it went downhill from there. I've seen this trope before. If you like the 'good' vampires chasing the 'bad' vampires, you might like this one.
"Who's the Abomination?" by Johanna Rothman
I'm sure you've heard of big foot; who goes my many names: yeti, sasquatch, the abominable snowman, and such. This story is told from the point of view of a young, probably teenaged, yeti called Yoana. She lives by herself and enjoys her life: the snow, the woods, the solitude.
At some point, she finds an 'ear-thing' that is apparently a combination of an AI, internet browser, and phone. It tells her all kinds of things about the outside world, most of which she's not really interested it.
The 'ear-thing' tells her about a crash nearby with survivors who need her help. Somewhat reluctantly she goes to do what she can and meets Drew, the injured survivor. They become friends of sorts, until his rescuers show up. Then, things change. I won't tell you what happens just in case you want to read this one. I rate this one as an 'okay' read, not great, but 'okay'. There is a sexual subtext here.
"The One Left" by Valerie Brook
I've seen this trope in many various forms: a few post-apocalyptic survivors are fighting to survive in a hostile, contaminated world. They are in a desert-like environment heading toward, what they hope, is the devastated, "City of Angels". Literacy and learning is no longer valued, except by Dwyn, who can read and wants to collect dictionaries.
This story is told from the POV of a teenaged girl, Dwyn, who becomes injured and is left behind by her rapidly diminishing tribe. Eventually, she binds up her wound and limps on after her tribe. She follows them into the devastated remains of a nameless city and… I won't tell you the ending in case you want to read this one.
My one writing comment is that the entire story is description; No dialogue at all and is in the third person. This combination made it feel at-arms-length for me. I didn't feel much invested in what happened to Dwyn. But that might just be me.
"A Good Negro" by Ezekiel James Boston
The content of this story may be offensive to some. It is a combination of horror, racism, and the effects of racism. This is the story of a cartoon character named Curious Negro, crawling out of a cartoon panel from "The Good Old Days" cartoon and into his creator's office. The "Good Old Days" cartoon is highly racist where Negros love fried chicken, watermelon, and are whipped if they get out of hand. There is even a scene depicting a lynching of "Uppity Negro", hanging in a tree with his eyes 'X'ed out.
Curious Negro crawls out of the panel where he finds a giant Black man tied up in bed, calling for help. Apparently, this is the creator of the cartoon. He tries to get his cartoon character to help him by calling 911, but Curious is afraid to use the phone because it doesn't have a sign on it saying, "For Negros", and doesn't want to be beaten or worse. Curious Negro does his best to free the Black man but…
This is an edgy story with a unique viewpoint and an ironic ending. It's worth the read. I didn't write it. I only reviewed it.
"Collector's Curse, A Dan Shamble, Zombie P.I. Adventure" by Kevin J. Anderson
During a time known as the Big Uneasy, monsters returned to the world and settled in their own area, the Unnatural Quarter. Dan Shamble, our hero P.I. is a zombie. His girlfriend, Sheyenne, is a ghost. They go to an estate sale of Eldon Muff, a nasty, bitter, old werewolf who hated everyone.
Dan is happy and excited to find a pristine collection of John D. McDonald detective stories and he buys three. It turns out that Muff has put a curse against people who have 'wronged' him into each book. So, when the book is opened and read, the curse is activated. Dan finds this out when he reads two of the books. The rest of the story involves tracking down the books and securing them.
There is an underlying sense of humor throughout the story using wordplay. For instance, the neighborhood phantom owns an opera house and makes a living by putting on, wait for it, the Phantom of the Opera.
While I liked the wordplay, the plot was so, so and the ending not very clever. It's a fun read if you like humorous word-play and don't care so much for plotting or a satisfying resolution.
***
"Time, Expressed as an Entrée" by Robert Jeschonek (reprint, not reviewed)
"The Four Thirty-Five" by Annie Reed (reprint, not reviewed)
"The Clockwork Man's Canteen" by J. Steven York
"Red Carnation" by Lee Allred
"This Magic Moment" by Lisa Silverthorne (non-genre, not reviewed)
"Pinning the Rap" by O'Neil De Noux (reprint, not reviewed)
"Daddy's Little Girls" by James C. Glass (reprint, not reviewed)
"Catastrophe Baker and the Ship Who Purred" by Mike Resnick (reprint, not reviewed)
"Active Reader" by Mark Leslie (reprint, not reviewed)
"Collector's Curse: A Dan Shamble Zombie PI Adventure" by Kevin J. Anderson
"A Good Negro" by Ezekiel James Boston
"Fiction" by Jerry Oltion (reprint, not reviewed)
"Alien Automotive" by Kent Patterson (reprint, not reviewed)
"You Go Too Far" by Ray Vukcevich (reprint, not reviewed)
"The One Left" by Valerie Brook
"Who's the Abomination?" by Johanna Rothman
"The Case of the Vanishing Boy: A Spade/ Paladin Conundrum" by Kristine Kathryn Rusch (reprint, not reviewed)
Reviewed by Seraph
"The Clockwork Man's Canteen" by J. Steven York
There is a certain elegance to a character study. There is plenty of time for elaborate descriptions of everything from environment to emotion, and little to distract from the primary voice. This particular one is set sometime after the civil war, during the westward American expansion, with a light twist. As the title would suggest, it follows a "clockwork man," which is to say, a wind-up mechanical man. Much of it follows his slightly bemused, often confused but ever steadfast interactions with a small family he comes upon while travelling through Death Valley. The story can be a bit dry at times, and is for the most part rather bleak. But to my mind, it captures quite well the psyche of this lone rider in the desert, as he strives to understand the humans he is helping, and is an "outside-in" view of humanity at large.
"Red Carnation" by Lee Allred
Every once in a while I get the privilege of reviewing a story I wish I'd written. Everything I love about fantasy and horror, succinctly written and managing to be innovative in a mostly stagnant subject matter area: vampires. The setting is modern, what I would usually term urban fiction, without being overly specific as to when, set at the aftermath of a high school prom gone horribly wrong. What follows is an insight into a parallel society, inhuman and immortal, yet in the end not so very different from humanity. Following an adjunct, a human bitten who resisted the transformation, but blessed with heightened abilities, the story paces his hunt for the killer, only to find a very human motive at fault. I especially liked the touch about why vampires don't do well in the sun. It's one I haven't heard before.
"Collector's Curse: A Dan Shamble Zombie PI Adventure" by Kevin J. Anderson
Set sometime after the "Big Uneasy," this is a light and whimsical zombie love story. Not being familiar with the overall series it is drawn from, I can't be sure of the setting, beyond vaguely modern and after the underworld opens its gates into the human world. Zombies, werewolves, ghosts, mummies, you name it. It follows a zombie detective with a ghost for a girlfriend as he solves a rather mundane-seeming case. It is so normal, you almost forget it is about the supernatural, until the whole curse part. What starts as a casual date becomes a frantic effort to stop a curse from enacting its deadly price, with a twist ending uncommon to most detective stories. It was enjoyable enough that I want to read more of this series.
"A Good Negro" by Ezekiel James Boston
Occasionally a story comes through that truly exasperates me. On the surface, this story is blatantly racist. I don't care who wrote it, or what their race might be. The ideas, as presented, reek of racism, little more than odious stereotypes. On the other hand, there is so clearly more at play, a deeper meaning, that no matter how many times I read it, or wish to grasp it, it eludes me. Presented from the perspective of a self-aware comic strip character who crawls out of the panel on a page being drawn, it is nearly impossible to determine the time or place for the setting. I know, in my heart, that there is some deeper meaning in these words. They scream of rage, of shame, and of defeat. But for all my desire to understand, I simply cannot move beyond the words used. I just don't speak that language.
"The One Left" by Valerie Brook
It's nice to see a post-apocalyptic piece to round out the bunch. I feel like there is an eternal place for it amongst the horror and survival genre. There is so much room for the analysis of the human condition, and for what remains of our humanity when all else is stripped away. This story takes place two to three generations after what I can assume is a nuclear holocaust, from the details about acid rain and desolation. It follows a young girl and what is left of her tribe, detailing the difficulties and dangers of surviving in such a bleak and barren hellscape. Without a doubt, she is a survivor, but more than that, she is hopeful. Perhaps not in the same sense we would think of nowadays, but to her, it is hope all the same. This is well written, and well-paced.
"Who's the Abomination?" by Johanna Rothman
I'm always happy to see stories written from the perspective of an alien or inhuman mind observing the human race. Sometimes they inspire, and elicit insight. Other times, they fall flat. Set well into the future, when humanity has mastered interstellar travel, and is assisted by what seems to amount to artificial intelligence as portable as an earpiece, this story takes place on a planet of unknown distance and origin. It isn't terribly dissimilar to our own, but is home to a race of beautiful, near-feline sentient creatures. It follows one particular creature as she investigates a crashed ship, and goes to a great deal of effort to care for and save the lone occupant/survivor. Much of what remains details her disgust and anger towards humans, after she is mistaken as a threat and attacked. While it doesn't fall flat per se, there is just so much more that could have been done with this story. It has so much potential.