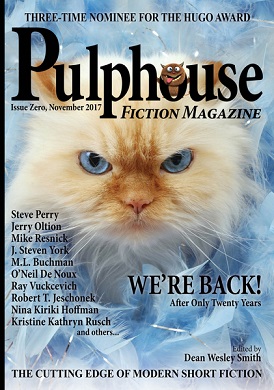 Pulphouse Issue 0, November 2017
"Spud Wrangler" by Kent Patterson
"Savage Breasts" by Nina Kiriki Hoffman
"The Library of Orphaned Hearts" by Annie Reed
"Cooties" by J. Steven York
"Don't Make Me Take Off My Sunglasses" by O'Neil De Noux
"A Breath Holding Contest" by Ray Vukcevich
"Jesus at the Bat" by Esther M. Friesner
"Inside the Sphere" by M. L. Buchman
"The Bee Man" by Dan C. Duval
"Catastrophe Baker and a Canticle for Leibowitz" by Mike Resnick
"Chrome Bimbos" by Steve Perry
"The Writing on the Wall" by Kevin J. Anderson
"Coyote and the Amazing Herbal Formula" by Sabrina Chase
"Queen and Fool" by Dayle A. Dermatis
"Hand Fast" by Kristine Kathryn Rusch
"A Little Song, A Little Dance, A Little Apocalypse Down Your Pants" by Robert T. Jeschonek
"Back to Nature" by Jerry Oltion
"Minions at Work 2.0: 4th Wall Broken" by J. Steven York
Reviewed by Chuck Rothman
For a short time back in the 80s and early 90s, Pulphouse: The Hardback Magazine made Eugene, Oregon a center of the genre small press world. Dean Wesley Smith and Kristine Kathryn Rusch started it as a quarterly magazine, published in hardcover, that attracted some of the most imaginative authors in the field. They expanded later, with the (overly) bold idea of doing a weekly SF magazine. Pulphouse never really could keep up that pace, but still published some excellent stories. At the same time, they were publishing single-author collections and reprint series. It was a place where many successful authors got their start.
Pulphouse folded in 1994, having been a bit too ambitious and finding they had over-expanded. Now, Smith and Rusch are working to bring it back, using crowdfunding to put it out in electronic and print formats. Issue 0 consists of reprints from the press's heyday as a taste of what is in store.
Reading through these, I was impressed by the show of imagination involved. Stories often took bizarre concepts and ran with them without explanation. A prime example is "Spud Wrangler" by Kent Patterson, a story about cowboys—well, I suppose they're potato-boys—who are faced with danger when their herd of Idaho spuds stampede. The silliness of the concept makes the story a delight to read. Similar weird setups can be found in Nina Kiriki Hoffman's "Savage Breasts," "Jesus at the Bat" by Esther Friesner (who was very involved with the magazine as a columnist) about a supernaturally talented player of little league baseball, and the satisfying revenge story by Steve Perry, "Chrome Bimbos. "A Little Song, A Little Dance, A Little Apocalypse Down Your Pants" by Robert T. Jeschonek tells of a comedian who literally dies on stage at each show.
The stories are all strong (not surprising when you have years of good stories to pick from) and show an off-kilter sensibility that I found very fresh even after all this time. If this is a taste of what's to come, it's worth giving Pulphouse a look.
---
Chuck Rothman's novels Staroamer's Fate and Syron's Fate are available from Fantastic Books. He once sold a story to Pulphouse, though it appeared in one of Dean Wesley Smith's other projects.