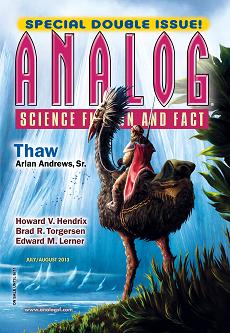 Analog, July/August 2013

"Cronus and the Ships" by Seth Dickenson
"Thaw" by Arlan Andrews, Sr.
"The Negative Impact of Climate Change on the Unusual Beasts of the World" by Jamie Todd Rubin
"Not With a Bang" by Rosemary Claire Smith
"Other People's Avatars" by Howard V. Hendrix
"Ready, Set" by Mary Lou Klecha
"Milk Run" by Alec Austin & Marissa Lingen
"Tethered" by Haris A. Durrani
"The Chaplain's Legacy" by Brad R. Torgersen
"A Quiet Little Town in Northern Minnesota" by K. C. Ball
"Love" by Rick Norwood
"Crep d'Etoile" by Bud Sparhawk


Reviewed by Chuck Rothman

The July/August double issue of Analog doubles the usual number of stories, and has some gems among them.

The issue starts out with the short short, "Cronus and the Ships," in which the various sentient starships have gathered together to decide what to do about the Earth, which is under a threat from an alien force. It's hard to talk about this without giving away everything, but Seth Dickinson ends it with a trope from a famous 19th century story, which I don't think works in this case. The reader has no strong emotional investment in the situation and the result is a dry puzzle with no solution.

"Thaw" is an exercise in world building, where Thess and his sons head north on a wintry planet in order to check on the calving on glacier ice, which he ships down the river. Thess is a Reader, deciphering their "books," which are sticks you read by touch. A tribe nearby by the name of Tharn's Men interrupts him with the news that they have discovered a God frozen in the ice; Thess is asked to find out about him. The plot of the story is not complicated, and the final revelation is something most readers will get long before the end, but the world building is first-class. Arlan Andrews, Sr. has created a complex society that looks at things in ways that are different and perfectly logical. In addition, the ecology of the world is very complex for such a short work.

Jamie Todd Rubin contributes "The Negative Impact of Climate Change on the Unusual Beasts of the World," a Probability Zero that lists a few incidents showing the death of mythical creatures due to climate change. The story is almost entirely description, which is strongly written and generates a surprising amount of impact. There is a message here, and Rubin makes it without being didactic.

"Not With a Bang" by Rosemary Claire Smith focuses on Marty Zuber, a time-traveling paleontologist, who is given a chance to take part in the first expedition to the late Cretaceous. The work creates a conflict in his social life, as he is enamored of Julianna Carson, as is Marty's companion, Dr. Derek Dill, a bigger name in the field. The story blends nice scientific speculation about the behavior of the dinosaurs (and a new possibility for their extinction) with romance and is a winning bit of light fiction.

"Other People's Avatars" is a novella about Anderson McKinnon, a developer of virtual reality games and a serious gamer himself. He makes a decision to "game around the Earth" as he travels from the orbital homes of one friend to another, going into the game room and playing the game from there. The game "Asterriders" features "The Repentant Revenger," a villain known for his mysterious comments and rants. Howard V. Hendrix's story is a slog, and grows dull as the same sequence repeats: Andy shows up, drinks, plays the game, and moves on. The character seems very obtuse and, though things are hinted and suggested, he never seems to catch on to what's happening outside the game. As for the ending -- well, it's something they tell authors to avoid, and makes the rest of the story nonsense. It might have worked on a shorter story, but it left me feeling extremely disappointed to have spent the time getting to it.

Mary Lou Klecha writes "Ready, Set," about a woman who wants to go to another world, but remains on a waiting list for years, hoping her name is called. It's a very good psychological study that outlines the problem and makes it emotionally powerful with its understated sadness.

"Milk Run" is mostly a slice of life aboard a supply ship, where Chovnik, the new guy aboard, is subject to good natured ribbing from Gemma Zubiondo, the commander. Authors Alec Austin and Marissa Lingen don't show much adventure, but that is much of the point, as Chovnik is schooled about how things are done on the ship.

Haris A. Durrani's "Tethered" is based upon the real problem of space debris and follows Charlie and Kalima, who make a living on a junkship, salvaging and destroying derelict satellites. Their current assignment, though, turns out not what it seems at first, leading into some intrigue and danger about what is going on. It's a workmanlike piece -- nothing special overall, but well done -- and I found the description of the issue of satellite debris more interesting than the actual story.

"The Chaplain's Legacy" by Brad R. Torgersen is a very well done novella about diplomacy and war. Harrison Barlow is a soldier who, due to the inspiration of an army chaplain, managed to broker a truce with the mantes, a warrior race that Earth couldn't stop: they would cease their attacks so that they could study Earth's religion, a concept they can't fathom. Years later and Barlow is called back into service: the truce is unraveling and Barlow is the one tasked with keeping it going by meeting with the Queen Mother. Things go wrong, of course, and Barlow is forced onto a barren planet with her, the professor who Barlow negotiated the truce with, and a human officer. The story is old fashioned SF at its best, with good characterization, serious issues, and a plot that has a few surprises. Definitely a winner.

K.C. Ball is about Blackduck, "A Quiet Little Town in Northern Minnesota." Blackduck is an AI that has become self-aware and is thinking of taking over the world. This is contrasted with the budding romance between Darrell Atwell and Toni Meadows, who work at the computer facility that led to Blackduck's becoming sentient. The story is entertaining and the two elements mesh into a strong tale.

"Love" by Rick Norwood features Stephen Latham, who is enamored of Helen O'Reilly, a woman he meets as a child. Years later, he still remembers the incident and when he sees her again -- at about his age now -- he romances her. Helen is a starship captain and time dilation prevents her from having any relationship longer than a few days between trips. It's a work of strong romanticism, and if you can accept the fact that Stephen is deeply in love for his entire life to a woman he's only seen for a day or two, you may like it. I found the romantic angle more childish than anything else.

"Crep d'Etoile" is a collection of incidents that take place on a luxury starship, where Mason, the executive officer, has to deal with the problems of pampering the customers. And his biggest problem was his chef, Etoile. Since food on a long run is made up of recycled waste products, the ship needs Etoile to make everything palatable, and he's your typical high-strung chef. Bud Sparhawk's story is slight and spends too much time explaining the origin of the food. In addition, it acts like none of the passengers know it either, and, with all the stress on where the food comes from, I would have expected that to be a bigger plot point. Overall, it's likeable enough, though I would have preferred a stronger plot.
---
Chuck Rothman's novels Staroamer's Fate and Syron's Fate will soon be republished by Fantastic Books.