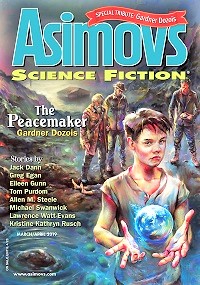 Asimov's, March/April 2019
"The Peacemaker" by Gardner Dozois (reprint, not reviewed)
"Instantiation" by Greg Egan
"Tourists" by Rammel Chan
"Eighteen Songs by Debussy" by Michael Swanwick
"How I Found Harry's All-Night Hamburgers" by Lawrence Watt-Evans
"Terrible Trudy on the Lam" by Eileen Gunn
"January March" by Tom Purdom
"The Starry Sky over the Southern Isle" by Zhao Haihong
"Transport" by Kristine Kathryn Rusch
"Isla Tiburón" by Alex Irvine
"The Lights Go out, One by One" by Kofi Nyameye
"Mr. Death Goes to the Beach" by Jack Dann
"The Lost Testament" by Allen M. Steele
Reviewed by Victoria Silverwolf
This special issue is dedicated to the late writer and editor Gardner Dozois. In addition to offering numerous tributes from friends and colleagues, it also reprints his Nebula-winning short story "The Peacemaker," which first appeared in the magazine in 1983.
Dozois served as editor of Asimov's for two decades. During that time, he won the Hugo for Best Professional Editor fifteen times; a greater number than any other individual in any category. It is fitting that the publication pays tribute to his memory. It also offers a dozen new works of science fiction and fantasy, which may be the best way to honor him.
"Instantiation" by Greg Egan takes place within multiple worlds of virtual reality. Three kinds of individuals inhabit these various simulations. There are human beings, who enter through VR devices in order to play games and interact with others. There are computer-generated characters, who are completely without consciousness. Somewhere between are self-aware beings who have been created as adjuncts to the games. They have managed to escape their limited existences and live outside the settings created for them. When a crisis threatens to destroy them, the protagonist must go back inside one of the games and manipulate a real person in order to save her fellows.
Egan is famous for highly intellectual stories that require slow and careful attention. In this novella, he adds another layer of complexity to a multifaceted background. The game within the plot features mathematical philosophers of the 1930's fighting Nazis. The discussions among the characters—some human, some mindless simulations, some conscious creations—involve concepts that are likely to go over the heads of most readers. The story as a whole appeals more to the mind than the heart.
The narrator of "Tourist" by Rammel Chan is an alien disguised as a human being. While visiting Paris, she encounters others of her kind. They coyly avoid openly admitting their true nature to each other. To do so runs the risk of repeating a disaster that occurred on another world.
The author creates an atmosphere of elite decadence reminiscent of the work of J. G. Ballard. The story is an effective mood piece, but there are no surprises in its outcome.
The title of "Eighteen Songs by Debussy" by Michael Swanwick reveals its structure. Short sections of narration, each with a title taken from a work by the French composer, create an impressionistic portrait of a darkly romantic future where lovers can exchange bodies and shadowy artificial intelligences run the world in ways that mere humans cannot understand. There is no real plot, and the piece is best enjoyed as a prose poem rather than a story.
"How I Found Harry's All-Night Hamburgers" by Lawrence Watt-Evans is a sequel to the author's Hugo-winning story "Why I Left Harry's All-Night Hamburgers." The setting is a small diner in West Virginia that attracts customers from parallel universes. In this tale, the narrator investigates the place in a quest to discover the origin of an object that causes an addictive sense of well-being when touched. The result of his effort is predictable. Although well written, in a clear, informal style, this story lacks the special appeal of its predecessor.
"Terrible Trudy on the Lam" by Eileen Gunn is a whimsical tale based on a true incident. During the early 1940s, a tapir escaped from the San Diego Zoo more than once. The author expands on this incident and imagines the animal becoming a successful nightclub entertainer as well as an assistant to a private detective. Those who don't mind a great deal of silliness in their fantasy will best appreciate this nostalgic comedy.
"January March" by Tom Purdom takes its inspiration from the Mummer's Parade, a tradition unique to Philadelphia. People in outrageous costumes and elaborate floats appear in the city, to the accompaniment of music and comic antics. The author portrays the parade in the near future. High winds threaten the stability of a flying float in the shape of an elephant.
This is a pleasant story, with plenty of local color. The plot generates little suspense, as there is never any doubt that the hero will triumph over the weather and lead his team to victory.
"The Starry Sky over the Southern Isle" by Zhao Haihong, translated from Chinese by the author, takes place in a future of heavy smog. The elite live in domes that protect them from pollution. The main character is an astronomer. His wife works to protect the environment. Because her career is more valuable to society than his is, she wins the right to live with their young, asthmatic child inside a dome. The price is that she must divorce her husband.
This is a quiet, moving story about ordinary people facing difficult challenges. It ends with a touching moment between father and daughter, proving that you can appreciate the stars even when you can't see them.
"Transport" by Kristine Kathryn Rusch begins with a teenage boy vanishing from a luxury starship. Similar disappearances, kept quiet by the starship company, have occurred before. An investigation reveals a terrible incident in the starship's past.
The solution to the mystery is implausible. It is also difficult to believe that the disappearances, with victims assumed dead, could have been hushed up. The story is written in a way more appropriate for young adults than for sophisticated readers.
"Isla Tiburón" by Alex Irvine takes place after an attack on a desalinization plant. Four men seek out those responsible, leading to violence. The author creates a disturbing future running out of fresh water. The desalinization of seawater benefits the wealthy at the expense of the poor. The final scene is a gruesome one, but what happens is not completely clear.
In "The Lights Go out, One by One" by Ghanaian writer Kofi Nyameye, an approaching black hole threatens to destroy the solar system. There is an Earth-like world where humanity can survive, but it has no sun. The crew of a starship has the task of transporting an appropriate star to the planet. When they arrive at their destination and come out of suspended animation, they discover a complication that threatens their mission, and forces them to make a terrible decision.
This tale of vast cosmic events offers a true sense of wonder, even if its concepts are not always plausible. Many will find the story's conclusion depressing, if inevitable.
"Mr. Death Goes to the Beach" by Jack Dann reveals its plot in its title. A young boy talks with the Grim Reaper while at the seashore. Although stylish, with rich characterization, not much happens. If the author has a particular point to make about death, it's too subtle for this reviewer.
Closing out the issue is "The Lost Testament" by Allen M. Steele. Centuries before the story begins, a human starship landed on a planet inhabited by aliens. The aliens force the descendants of the passengers to live on a single island, without advanced technology. The humans lose almost all memory of their origins, only vaguely understanding that they came from another world.
The narrator accepts an assignment to steal an ancient artifact containing important information about humanity's past. He faces the wrath of aliens, who have no love for humans, as well as the normal risks of theft.
The story's complex and fully developed background is more interesting than its plot. Although the climax offers an inspiring discovery, as well as the triumph of science and technology over superstition, the bulk of this novella is a typical science fiction adventure story.
---
Victoria Silverwolf thinks Gardner Dozois was the greatest science fiction anthologist of all time.