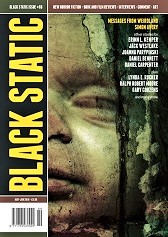 Black Static #69, May/June 2019
"Where it Ends, Where it Begins" by Erinn L. Kemper
"
Beach People" by Joanna Parypinski
"
Hunting by the River" by Daniel Carpenter
"
Pomegranate Pomegranate" by Jack Westlake
"
When You Decided to Call" by Daniel Bennett (no
n-
genre,
not reviewed
)
"
Messages from Weirdland" by Simon Avery
Reviewed by Kevin P Hallett
The 69th issue of Black Static contains six original stories, including one novelette. One story was not in the speculative genre and so wasn't reviewed. Overall the stories were good.
"Where it Ends, Where it Begins" by Erinn L. Kemper
Mac collects salvage that washes ashore in this short horror story. People come by his ramshackle hut on the end of the pier to buy what he finds during the winter months. But Mac has another calling; ever since finding his first body part on the beach, he hopes to find enough pieces to make a whole person.
It takes more than ten years, but finally he runs across the last, missing, piece. He arranges the frozen pieces on his workbench to admire the finished patchwork person. But after he has returned the parts to his freezer, the real horror begins, for he hasn't treated the remains with dignity, and they have feelings too.
The mysteries kept the reader engaged, and the main character had enough shades of gray to be interesting. Overall a good read.
"Beach People" by Joanna Parypinski
This horror short introduces us to Camilla, a sixteen-year-old vacationing with her parents as they all try to put the accidental death of her older brother behind them. But Camilla isn't interested in playing along with her parent's psychological mumbo-jumbo.
Refusing to join her parents on the beach at Lake Superior, she hides in the cabin, where she sees a strange girl with long black hair rise from the lake. Over the next days, Camilla suspects the black-haired girl is eating the other beachgoers, leaving behind piles of bones. Her warnings go unheeded, her parents are here to move on, not to wallow. Soon all the other beach people are gone, and only her parents remain as the black-haired girl rises once again.
This story developed at an interesting pace, as it slowly revealed the horrors and mysteries that swept around Camilla.
"Hunting by the River" by Daniel Carpenter
After a long absence, Lee returns home to Manchester, in this short horror tale. His distraught mother tells him Kirsty, his little sister, has run off. She has run off before, but this time it's different.
Lee searches through the seedy parts of Manchester, realizing the city has changed a lot in the years he's been away. As he follows clues, he gets close, but she warns him off. Kristy tells him she's okay now, but he won't give up on her.
The story had too esoteric a plot to follow easily, and in the end, it just didn't seem to have enough purpose.
"Pomegranate Pomegranate" by Jack Westlake
In a blend of horror and SF, we follow Jenna, making her way through a world where you're cursed if you ever repeat a word twice or a word just spoken by another. To do so traps you, repeating the word endlessly until you die.
Jenna's sister Adrienne has become trapped, and Jenna sets off to find a cure. Some handwritten signs claim to have found the answer and she seeks out the place, in the unending hope she can save her little sister.
This was a worrying story, one that left plenty of mystery and an ending that was also disturbing.
"Messages from Weirdland" by Simon Avery
Franklyn mourns for his recently deceased wife in this fantasy novelette. The author of a children's fantasy series Tales from Weirdland, Franklyn no longer has the heart to write and for over a year he organizes his day around trivial activities, trying to prove he can 'carry on' without his beloved, Elspeth.
One day, combing the beach for shells, he discovers a green bottle, washed ashore with a note inside. Recognizing the handwriting, Franklyn begins to write Weirdland tales again, more in desperation this time. But will it be enough to put things right?
This was a thoughtful story, nicely structured, and suitably weird.