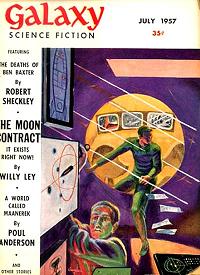 X Minus One aired "A Wind is Rising" on October 3, 1957 as its 114th episode. Written by Robert Sheckley (1928-2005) under the penname Finn O'Donneven, it originally appeared in the July 1957 issue of Galaxy (where another of Sheckley's stories would appear under his own name--see below).
On the planet Karella two advance Earth explorers are attempting to pave the way for colonization. They know little of the planet save for its tornadic winds which, though mighty, are within barely livable limits. When a water main breaks they must brave the 200+ mph winds to fix it, only to learn a crucial bit of Karellan history from one of the five-tentacled, spidery-like Karellans that makes them rethink their ultimate purpose. Unintentional or not, the Karellan (along with its corny, Tonto-like speech) has a few funny lines, at least one of which is more true today than ever. It also became apparent early on that this was much more the sort of story one would associate as a stereotypical Astounding tale rather than Galaxy. See what you think.
Along with "A Wind is Rising" seeing print in the July 1957 issue of Galaxy were stories by Poul Anderson (the novelette "A World Called Maanerek"), Charles V. de Vet (the short story "Growing Up on Big Muddy"), Avram Davidson (the novelette "Hello! I Am Dr. Morris Goldpepper"), and Robert Sheckley's second entry and written under his own name (the novelette "The Deaths of Ben Baxter").
Of passing interest on two points (one relevant only to me), is that this radio drama was aired on October 3, 1957, the day before my 7th birthday, and the day before the dawn of the space age on Earth, for the Russians would successfully launch Sputnik on October 4, 1957.
Play Time: 21:08
{After listening to this rousing adventure of brave colonists fighting the elements on a rough planet inhabited with spider-like aliens, the small neighborhood tribe of Earthly young aliens--and would-be explorers--known as children would descend on the local corner drugstore for even more harrowing tales, those they knew they would find within the pages of their favorite SF magazines, several of which from the Fall of 1957 are pictured below.}
[Left: Amazing, Oct. 1957 - Center: Astounding, Oct. 1957 - Right: F&SF, Oct. 1957]