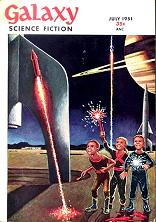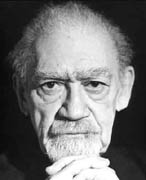 X Minus One aired "Venus is a Man's World" on February 6, 1957 as its 87th episode. Written by William Tenn (1920-2010), the novelette originally appeared in the July 1951 issue of Galaxy.
On Earth, women outnumber men by a great percentage and are in control. On Venus, men outnumber women by a great percentage and are in control. This story takes place aboard a ship on its way to Venus, its cargo comprised of 300 women looking for husbands. In this future, women dominate in government and positions of power, and operate from logic, while men are known for their "masculine emotions." The timeless biological pavane--often not so courtly--between men and women is tested in this satirical role reversal, its point coming in the final line.
Regarded as perhaps the best SF satirist of the 1940s and '50s Tenn worked primarily in the short form, writing but one novel. A list of his "must have" work is below:
Short Story Collections
Of All Possible Worlds (1955)
The Human Angle (1956)
Time in Advance (1958)
The Square Root of Man (1968)
The Wooden Star (1968)
The Seven Sexes (1968)
Novel
Of Men and Monsters (1968)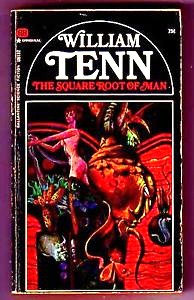 A lengthy, in-depth interview with Tenn (real name, Phil Klass--not to be confused with the UFO debunker) from 1975 can be found here, where more information on his work and background (and issues with feminists in the early 1970s) is recounted. "Venus is a Man's World" is one of nine stories in the collection The Square Root of Man (cover at right), part of the classic six volume Ballantine reprint volumes collecting Tenn's short fiction, which includes all of the collections shown above.
William Tenn was honored as an Author Emeritus at the Science Fiction and Fantasy Writers of America's Nebula Awards weekend in Pittsburgh in 1999, and was the Guest of Honor at the 2004 World Science Fiction Convention held in Boston.
Play Time: 22:20
"Venus is a Man's World" can be read in its entirety from the original pages of the July 1951 issue of Galaxy here. The page has a wonderful "click to turn the page" feature allowing the reader to view the entire magazine. Below is the first page of the story.
{After listening to this episode of X Minus One in February of 1957, and though the weather was rather cold, nothing could stop the neighborhood youngsters from bundling up and heading for the corner drugstore, where they could spend their allowance on any number of SF magazines to peruse in the comfort and warmth of their homes, a few examples of which are shown below. Note that both Astounding and F&SF were monthlies in February of 1957, while Original Science Fiction was bi-monthly.}
{Left: Astounding, Feb. 1957 - Center: Original Science Fiction, March 1957 - Right: F&SF, Feb. 1957}