Suspense aired "The Cave" on December 20, 1955. It is the perfect Christmas tale of two young boys, both with new Christmas presents--one with a cap gun, the other with a special flashlight--who decide to go adventuring in a cave. What they discover (a beautiful woman, swarthy pirates, and another complete world altogether) will affect one for the rest of his life, and recalls the spirit of both Peter Pan and Narnia, though in different ways. John Dehner narrates the story as one of the now grownup boys years later, his distinctive voice, a rich baritone, adding much to the emotional draw of this superior episode.
John Dehner (1915-1992) was a much sought after actor for radio, tv, and film from the mid-1940s until near his death, having roles or starring in over 260 tv shows and films. For radio, among his numerous appearances he had guest roles in Gunsmoke (he actually appeared in 234 of the 480 radio broadcasts, more than any other guest actor) and Philip Marlowe, and starred in both Frontier Gentleman, and as Paladin in Have Gun--Will Travel, the first radio show to have been a spinoff of its television counterpart, which featured Richard Boone in the lead role.
For tv and film even a partial list of Dehner's credits would be exhaustive. Suffice then that he had roles in early western favorites Maverick, Cheyenne, and Gunsmoke (from villain to sympathetic rancher), and in a 1958 episode of Perry Mason played Army Prosecutor Major Lewis in "The Case of the Sardonic Sergeant." Equally adept at humor, Dehner would appear in many sitcoms, among them The Andy Griffith Show, The Beverly Hillbillies, Love American Style, and as a regular on The Doris Day Show.
Science fiction fans will remember John Dehner from his three The Twilight Zone appearances: 1959's "The Lonely"; 1961's "The Jungle"; and in the show's fifth and final season "Mr. Garrity and the Graves," which aired on May 8, 1964. Mr. Garrity rides into the old west town of Happiness, Arizona and promises to reunite the townsfolk with their beloved dead. It can be viewed for free here. I hadn't seen it in years but can now say it was one of the good ones, with a great little trademark TZ twist at the very end.
Born John Forkum in Staten Island, NY, the son of an artist, Dehner was educated through his grammer school years in both Slemdal, Norway and Paris, France. Among other accomplishments, he became proficient in four languages. John Dehner started out as an animator for Walt Disney Studios, and later held jobs as a radio disc jockey and a professional pianist. He died on February 4, 1992 in Santa Barbara, CA from a combination of emphysema and diabetes.
Play Time: 30:11
{Not all young boys and girls were lucky enough to have a nearby cave in which to explore with their just-opened Christmas presents in December of 1955, as the pair of boys did in "The Cave." For these more citified youngsters, living as they did in towns or suburbs across America, their adventures would thereby continue through the convenient escape by way of their beloved pulp magazines, several specimens of which are shown below.}
[Left: Amazing, Dec. 1955 - Center: Galaxy, Jan. 1956 - Right: Astounding, Dec. 1955]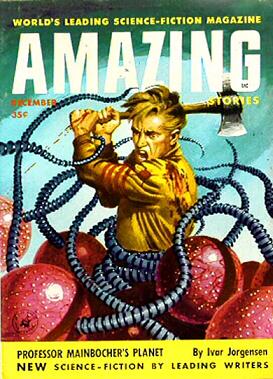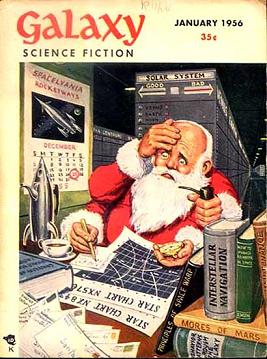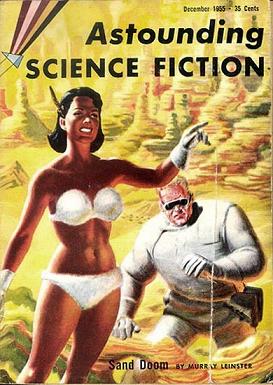 (Note that there was no Dec. 1955 issue of Galaxy, though it had a Nov. 1955 issue as well as the Jan. 1956 issue above. Curious to find an answer to the Mystery of the Missing Magazine, I consulted the genre's foremost magazine expert, Mike Ashley. Mike was kind enough to supply the following answer: "Galaxy's publisher, Bob Guinn, negotiated a new distribution deal in 1955 and that meant the magazine had to change its distribution date. Although this only caused it to shift about a week, to get more on-sale time Guinn chose to date the next issue January 1956, because otherwise the December issue would not have enough on-sale time." Thus is solved the Mystery of the Missing Magazine, with many thanks due Mike Ashley for his expertise in explaining this bit of pulp magazine history.)