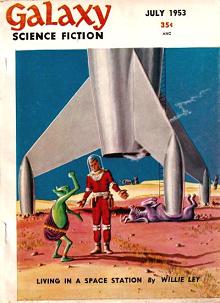 X Minus One aired James H. Schmitz' "Caretaker" on January 30, 1957 as its 86th episode. It first appeared as a short story in the July 1953 issue of Galaxy. A rescue mission has been sent to retrieve the lone survivor of a previous expedition stranded for some twenty-plus years. They find that the survivor is not only alive and well, but has adapted quite well and has even taken to wife one of the human-like native inhabitants...who is strikingly beautiful. In opposition to the handsome human-like natives is the species the survivor calls "Zare's," his word for snake. They are hideously ugly and to be avoided or killed whenever possible. Explaining all of this to the leader of the rescue crew takes up most of this episode. It is short on action but long on message for there are oddities, hidden bits and pieces of the survivor's story that become strikingly apparent and revealing toward the end that hint of things not being what they seem, so that the denoument has been set up for full impact.
Long time genre devotees will no doubt see the end coming due to the fact that one of the most well known of Rod Serling's The Twilight Zone episodes takes the identical theme and resets the story in a hospital. But James H. Schmitz (1911-1981) was there first, with his 1953 story and then in 1957 with the radio adaptation. The Twilight Zone episode to which I allude aired on November 11, 1960--a scarce three years following this episode.
Also present in the July 1953 issue of Galaxy were Clifford D. Simak with the novelette "Kindergarten," Henry Kuttner with the short story "Home is the Hunter," William Morrison with the novelette "The Weather on Mercury," Fritz Leiber with the short story "A Bad Day for Sales," Ruth Laura Wainwright with the short story "Green Grew the Lasses," and Michael Shaara's novelette "Soldier Boy."
Play Time: 21:34
{The cold weather in January of 1957 making a trek to the corner drugstore less than appealing for youngsters who'd just listened to "Caretaker" in the warmth of their homes, it was a good thing they'd stocked up on their favorite magazines, a few of which are showcased below.}
[Left: Amazing, Jan. 1957 -- Center: Galaxy, Jan. 1957 -- Right: Venture, Jan. 1957]