The New Adventures of Sherlock Holmes aired "The Singular Affair of the White Cockerel" on December 28, 1946, 67 years ago to this very day of December 28, 2013. The primary writers for almost all of these Holmes adventures were Denis Green and co-founder of The Magazine of Fantasy & Science Fiction Anthony Boucher (1911-1968, photo at right). Boucher would write the plot summaries and Green would fill in the details. Green worked on earlier Holmes radio stories with The Saint creator Leslie Charteris until March of 1945 when Boucher replaced him. Green is also known for his scripting of radio's The Thin Man series, and as an actor he appeared in the first pair of Sherlock Holmes films starring Basil Rathbone. Research reveals that perhaps his most memorable film role came in the film Mighty Joe Young, where Green portrayed "The Great White Hunter."
Boucher was a Holmes aficionado and a member of the Baker Street Irregulars. Of him Nigel Bruce (who portrayed Dr. Watson on the silver screen and in radio) said that he "had a sound knowledge of Conan Doyle and a great affection for the two characters of Holmes and Watson."
Tom McNight was the director and/or producer of these New Adventures of Sherlock Holmes radio tales, but when he saw Boucher's script for "Cockerel" (based on the Conan Doyle story "The Mazarin Stone") he became worried about the racial overtones. A known "progressive" of the late 1940s, this caused Boucher to write to Green: "That I, of all writers in this country, should be censored on a racial issue."
While "The Singular Affair of the White Cockerel" deals in part with voodoo (a flute made from a human femur) and the issue of the acceptance of a certain stripe of immigrant to our shores, the racial element McNight felt unease about is virtually non-existent by today's standards. One can imagine, however, that a line or two by Holmes (played here by Tom Conway, a superb Holmes) at the end of the story about helping a newcomer to our land gain proper acceptance, might have been added to allay any fears McNight may have had.
Aside from this episode airing but a few days before New Year's Eve 1946, there is nothing about it concerned with the upcoming holiday. The sponsor, however, eager to promote its products (Kreml Hair Tonic and Kreml Shampoo), manages to encourage the women in the audience who might be getting gussied up for any New Year's Eve parties to make sure their hair is radiant by using their product.
Play Time: 29:53
{While mom and dad would probably be out partying on New Year's Eve and would hire a babysitter to watch their cherubic children, said angels would fortunately have plenty of their favorite reading material to hand to keep them quiet, a few examples of which are shown below.}
[Left: Adventure, Dec. 1946 -- Center: Amazing, Dec. 1946 -- Right: Planet Stories, Winter 1946]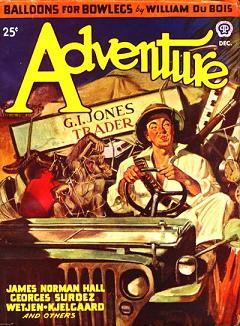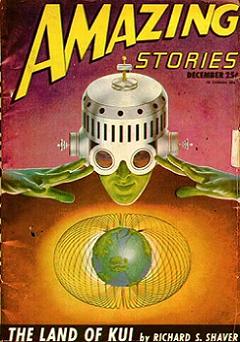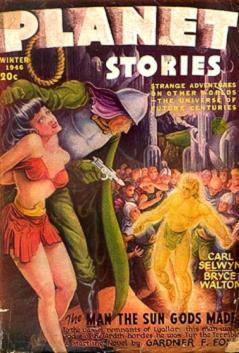 {With the children reading and quiet in their rooms, and with no television to occupy her time, the babysitter was foresighted enough to bring her own reading material to pass the time, knowing that the master of the house read only detective and mystery stories as in the copy of Black Mask she knew would be resting on the coffeetable.}
Left: Golden Love, Dec. 1946 - Right: Black Mask, Nov. 1946 (note the story by C. M. Kornbluth in this issue)