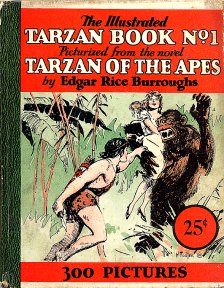 Tarzan aired "Tarzan and the Lypagor" on May 8, 1952, an adventure pitting the King of the Jungle against a genetically bred monster--a cross between a lion, a panther, and a gorilla, a mad experiment with the defeat of Tarzan as the proof of its success. If this weren't enough, Tarzan is attempting to stave off a war between native tribes while also looking for a solution to the problem of encroaching ant mounds and their millions of inhabitants threatening to engulf one village. The deadly Lypagor and the solution to the ant problem have one thing in common, and the only way to discover the commonality (in what can only be considered an "SF" Tarzan adventure) is to listen to "Tarzan and the Lypagor" which proved so popular that it was rebroadcast a year later on May 9, 1953.
For more information on the Tarzan radio series' (1932-36, 1951-53), we have provided a brief history as introduction to our last Tarzan adventure. It's an interesting story.
1952 proved an interesting year both in and outside of the SF field, as the first contraceptive pills were manufactured, the Brooklyn Dodgers lost the World Series to the New York Yankees, and Selman A. Waksman won the Nobel Prize in Medicine and Physiology for his discovery of streptomycin. In the real world of SF a goodly number of authors made their debut sales: Daniel F. Galouye, Frank Herbert, Ron Goulart, Daniel Keyes, Robert Sheckley, Mark Clifton, Theodore Cogswell, Philip K. Dick, Philip Jose Farmer, and Algis Budrys.
Play Time: 25:47
While Tarzan fans were crowded around the radio in May of 1952, they could also look forward to reading the SF magazines in that early summer, a few of which are pictured below.
(Left: Amazing, May 1952 -- Center: If, May 1952 -- Right: Fantasy & Science Fiction, June 1952)