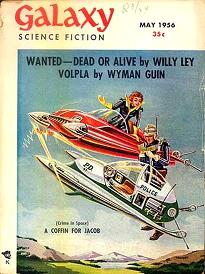 X Minus One (1955-57) aired "The Parade" on May 1, 1955 as its second episode. Most of the program's dramatizations were taken from stories in the SF magazines (either Galaxy or Astounding), but on occasion George Lefferts and Ernest Kinoy--the pair responsible for the magazine adaptations--would pen an episode themselves. Such is the case with "The Parade," as George Lefferts speculates on how a clever Martian invasion force's advance scouts might spot a human weakness and turn it against us in order to facilitate a quiet, virtually unnoticed and unheralded takeover. It's a rather insightful speculation that says much of one aspect of our civilization, the message portrayed through wry satire.
While not listening to a story of Martians taking over the planet, SF fans were reading some great fiction in the first five months of 1955, a few examples of which were: Frederik Pohl's "The Tunnel Under the World" (Galaxy, January); Walter M. Miller, Jr.'s Hugo winning novelette "The Darfsteller" (Astounding, January); Theodore Sturgeon's "Who" (Galaxy, March); Philip K. Dick's "Captive Market" (If, April); Walter M. Miller, Jr.'s "A Canticle for Leibowitz" (The Magazine of Fantasy & Science Fiction, April); and among others Eric Frank Russell's Hugo winning short story "Allamagoosa" (Astounding, May).
1955 was not a good year for the pulp magazines, science fiction pulps in particular, as the field lost Beyond, Fantastic Story Magazine, Planet Stories (see final issue cover below), Startling Stories, and Thrilling Wonder Stories, the latter three perhaps the more painful losses.
(X Minus One ad above left appeared in the May 1956 issue of Galaxy, cover above right.)
Play Time: 28:18
(Below left: Amazing, May 1955 -- Center: F&SF, May 1955 -- Right: Planet Stories, Summer 1955)